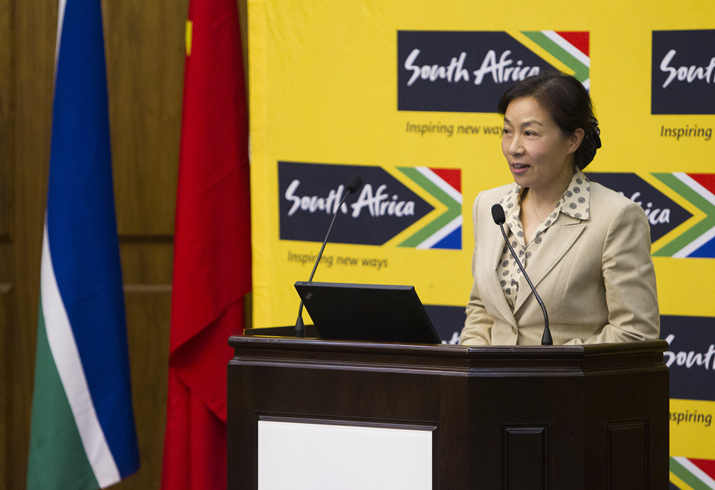 Beijing Review President Li Yafang delivers a speech at the "Investing in South Africa" Seminar, organized by the South African Embassy in Beijing and the China BRICS Business Council Secretariat in Beijing on December 20 (WANG XIANG)
Though the year 2016 saw a downturn in the automobile industry in general due to the sluggish global economy, Beijing Automobile Works (BAW) South Africa, a subsidiary of Chinese state-owned enterprise BAIC Group, proved an exception. Li Yongfu, General Manager of BAW, credits it to the company's "going out" strategy.
"In 2013, we set up a factory in South Africa's capital Johannesburg. Since then it has produced more than 3,000 vehicles with total revenue of 170 million yuan ($24.6 million)," Li said at the "Investing in South Africa" Seminar, organized by the South African Embassy in Beijing and the China BRICS Business Council Secretariat in Beijing on December 20.
"The South African Government gave us strong support in many ways, including tax incentives and a convenient visa policy," Li said.
BAW South Africa is one of the diverse facets of the new wave of China-Africa cooperation in industrialization. According to the Economic and Commercial Counsellor's Office of the Embassy of China in South Africa, by the end of 2015, China's direct investment in Africa amounted to nearly $13 billion, with 75 percent of it going into sectors like finance, manufacturing and processing, trade-related services, agriculture and transportation.
Since the establishment of China-South Africa diplomatic relations 18 years ago, economic cooperation between the two countries has been growing. China is now South Africa's largest trading partner, and South Africa is China's largest trading partner in Africa.
"In China's economic development strategy, the government has always stressed 'going out' to encourage domestic enterprises to strengthen overseas investment. Therefore, there is huge potential in China-South Africa trade cooperation," said Dolana Msimang, South African Ambassador to China.
Many attractions
South Africa's attractions for foreign investors include infrastructure, communications technology, transport and logistics, and finance. In addition, the government offers preferential tariff and value-added tax policies in special economic zones and industrial parks.
"The South African Government will lay more emphasis on new energy, healthcare, tourism, hi-tech and the film industry in the coming year," added Charles Manuel, Minister Counsellor Economic at the South African Embassy in Beijing. "There is a huge investment market, and I hope that more Chinese enterprises invest in these areas."
R.J. Thomas, Country Head of Brand South Africa, an agency established in 2002 to project a compelling brand image for South Africa, said Chinese investors should be aware that there are more sectors to invest in South Africa than mining and resources.
"Our mobile companies are the biggest in whole Africa. If Chinese companies invest in South African companies, or cooperate with them, they can get access to whole Africa," Thomas said.
He added that retail was also an opportunity. "We have good retail and China has good online shopping, such as Alibaba," he said. "I think they can cooperate to dominate the whole country's market based on China's e-commerce technology. Collaborating in new technology and innovation has great potential."
Li Yafang, President of Beijing Review, publishers of the ChinAfrica magazine focusing on Sino-African engagements, said entrepreneurs will be the envoys of friendship between the two countries as well as the main participants in the China-South Africa economic and trade cooperation.
"As long as we work in concert, mindful of our shared interests, Chinese investment in South Africa will scale new heights," she said.