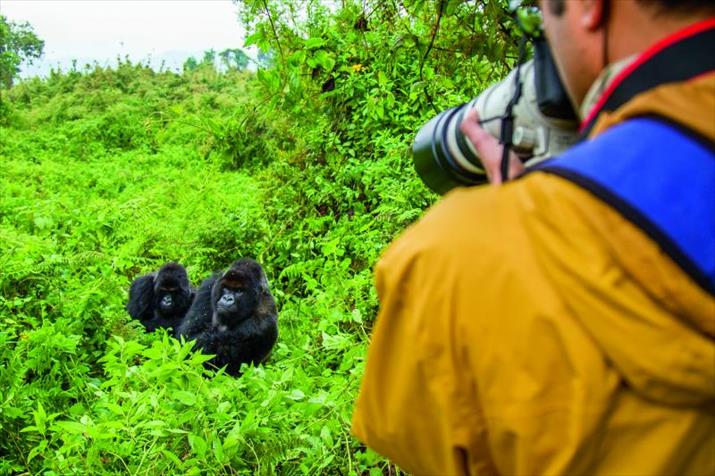 Rwanda attracts more visitors to see its famous mountain gorillas and other attractions
Kigali's KN3 Avenue tucked away in the city's quiet diplomatic district sees little distractions. But of late a massive construction boom is changing the landscape. On October 5, a new hotel was officially opened to add to the growing list of accommodation facilities springing up around the city.
The hotel, run by the American hospitality chain Marriott International Group, can accommodate up to 600 guests. Situated opposite the Chinese Embassy in Kigali, this five-star facility cost $60 million to erect and was constructed by the New Century Development, a company established by Chinese investors from Shenzhen in conjunction with local partners who hold a 25-percent stake.
Marriott will be managing the facility for 30 years, based on a contract it signed with the company. Alex Kyriakidis, Marriot's Managing Director for Middle East and Africa, says this kind of partnership is reciprocal, allowing local investors to tap into international standards as the hotel chain penetrates new markets.
"There is a mutual promise for opportunity, both for Marriott as a hospitality company and for the associates and partners who will help us succeed in this market," he said on the sidelines of the African Hotel Investment Forum (AHIF) in Kigali in October. The three-day forum brought together the major international hotel investors in Africa, along with government officials, local operators, and industry experts to examine the state of hotel investment and operation in Africa.
Investor friendly
Though one of the largest hotels in Rwanda today, the launch of the new Marriott facility in Kigali would have passed without much funfair, had the grand opening not coincided with the AHIF.
It's all part of a plan to raise the profile of Rwanda's hospitality industry. In 2003, there were only 680 hotel rooms available around the country. Today, that figure is about 10,000 rooms. In 1993, the country used to receive 252,000 tourists every year. In 2015, that figure had grown to 1.2 million visitors, earning the industry $340 million in revenue and helping tourism contribute 49 percent of the country's GDP, according to figures from the Rwanda Development Board (RDB).
Part of the secret behind this rapid growth lies in the government commitment to support investors.
"Our priority is to provide a supportive business environment with all necessary services now available online. Tourism is our country's mainstay and that makes the government a key stakeholder to develop the necessary infrastructure," Belise Kariza, Rwanda's Chief Tourism Officer told media at the forum.
An investor in Rwanda can register a company in 24 hours, get tax benefits, transfer property without paying capital gains tax and file value-added-tax returns electronically. Recently, mandatory pre-shipment inspections to speed up importation of necessary equipment and favorable visa policies for investors were also introduced, according to the forum.
In October, the World Bank Ease of Doing Business report ranked Rwanda as the second easiest place to do business in Africa, just behind Mauritius.
"Industries rely on each other to succeed, and they rely on policies of the government to grow. We are implementing these policies because good policies mean nothing if they are not put into action," Innocent Bajiji, Acting Head of Investments Promotion at the RDB, told ChinAfrica.
The AHIF itself was held at the Kigali Convention Center, a multipurpose center built by the Beijing Construction Engineering Group at a cost of $300 million.
It can host up to 2,600 people and incorporates a five-star hotel with 292 rooms managed by the Radisson Blu Hotel chain. The center was used for the first time during the African Union Summit in July this year.
Targeting Asia
The RDB has always said it wants to promote the country as a hub for meetings, incentives, conferences and events in the region. But the board also says it is targeting other sources beyond the traditional African and Western destinations, to further increase its tourism numbers.
Since last year, the RDB has specifically been marketing itself to Asian countries, such as India and China. Via the Rwandan Embassy in Beijing, the RDB has been taking part in major tourism exhibitions such as the Beijing International Tourism Commodities Fair and the Guilin International Tourism Expo, to help Chinese learn more about gorilla trekking, cultural festivals and other events in Rwanda.
Chinese visitor figures were not initially pleasing for Rwanda. For example, in 2013, (latest figures available) the number of Chinese tourists visiting Rwanda was at 2,000, a paltry figure much lower than the Chinese visiting Kenya at the same time, said Bajiji
But he argued that the trend is more important than the number. The 2013 figure for instance showed there had been a rise of 57 percent from 2011. Attracting more visitors could also be helped by the country's expanding national carrier, RwandAir, whose progress the RDB is keen to tap into.
According to the airline's CEO John Mirenge, RwandAir plans to launch regular flights to Mumbai in India and on to Guangzhou in China, once it receives the new Airbus A330-300 aircraft it has ordered. RwandAir currently only flies to 17 cities. Kigali plans to construct a new bigger international airport just outside of the city to improve movement of people and goods.
Common visa
Rwandan officials used the AHIF to attract investors interested in the more than 25 planned hospitality projects, worth about $150 million.
According to the RDB, these projects include resorts in Rubavu, villas in Gihaya Island, a tourism center in Rusizi, and facilities in Rwanda's western province bordering the Democratic Republic of the Congo (DRC), where mountain gorillas are the must-see attraction in the Volcanoes National Park.
But Rwanda's growing pace faces challenges, some of which are shared across the borders with its neighbors. In 2013, Rwanda, Kenya and Uganda launched a common tourism visa, allowing visitors from beyond the East African Community to visit all tourism sites in these countries using one visa.
Bajiji claims this program has helped boost tourism numbers. But in spite of its openness, the travelling cost is too high as the airspace is not fully open, leaving airlines to charge high fares. In addition, the region faces incessant security problems.
"We cannot succeed in isolation, especially since we share some of the tourism facilities and policies. It means we need security even more. We are assuring our investors here of security. But we must also cooperate regionally at all levels," said Bajiji.
However, the real problems, forum experts agreed, result from the challenge investors face to penetrate markets and the stringent immigration policies imposed by Rwanda's neighbors.
"We as countries need to communicate our current realities better, especially if there are changes in policies that will make business easier," said Richard Kiplagat, Chief Operating Officer at consultancy firm Africa Practice.
"It is also very important to get local people to give you their views of the situation on the ground. Investors need to keep an eye on the political risk. It is not something you look at as a snapshot, it is more of a movie," he advised.
(Reporting from Rwanda)