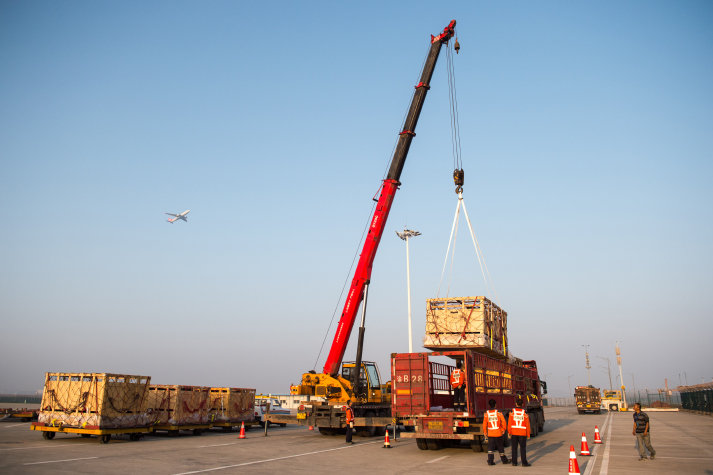 The first batch of beves from Australia arrive at Jiangbei Airport in Chongqing on October 21, 2015. According to the China-Australia free trade agreement signed in 2014, China will import 1 million beeves annually (XINHUA)
Relations between China and Australia became strained recently as an anti-China sentiment has been spreading inside Australia. In recent months, some Australian politicians repeatedly attacked China for "interfering" in Australian politics and called for measures to reject China's influence in Australia. Australia's media also added fuel to the flames by reporting imaginary "infiltration" by China.
Actually, China-Australia relations have maintained sound momentum in the past several years and the two countries also celebrated the 45th anniversary of their diplomatic relations in 2017. Against the backdrop and at such a special time, why would such anti-China rhetoric emerge? And how will this affect the future of Sino-Australian relations?
Absurd allegation
Last December, a video of an interview with Australian Prime Minister Malcolm Turnbull went viral in China, in which Turnbull said in broken Chinese Mandarin that "the Australian people stand up." By invoking the famous Chinese slogan of "the Chinese people have stood up," proclaimed when the People's Republic of China was founded in 1949, Turnbull meant to reject China's criticism against his allegation that China had sought to interfere in Australian politics. In the months before this interview, Turnbull mentioned repeatedly his concerns about China's "influence" and "infiltration," and suggested the parliament pass a new espionage and foreign government interference law mainly targeting China. Australian media further hyped up the alleged threat China poses to Australia. In such an unfriendly atmosphere, a number of insults and even violence targeting local Chinese and Chinese students took place in Australia, drawing widespread attention and concern.
Australia's move impaired the atmosphere of China-Australia relations and undermined their mutual trust. Considering the close economic links and people-to-people exchanges between the two countries, the anti-China mood and remarks of Australian politicians are perplexing.
China-Australia relations have developed smoothly since the two sides established diplomatic ties in 1972. Mutual trust has greatly strengthened as leaders of the two countries frequently exchanged visits and contacts at each level became close. In 2014, Chinese President Xi Jinping visited Australia and during his visit, bilateral ties were improved to form a comprehensive strategic partnership, which outlined a direction for the further development of Sino-Australian relations.
During years of development, China and Australia became closely connected in many aspects. In economy and trade, China has continuously remained Australia's biggest trade partner, the largest export market and also the largest source of Australian imports for years. On December 20, 2015, the free trade agreement of China and Australia came into effect, heralding the expansion of their trade and economic cooperation to a wider area and a higher level.
Australia is also a popular tourist destination for Chinese, with over 1.4 million Chinese tourists traveling there in 2017. China also has the largest number of students studying in Australia. They have contributed a lot to the economic growth of the country.
The history of their bilateral ties proves that healthy and stable Sino-Australian relations can benefit people in both nations. And China's development provides growth opportunity rather than threats to Australia.
However, the recent tensions reflect Australia's complicated and contradictory mentality toward China. On the one hand, Australia's development has benefited from stable bilateral ties and the economic progress of China. Partly due to its close economic and trade ties with China, Australia has successfully withstood two economic recessions and realized the miracle of continuous growth for 26 years. On the other hand, Australia is fearful about relying too deeply on China's economy. Furthermore, the gaps between the two countries' political systems and cultures also led to Australia's mistrust of China. Such a complicated mentality is the result of Australia's specific historical background and geographical position, and also connected closely to the current international situation as well as Australia's internal politics.
A shadow looms
Australia's identity as a Western country from a historical perspective, and its defensive mentality against Asian countries due to its geographical isolation, cause its suspicion of China. Australia was one of Britain's colonies for a long time. After World War II it turned to the U.S. from Britain and became an important ally of the U.S. in the Asia Pacific. Also, as an ex-colony of Britain, it remained a Commonwealth country.
Meanwhile, it is located in the southern Pacific Ocean and separated from Southeast Asia by the sea. This isolation and distance from the U.S. and Britain has led to its sensitivity about its surrounding environment. Its fundamental conditions of being a vast territory with a sparse population also bring about a defensive mentality against Asian countries. Due to its self-identification as a Western country and its sensitivity to its surroundings, Australia used to put many restrictions on Asian immigrants, of which the White Australia policy was a typical example. Such a policy created a barrier for sound relationships with Asian countries.
After the Labor Party came to power in the 1970s, Australia's government gradually started to build bridges with the Asian countries. It abolished the White Australia policy and established diplomatic ties with China in 1972.
However, its defensive mentality against Asian countries still lingered. Especially regarding China's rapid development, Australia finds it difficult to adapt to and has suspicion about China's role in regional affairs.
From the international perspective, the interaction of China and the U.S., two major players in the Asia-Pacific region, basically shapes the development path of this area. However, U.S. President Donald Trump's divergence of strategy from his predecessors and the national strength growth of China have caused anxiety in Australia.
As a staunch ally, Australia has always followed the U.S. in regional and global affairs. In Australia's eyes, the United States' presence in the region is necessary to maintain the stability and prosperity of the Asia-Pacific, and the Australia-U.S. military alliance is crucial to its national security. Yet Trump adopted his America First policy after taking power, showing less interest in engaging in affairs outside America. In the Asia Pacific region, the Trump administration has withdrawn from the Trans-Pacific Partnership (TPP) agreement but failed to declare a clear policy in this area, causing concern among its allies as to whether or not the U.S. is still a reliable ally under Trump's regime.
By contrast, China's overall strength has been continually improving while it has switched to a more proactive diplomatic policy. China proposed the Belt and Road Initiative and played a leading role in the establishment of the Asian Infrastructure Investment Bank as well as the BRICS New Development Bank, guiding the direction of globalization and leading global governance. Its influence has been enhanced.
Australia has been accustomed to the regional order dominated by the U.S. It is concerned that the rise of China may change the current regional order and thus undermine Australia's national interests. Such a mentality provides an explanation for its anxiety and irresponsible remarks on the issues of the East China Sea Air Defense Identification Zone and the South China Sea.
Diplomacy is the continuation of internal politics and such is the case in Australia. Recently, the Liberal-National Party coalition and the Labor Party fiercely debated the dual citizenship of some senators. Barnaby Joyce, the vice prime minister, resigned over the issue. Support for the Liberal-National Party coalition and for Turnbull himself also decreased amid this uproar. Meanwhile, Turnbull was also under great pressure as his authority in the Liberal-National Party coalition was challenged.
Amid the intensifying party infightings and internal instability, Turnbull used China as a decoy to direct public attention away from internal chaos to China's "infiltration" and "interference." As political contributions and influence penetrating from foreign countries are quite sensitive matters in the politics of every country, Turnbull attacked Labor senator Sam Dastyari for taking political donations from Chinese businessmen and then supporting China on sensitive issues, which led to the resignation of the Labor senator.
Obviously, by trumpeting the China threat, Turnbull has successfully transferred public attention and defeated the momentum of the Labor Party. Though it has helped preserve his political status, Turnbull is risking the stability of China-Australia relations.
Cautious optimism
Today, China has become one of the most influential countries in the Asia Pacific region, and plays an increasingly important role in the international arena. Since the financial crisis in 2008, China has become an important engine of global economic growth and made a significant contribution to world economic recovery. In global governance, China's role has also become increasingly prominent. As the whole world re-examines China's role and actively enhances ties with China, Australia's trumpeting of anti-China remarks is unwise.
Besides, there is no fundamental conflict of interest between China and Australia, the latter having gained greatly from the development of China. The stability of bilateral ties is beneficial to both sides, while tensions would harm them.
Indeed, there are some differences and contradictions between China and Australia on certain issues. As a typical Western country, Australia has always been biased against China's development path. Against the background of China's rapid development, Australia has become more sensitive about China and hopes to counterbalance China by wooing the U.S., typical of the Cold War mentality.
Yet, the development of China-Australia relations should not be disturbed by the shortsightedness of one party, or the prejudices of some conservatives. No matter who started the trouble, they should end it. The Turnbull administration should reflect on the harm they have done to Sino-Australian relations and abandon their Cold War mentality. The Australian Government should bring the bilateral ties back on the right track by focusing on enhancing mutual trust and strengthening forward-looking cooperation. Otherwise, it is hard to stay optimistic about the future of China-Australia relations.
The author is a research assistant with China Institute of International Studies
Copyedited by Chris Surtees
Comments to yulintao@bjreview.com