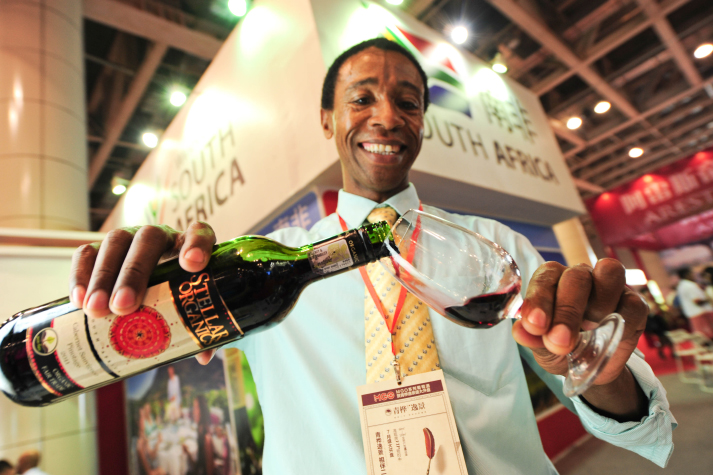 A South African wine exporter introduces his wine to Chinese customers at the Seventh Yantai International Wine Exposition in July 2013 (CHU YANG)
On the morning of July 2, at the Sandton Convention Center in Johannesburg, Kobus van der Wath was addressing dozens of South African suppliers and buyers about the changes of China's role in the global supply chain.
Wath is a South African who has worked in Asia for 17 years. His company The Beijing Axis specializes in providing international business consultation and procurement services to foreign companies coming to China and to Chinese companies going overseas. The Beijing Axis holds similar symposiums three times a year in South Africa, mainly to introduce the Chinese market to suppliers and exporters in South Africa and find ways to expand exports to China.
It's this kind of raising awareness that Charles Manuel, Economic Counselor of the South African Embassy in China, says is needed if South Africa wants to expand its exports to China.
"South African companies have limited knowledge on what's going on in China and the Chinese market. For example, South African companies may still have doubts about China's intellectual property protection, but as a matter of fact China has taken a lot of measures to regulate and punish violations of intellectual property rights," he told Yicai, a Chinese language financial magazine, in July 2018.
Experts believe that the lack of resource and capacity makes market development a major shortcoming for emerging markets and developing countries like South Africa to export to China; but once it is addressed, huge potential can be unleashed, as evidenced by the exports of South African wines to China over the past eight years.
According to Siobhan Thompson, CEO of Wines of South Africa, wine exports to China increased significantly from about 5.5 million liters in 2013 to more than 17.5 million liters in 2017. Despite the promising growth, however, South Africa currently owns only a negligible share of the Chinese wine market, less than 2 percent based on sales volume. "The potential for growth is huge," said Thompson.
To tap the potential, Wines of South Africa organizes many events to encourage wine exports to China. "South Africa, as a wine exporter, is not as well-known in China as other competitors like France and Australia," said Thompson. "Wines of South Africa therefore needs to make Chinese traders, distributors and consumers aware that our wines are of world-class quality with a history of wine production for more than 350 years," Thompson told Yicai.
She said their next big move is to attend the First China International Import Expo (CIIE) to be held this November in Shanghai, where South African and other African businesses will showcase their local brands to the Chinese market.
African opportunity
Actually, China has been taking measure to increase import from African countries. At the opening ceremony of the Beijing Summit of the Forum on China-Africa Cooperation (FOCAC) in September this year, Chinese President Xi Jinping pledged a trade facilitation initiative between China and African countries. "We have decided to increase imports, particularly non-resource products, from Africa," he said.
CIIE, which will be held annually, is one of the important events China will hold to increase imports from the international market. Unlike traditional exhibitions held in China for the purpose of boosting both export and import, such as China Import and Export Fair held twice a year in Guangzhou, south China's Guangdong Province, CIIE focuses on providing global exporters with access to the Chinese market.
Africa is being given special treatment at the upcoming CIIE. "We support African countries in participating in the China International Import Expo," said Xi, adding that the least developed African countries participating in it will be exempted from paying exhibition stand fees.
"This expo is a new outcome of China's rapid development and a new measure for China to expand its opening up. It will provide a new platform for countries to achieve common development, which is of great significance," said Lin Songtian, Chinese Ambassador to South Africa, while promoting CIIE among South African exporters. According to Qian Keming, Vice Minister of Commerce of China, the CIIE has captured the attention of international businesspeople with many countries negotiating for additional booths. China, however, reserved booths for African least developed countries to facilitate introducing their products to the Chinese market.
Tackling trade imbalance
Trade between China and Africa is generally balanced, according to Qian, who noted that China had a surplus in 10 of the 18 years from 2000 to 2017 and a deficit in the other eight years. Africa's trade deficit with China became evident in 2015. That year saw a 39.1 percent decline in China's imports from Africa, resulting in a surplus of $38.3 billion, according to the Chinese Ministry of Commerce. In the next two years, China's trade surplus with Africa continued, though on a smaller scale.
To promote the entry of African products into China, the Chinese Government began to implement a tariff-free policy in 2005. On August 28, at a briefing of the FOCAC Beijing Summit, Qian said that 33 African least developed countries benefit from the zero-tariff policy for 97 percent of their products exported to China. It is also helpful for Chinese enterprises to reduce their costs and expand options for imports.
An important manifestation of the trade imbalance between China and Africa is that China imports a lot of products with low added value from Africa, including raw materials and primary agricultural products. Qian suggested that to improve the trade balance, it is necessary to "further expand investment in Africa and transfer investment in China's industries, especially the manufacturing industry, to Africa, to diversify its economic structure with industrial capacity cooperation and industrialization."
An example of this is the Huajian Group that became the largest Chinese private enterprise in Ethiopia at the end of 2017. With an annual output of more than 5 million pairs of women's shoes, the company is the largest footwear exporter in Ethiopia, accounting for more than 65 percent of the country's footwear exports and employing thousands of local workers.
China-Africa investment cooperation has developed rapidly in recent years. According to data from the Ministry of Commerce, China's direct investment in Africa in 2017 was $3.1 billion, nearly 40 times that of 2003. Qian said the investment of Chinese enterprises contributed to increasing the added value in African countries' products, which greatly improved their export capacity.
(Comments to niyanshuo@chinafrica.cn)