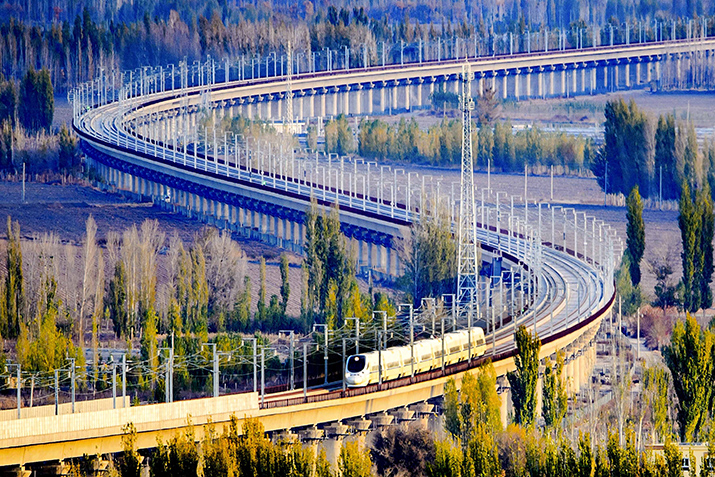 A bullet train runs through Hami Prefecture, Xinjiang Uygur Autonomous Region, on November 3, 2015 (XINHUA)
To many around the world, January 13, 2017, was just another ordinary day, but for China's transport industry, it was a special one. It marked the start of the Spring Festival travel rush, or
chunyun
this year. In keeping with tradition, many Chinese started returning home, from different parts of China or other parts of the world, to celebrate the Chinese New Year with their families and friends. The crescendo of traveler flow will come to a sudden pause around January 28, the Lunar New Year of the Rooster, and then resume days after. The peak holiday travel period will last for about 40 days.
On the first day of chunyun, Zhou Yin, a freshman from North China Electric Power University hurried into Beijing South Railway Station, dragging his suitcase. "After four hours on the high-speed train, I will be with my family in Anhui Province 1,000 km away," he told Beijing Review.
Railway staff Xiao Zhao stood at the station entrance, patiently answering travelers' inquiries. He said he had noticed a spike in the number of outbound travelers that day. University students and migrant workers usually leave earlier than others, he added.
With more and more people leaving the city in the ensuing fortnight, Beijing's usually jammed streets and bustling shops would be emptied out beyond recognition.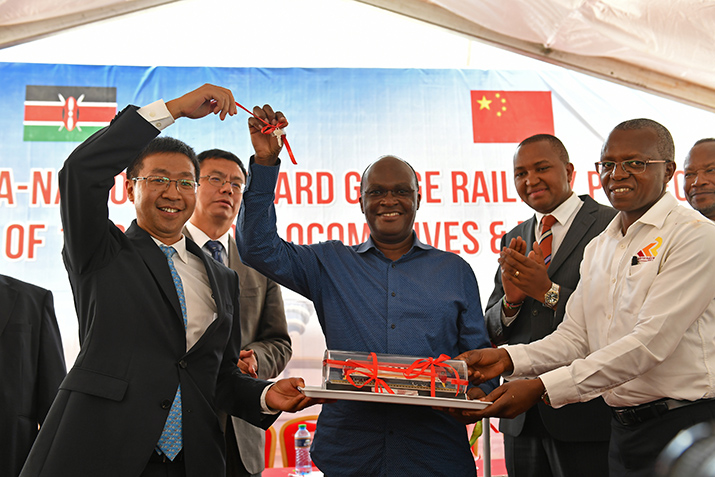 Kenyan Minister for Transport and Infrastructure James Macharia (Center) and the Managing Director of the Kenya Railways Corp. Atanas Maina (front right) attend the reception ceremony of the first batch of locomotives for the Mombasa-Nairobi standard gauge railway in Mombasa, Kenya, on January 11. Kenya has received six locomotives from China, which will run on a China-funded standard gauge railway due to start trial operations in June (XINHUA)
Better prepared
The transport industry had been gearing up for the peak holiday travel period. This year, preparations are better than in the past, said Yang Yudong, Deputy Transport Minister and Director of the National Railway Administration, during a press conference on December 29, 2016.
During this year's chunyun period, people across China will make 2.98 billion trips, up 2.2 percent from the previous year, the National Intelligent Transport Systems Center of Engineering and Technology (ITSC) predicted, based on historical figures and big data from the Internet.
Of all the trips, an overwhelming majority, or 84.6 percent, would be made on the highways. Those remaining would be made on railways (12 percent), waterways (1.4 percent) and airways (2 percent), according to ITSC.
During the peak travel period before and after Spring Festival, transportation capacity will be 7 percent more than in the previous year, Yang said.
Railway is the major means of transportation for medium to long-distance travel. Yang said single-day railway passenger traffic volume usually culminates during the peak travel seasons around International Labor Day in May and the National Day holiday in October, rather than Spring Festival.
"We have handled 14 million passengers (on a single day) during the National Day holiday, so we can handle the same around the Spring Festival," he said confidently.
Since October 1, 2016, the railway industry has begun to put more electric multiple units (EMUs) or bullet trains into operation, and by January 31, 2017, at least 90 EMUs will be added, which can transport 200,000 more passengers daily. The EMU consists of electricity-propelled carriages so that no separate locomotive is needed any longer. An EMU is also quieter and more environment-friendly than a diesel multiple unit.
Yang said the number of regular-speed trains has also been increased during the holiday season to offer economical trips to ordinary citizens, especially those with low incomes. Security and service have been improved too so that people can travel safely and comfortably, he added.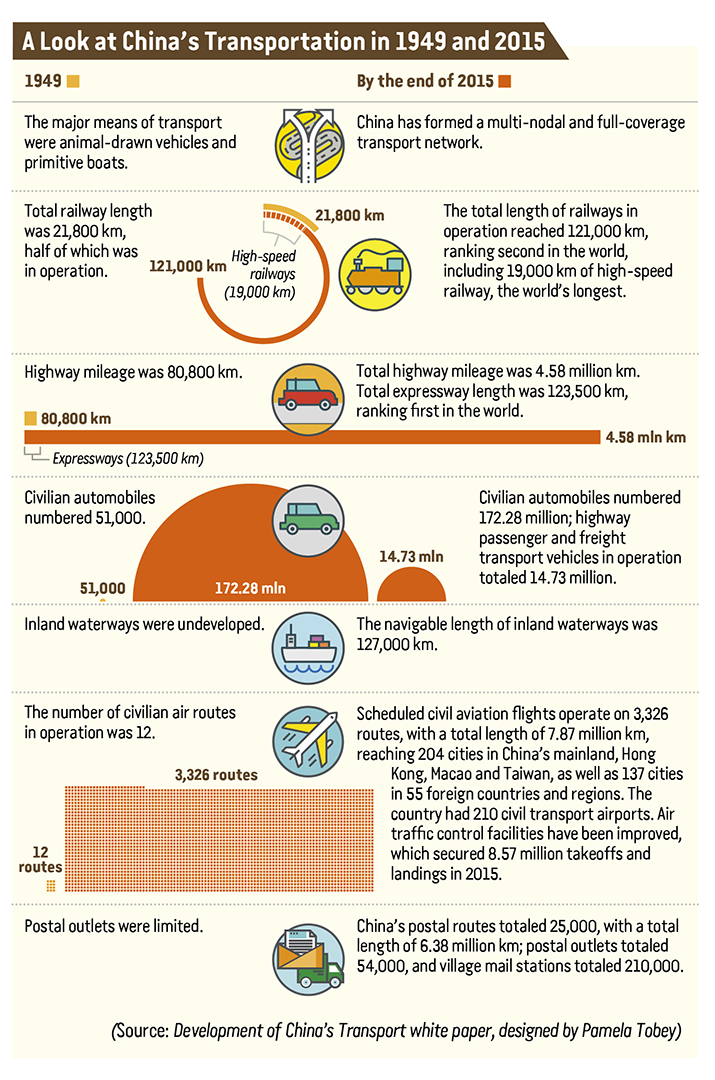 No big rush
When this year's chunyun started, plenty of railway tickets were still available, as indicated by the gigantic electronic bulletin board above the ticket windows in Beijing South Rail Station, one of the capital's four major railway stations.
The lines in front of the windows were not long, and there was no shoving and trying to jump the queue. Some passengers queuing for tickets had their luggage beside them. Asked why they had not booked their tickets in advance, a middle-aged woman told Beijing Review that she was traveling only to nearby Tianjin. Since so many trains were available, she could just hop on any one.
Outside the station, it was business as usual for a couple selling sesame seed cakes. They said they planned to go back to their hometown on January 23 and they had booked their tickets online.
A few years ago, few people could stay so calm ahead of Spring Festival. Before they could go back home to enjoy lavish meals, fun times and other good things promised by the festivities, many had to go through a frustrating travel ordeal.
"In the past, buying a train ticket was like fighting a war. I had to obtain it by hook or by crook, pulling strings, paying scalpers or queuing up for hours, braving the cold and pangs of hunger," said Zhou Bo, a man in his late 40s who had worked in a number of localities before operating a STOA Gallery Inn in Kulangsu Island in Xiamen, Fujian Province.
"Getting a ticket was only the first step. Riding a packed train was even more exhausting," Zhou said.
In the 1990s, when he worked in Zibo in Shandong Province, he had to spend nine hours on the train to return to his home in Yantai, about 400 km away.
"When I would get on board, usually there wouldn't be a single empty seat left. During peak travel time, even the aisles were packed with people. So I could stand only at the juncture between two carriages or sleep under seats or on the luggage rack above the seats," he recalled.
Once he traveled from Qingdao in Shandong to Guangzhou, capital of south China's Guangdong Province. The train was stuffy and they ran out of water. During the 30-hour journey, he almost fainted because of dehydration and exhaustion.
But today, the trip has become enjoyable, thanks to the high-speed trains. Recently, Zhou traveled from Xiamen to Shenzhen by high-speed train, which took no more than four hours, and cost less than 200 yuan ($29). He enjoyed the services on the train and the
picturesque views. The railway line has not only given him an elevated travel experience but has also brought more tourists to Xiamen, which means more guests for his hotel.
For his 2,000-plus-km journey back to his hometown this Spring Festival, Zhou chose to travel by air and booked the ticket online well in advance.
Rapidly expanding
The changes experienced by travelers reflect the remarkable development of China's transportation. At the end of 2016, the State Council Information Office released a white paper, Development of China's Transport. The white paper, the first of its kind, reviewed the progress made in the sector.
According to the document, when the People's Republic of China was founded in 1949, transport was underdeveloped. The major means of travel were animal-drawn vehicles and primitive boats. After 1949, the government made great efforts to restore and expand transport.
From 1978, the government has spurred the rapid development of transport through a number of significant reform measures. A contract liability system was implemented in railway operations and private investment was introduced into transport infrastructure construction, especially in the construction of highways. Public bids were invited for highway construction and water transport engineering projects. Ports were opened up to the outside world. An air transport market took shape. The postal services management system was reformed, the express mail service was set up, and postal savings services were resumed.
In 2004, the Chinese Government issued the Medium and Long-Term Railway Network Plan and National Expressways Network Plan and related programs to boost transport.
New milestones in transport history have been set up one after another. In 1988, the first expressway on the Chinese mainland, the Shanghai-Jiading Expressway, was opened. In 2008, the country's first high-speed rail, the Beijing-Tianjin Intercity Railway, was put into operation. Since 1997, average railway speed has been increased six times. The Motuo Highway in southwest China's Tibet Autonomous Region was opened in 2013, indicating all counties in China have access to highways.
According to the white paper, by the end of 2015, China's railways in operation totaled 121,000 km, ranking second in the world. It included 19,000 km of high-speed railway, the world's longest. High-speed railways now run through 65 percent of all Chinese cities with a population of more than 1 million. By 2020, high-speed railways will cover 80 percent of China's big cities.
Total highway mileage reached 4.58 million km by the end of 2015. Rural highways connected 99.9 percent of towns and townships and 99.8 percent of administrative villages. The total length of expressways reached 123,500 km, ranking first in the world.
In 2016, China's transport network continued to grow. The high-speed railway network surpassed 20,000 km, accounting for more than 60 percent of the world total, Transport Minister Li Xiaopeng said at the National Transport Work Conference held in December 2016.
Li said that last year, 500 km of high-standard inland waterway were added, 6,000 km-plus of expressway and 15,000 km of highway at or above Grade II (with daily traffic volume equivalent to 2,000-5,000 medium-sized trucks) were built, and more than 290,000 km of rural highways were upgraded.
On January 5, 2017, the high-speed rail line between Beijing and Kunming, southwest China's Yunnan Province, was inaugurated, shortening the journey time from 35-45 hours to 13 hours.
China's transport development is driven by technology. According to the white paper, the country's technologies for high-speed, alpine, plateau and heavy-haul railways have reached a globally advanced level. During the construction of the Qinghai-Tibet Highway and Qinghai-Tibet Railway, advanced technologies were used to overcome tough geological challenges such as plateau permafrost, and expansive soil and desert, in building large world-class bridges and tunnels. China became one of the few countries capable of developing large airliners independently. Information and communications technologies such as big data, cloud computing, the Internet of Things and mobile Internet have been widely applied in transport.
The white paper also says that high-performance railway equipment technologies with proprietary intellectual property rights have reached advanced world levels.
"Through introducing, digesting and absorbing (foreign technologies) and innovation, China has mastered the technology for producing EMUs with speed between 200-250 km per hour, and successfully set up a technology platform for producing EMUs of speed at 350 km per hour, and developed CRH380, a new generation of high-speed rolling stock," the National Railway Administration's website says.
In August 2016, China Standard EMU trains, which were independently developed and manufactured by China Railway Corp., debuted in Liaoning Province. The train can travel 350 km per hour. According to China Global Television Network, the rolling stock marks a new milestone in the effort to build a hi-tech railway network.
The development of transport has not only benefited Chinese people, but will also promote connectivity among countries. "The Ministry of Transport has been pushing forward the connectivity of transportation infrastructures among countries along the Silk Road Economic Belt and the 21st-century Maritime Silk Road," Yang said at the press conference on December 29, 2016.
He also said that China is building railways for Indonesia, Laos, Hungary, Serbia, Pakistan and some African countries, while Chinese railway equipment has been exported to many countries around the world.
Copyedited by Sudeshna Sarkar
Comments to wanghairong@bjreview.com