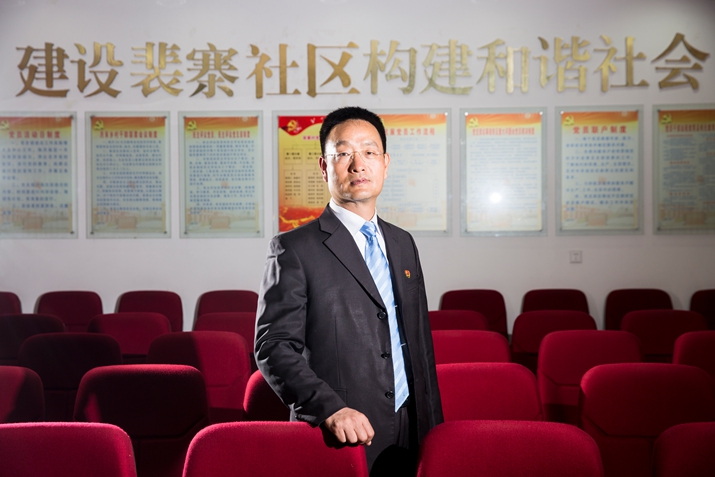 Pei Chunliang, Secretary of the Peizhai Community General Branch of the Communist Party of China (QIN BIN)
A brightly lit, two-story shop on the business street of Peizhai Community in central China's Henan Province is lined with racks full of neatly arranged goods. The first floor features products for mothers and children while the second floor boasts a swimming pool for babies. The shop is owned by Pei Longhui, who returned to the village after working in south China.
"Now I can make at least 150,000 yuan ($21,665) a year, which is several times what I made while working on ships in southern China," Pei said.
There are more than 600 such shops on the street. The area, once a stretch of rural wasteland, is now full of tall buildings. There are villas, a primary school, a basketball court, a plaza, and other amenities that one can find in cities.
Peizhai has undergone tremendous change in recent years, thanks to one man—Pei Chunliang, Secretary of the Peizhai Community General Branch of the Communist Party of China.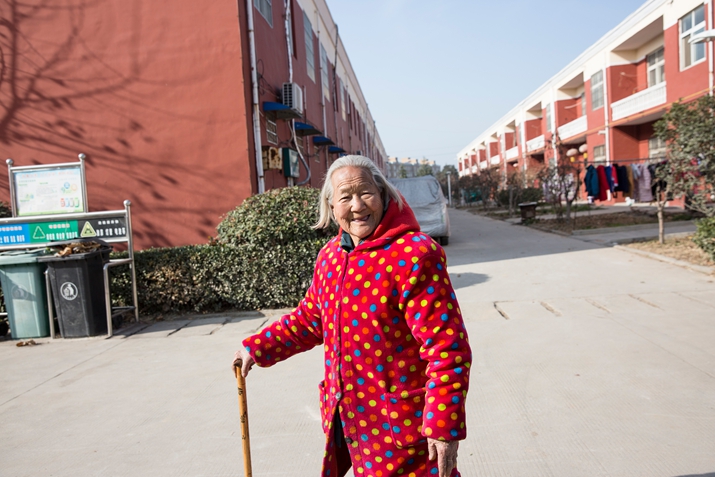 An elderly woman passes the newly built residential buildings in Peizhai Community (QIN BIN)
A self-made man
On the wall of the exhibition hall of Peizhai hangs an old black-and-white photograph in which a boy, wearing shabby and grubby clothes, stands akimbo. It is Pei Chunliang when he was young.
The boy had to drop out of school at the age of 13 because of poverty. When his father died three years later the family was too poor to afford a casket. So the village head led villagers to chop down a tree and make one. They also donated money to buy grave clothes for the dead man and buried him. Pei Chunliang felt grateful to the villagers, thinking he would return their favor someday.
His first job was working in a brickyard. Because of his diligence, his boss gave him a raise. Later, he left the brickyard to learn TV repairing at a technical school. But after completing the course, he found that not many people needed the service and he had to look for other ways to make a living. He decided to learn how to cut hair at a barber's shop.
In the beginning, the barber refused to teach him for fear that he would become a competitor. But Pei Chunliang won him over by doing chores like fetching water. Moved by Pei Chunliang's earnestness, the barber finally relented and taught the boy his skills.
At the barber's shop customers liked to chat with Pei Chunliang. When he learned through such a conversation that the neighborhood needed a photographer, he learned photography. He cut hair and took photographs during the day and repaired TV sets at night, working hard and saving some money.
But he did not stop there. After learning that some out-of-town merchants who had come to the village to buy walnuts and hawthorns could not find a place to eat, he rented a house, opened a restaurant, and started selling stewed noodles. His noodles sold well and he invested his saving in a bigger restaurant, hiring more than 20 people. His life finally began improving.
Pei Chunliang always kept an eye out for business opportunities. He would carry a pen and a notebook with him everywhere he went, jotting down all the useful things he saw, even advertisements stuck on electric posts. In this way, he found many business opportunities unnoticed by others.
From the customers eating at his restaurant, he heard that selling marble in Beijing and Shanghai was a lucrative business. That inspired the ambitious Pei Chunliang, and leaving the restaurant under his fiancee's care, he went to Beijing to sell marble.
In Beijing, Pei Chunliang zipped around the city on a bike day after day to peddle marble. He made a fortune, amassing as much as 90,000 yuan ($12,980) from one order.
"My experiences in those years taught me that as long as I am down to earth and do things one step at a time, nothing is impossible," he said.
A gregarious man, Pei Chunliang likes to make friends and help others, which has contributed to his business growth.
After returning to his hometown from Beijing, he partnered with his friends to buy mines and began trading. His businesses grew bigger and bigger. He became a
successful entrepreneur, whose businesses included hotels, casting services, mining and cement production.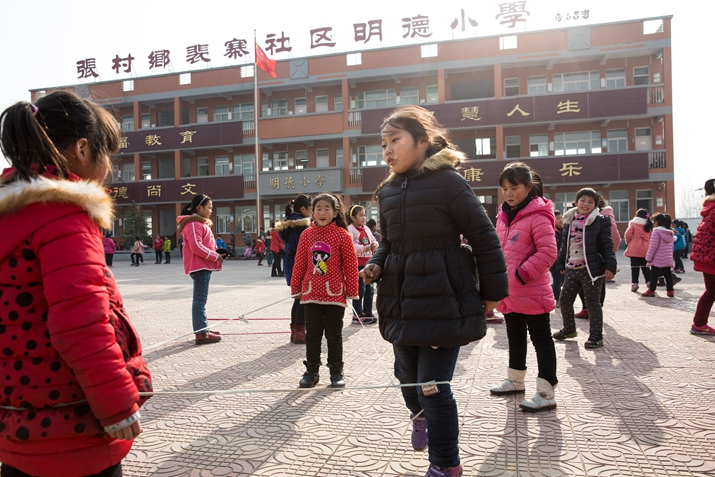 Students in the playground of the newly revamped school in Peizhai Community (QIN BIN)
Repaying the village
In 2005, the villagers of Peizhai, led by their former leader, came to see Pei Chunliang, urging him to return to the village and be its new chief. Mindful of the favors he owed them, he agreed.
On returning to the mountain village as its new leader, Pei Chunliang put it onto a fast growth track. He invested nearly 90 million yuan ($12.98 million) out of his own pocket to build villas, farmland ponds and a reservoir, improving villagers' lives and addressing the acute drinking water shortage the village had suffered for generations.
In 2010, under a government plan, residents of other impoverished villages with drinking water scarcity were relocated to Peizhai.
Guided by Pei Chunliang, villagers built greenhouses, grew organic vegetables, and engaged in other forms of high-efficiency agriculture. A commercial street was developed, providing a vending platform for business owners. This spurred the development of the service industry.
In 2016, Pei Chunliang invested 80 million yuan ($11.6 million) in residential buildings to accommodate people who were being relocated to Peizhai from two villages 60 km away.
Today, Peizhai has shaken off poverty. Local residents' per-capita annual income increased from just 1,000 yuan ($144) in 2005 to $11,000 yuan ($1,588) in 2015. Peizhai has been enriched by cultural, sport and entertainment facilities so that villagers can enjoy urban amenities. Its official name has been changed to Peizhai Community.
Going beyond food
With the villagers' basic needs met, Pei Chunliang is focusing on medical care and education for them.
When several young and middle-aged villagers died of high blood pressure in quick succession in the past, Pei Chunliang realized it was because the villagers did not have basic medical knowledge. "They died young due to a problem that could have been solved by a simple dose of medicine," he lamented.
To prevent such tragedies from recurring, he has put up community bulletin boards that inform people about common diseases such as high blood pressure and diabetes. Besides, every year, the village invites doctors from a hospital in Huixian County, which Peizhai is subordinate to, for free medical check-ups and advice. Sport equipment has been installed in the village so that people can exercise to stay fit.
In addition to improving people's health, Pei Chunliang wants to give the village children a better education. The village has built a new primary school, and during every summer and winter vacation, college students from the cities are invited to come and teach Peizhai's children singing and dancing as well as tell them about the outside world. Pei Chunliang also sponsors impoverished students' university tuition fees.
However, despite these achievements, he feels rural areas still lack adequate educational and medical resources and he wishes the government would give rural areas more support in these aspects. Pei Chunliang is waiting to address these issues at the annual National People's Congress (NPC) session in early 2017. As a NPC deputy, he would like to put forward a proposal on rural health service and education. Also, in the future, he hopes to popularize the use of the Internet and e-commerce in rural areas.
"We are developing rural tourism and sightseeing agriculture. We are going to build Peizhai into a prosperous, modernized community, where people can lead more happy lives," Pei Chunliang said.
Copyedited by Sudeshna Sarkar
Comments to zanjifang@bjreview.com