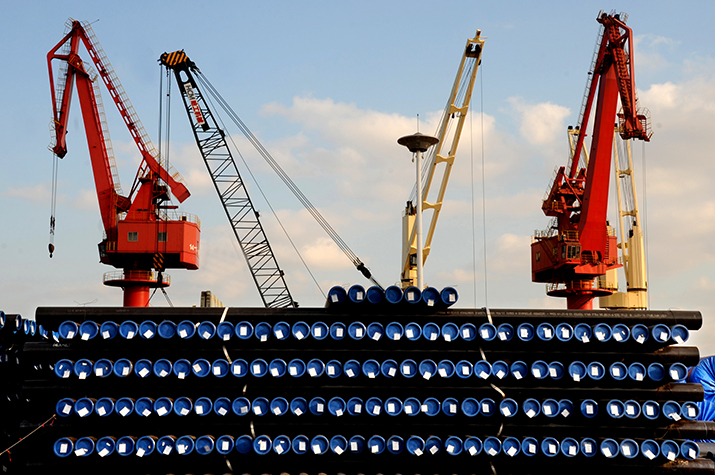 A large batch of cast-steel pipes awaits onward shipment at Port of Lianyungang's bulk cargo terminal in east China's Jiangsu Province on November 1, 2016 (XINHUA)
Against the backdrop of lukewarm international demand and tremendous economic downward pressure, China's foreign trade maintained its recent rebound, with imports up 0.6 percent and exports down 2 percent year on year in 2016.
Huang Songping, spokesman of the General Administration of Customs (GAC), described the performance as "really not easy," and pointed out that foreign trade experienced a dramatic decline in the first quarter, stabilized in the second quarter, and maintained growth in the third and fourth quarters.
What's behind the return to growth? "First, a series of policies and measures had been implemented to stabilize and boost foreign trade," said Huang.
For instance, in September 2016, the Ministry of Commerce (MOFCOM) and GAC jointly canceled the pre-establishment approval requirement for processing trade, which means processing imported raw materials and then exporting the finished products overseas. In November 2016, the Ministry of Finance and the State Administration of Taxation jointly declared to raise the export rebate rate of important products, such as refined oil, to 17 percent.
"Second, as the external environment has improved, export enterprises saw the number of new orders rise remarkably. Third, stability and recovery in the domestic economy have driven up the demand for bulk commodities," Huang noted.
In 2016, the total value of Chinese imports and exports stood at 24.3 trillion yuan ($3.54 trillion), down 0.9 percent year on year. "Rampant trade protectionism, dog-eat-dog competition in the international market, and rising domestic production costs, which have outpaced the transformation and upgrading of foreign trade—all these jointly led to a decline in the total value of foreign trade," said Bai Ming, a research fellow with the Chinese Academy of International Trade and Economic Cooperation, MOFCOM, who added that the yuan's depreciation also pushed the figure down.
Structural optimization
"New growth points for foreign trade emerged in 2016, and advantages concentrated," said Zhu Yong, Deputy Director of the Foreign Trade Department of MOFCOM, noting that cross-border e-commerce, market purchase and foreign trade comprehensive service companies realized rapid growth.
For example, the 13 cross-border e-commerce comprehensive experimental areas saw their exports double in 2016, with business-to-business transactions making up 66 percent.
"Besides that, enterprises that have their own intellectual property rights, independent brands and marketing channels gathered momentum," he added.
Huang suggested that the country's foreign trade has several new features. First, intrinsic growth momentum continued to pick up. Private enterprises' imports and exports increased by 2.2 percent in 2016, making up 38.1 percent of the national total, 1.2 percentage points higher than the previous year.
"Second, the mode of trade became more rational. Ordinary trade, rather than the less developed processing trade, enjoyed faster growth in 2016, accounting for 55 percent of the national total. Third, processing trade is being transferred from China's coastal areas to the less developed western region in an orderly manner. Fourth, the diversification of international markets gained ground, partly due to growing trade with some countries along the China-proposed Silk Road Economic Belt and 21st-Century Maritime Silk Road," Huang said.
While foreign trade stabilized, the increase in self-owned branded products helped improve the trade structure.
"We are shifting from being contractors to fostering self-owned brands," Zhang Qikang, a senior executive of Monalisa Group Co. Ltd., a Guangdong-based porcelain processing and manufacturing enterprise, told China Business Journal, adding that self-owned brands can help the company gain the upper hand in maintaining marketing channels.
According to Zhang, last year, affected by the gloomy international economic climate, subcontracting orders received by the company were on the decline. However, orders for self-owned brand products simultaneously increased roughly 10 percent. He pointed out that subcontracting business profits were severely squeezed because they had to compete with rivals in other developing countries, while self-owned brand products enjoyed stable profits because of high customer loyalty.
"Manufacturers need to focus on customer value and build differentiated competitive advantages, which can help them seize a share in saturated markets," Zhang Peng, Vice General Manager of Auhui JAC International Co. Ltd., a Hefei-based automobile manufacturer, told Beijing Review, noting that products and services should be customized based on different situations in different countries. For example, in freezing Russia, the company started to equip automobiles with a liquid heater, the first automaker to do so in the country.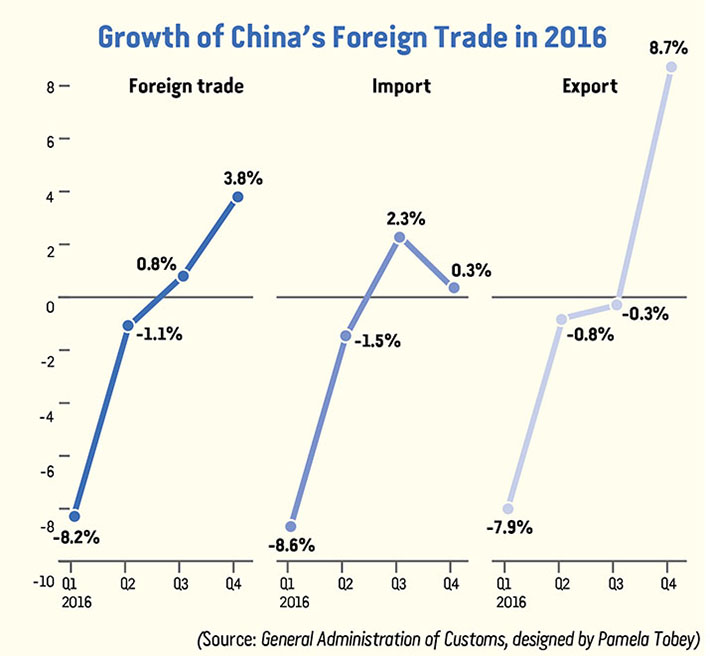 Challenges
In 2016, roughly 27 countries and regions filed 119 trade remedy cases against China-made products, an increase of 36.8 percent from the previous year, Sun Jiwen, a MOFCOM spokesman told a press conference in Beijing on January 5. The trade volume involved in such cases increased $14.34 billion, or 76 percent, from 2015, according to MOFCOM data.
Wang Hejun, Director of MOFCOM's Trade Remedy and Investigation Bureau, held that the situation may worsen in 2017.
"The policies adopted by countries show an inclination toward trade protectionism, due to the absence of new growth engines. The frequent occurrence of trade friction is a result of China being a large, but not strong trading nation," he said.
Aside from that, China currently has no clear advantages over some developing and even developed countries in terms of manufacturing costs. According to the 13th Five-Year Plan (2016-20) for the Development of Foreign Trade, China's comparative advantages are fading away, but new competitive advantages have yet to take shape.
In 2016, the total value of processing trade dropped 4.9 percent. "As production costs in the domestic market such as labor, land and resources keep increasing and the environment deteriorates, China's traditional low-cost advantage has eroded," said Sun.
"In 2017, downward pressures on foreign trade will be tremendous. Faced with new challenges, the attention should be shifted from speed to structural adjustment," he added, stressing that the promotion of quality and rationalization in product pricing can make China a stronger trading nation.
"In the process, the country needs to maintain a consistent strategy, promote innovation-driven development, consolidate the foundation of sustainable development and foster new growth engines of foreign trade," said Sun.
Copyedited by Dominic James Madar
Comments to dengyaqing@bjreview.com