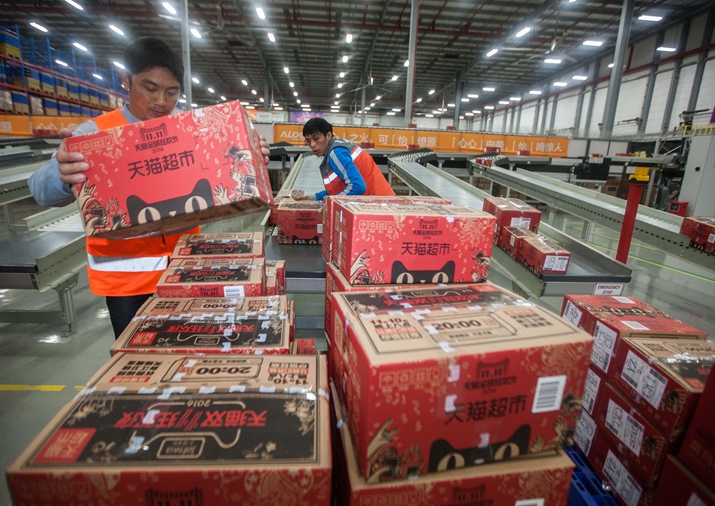 Staff of e-commerce giant Alibaba deal with parcels in a smart warehouse in Guangzhou, capital of south China's Guangdong Province, on last year's Singles' Day, China's annual Internet shopping frenzy on November 11 (XINHUA)
Chinese e-commerce giant Alibaba is set to become the major shareholder of department store titan Intime Retail once it closes a deal worth $2.6 billion to acquire a 74-percent stake in the company. Intime Retail is a Beijing-based shopping mall chain with more than 30 outlets throughout China.
The acquisition was announced on January 10. "Intime is another expansion for Alibaba into brick-and-mortar retail. It mostly gives them a platform to experiment with online-to-offline (O2O) retail models," Jeffrey Towson, a professor of investment at Peking University's Guanghua School of Management, told Beijing Review.
Alibaba Chairman Jack Ma has frequently highlighted his new O2O retail concept. "Singular e-commerce is likely to be outdated soon. The future belongs to new retail, which integrates physical stores, online platforms and logistics," said Ma at the Alibaba Computing Conference in south China's Guangdong Province in October 2016.
In fact, Alibaba began moving offline as early as April 2014 when it took its first bite of Intime Retail for $692 million. In August 2015, the online giant bought one fifth of retailer-turned-e-commerce company Suning.com, which owns 1,600 physical stores selling home appliances across 298 Chinese cities. Alibaba marched further into the offline market after investing $310.68 million for a 32-percent stake of Sanjiang Retail, a prestigious supermarket chain in east China's Zhejiang Province in November 2016.
Commentators believe that a new hybrid retail model through integrating online and offline marketplaces is becoming evident, with the attempt to offer customers a better shopping experience. Declining physical retail and the ambition of online retailers to grab a bigger slice of the market are believed to account for the emerging trend.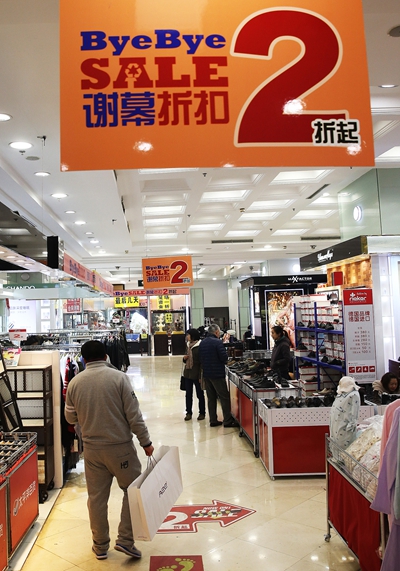 The Pacific Department store in Huaihai Road, Shanghai, on November 30, 2016. The shopping mall was closed at the end of 2016 (XINHUA)
Retail landscape shift
Over the past several years, there has been a wave of mall and store closures in China. According to Linkshop.com, a Zhejiang-based website tracking China's retail industry, 41 mega department stores and supermarkets with a floor area of over 2,000 square meters were shut in the first half of 2016.
Neither are foreign-funded shopping centers immune. Ito Yokado, the first joint venture department store chain to open in China—in 1997—closed seven of its 10 locations in Beijing in the past five years. And Marks and Spencer, a leading British retailer, retreated completely from the Chinese mainland in November 2016 after an eight-year-long struggle.
Nor are the small and medium-sized retail outlets so lucky. Belle International Holdings Ltd. Group, a renowned footwear producer in China, closed 276 outlets in three months in 2016, shrinking by three locations per day.
There is plenty of speculation about what is causing the sluggish physical retailing. Surging operating costs due to rent hikes and labor cost increases are one explanation.
To compound matters, brick-and-mortar department stores often fail to woo customers because of their homogenized layouts and similar commodity categories. "The stereotyped box-like shopping centers will gradually be replaced," Ding Yun, Chief of Retail at the Beijing-based Hejun Consulting Group, told The 21st Century Business Herald, a leading Chinese business paper.
In addition, thriving e-commerce is taking up an ever larger share of the retail market, eroding its physical counterpart. During last year's Double 11 online shopping day, China's annual Internet shopping frenzy on November 11, online sales totaled a record-breaking 177.04 billion yuan ($25.8 billion), surging nearly 44 percent year on year, according to Beijing-based e-commerce data provider Syntun.
And data from the National Bureau of Statistics (NBS) suggests the online sales volume of physical goods amounted to 3.75 trillion yuan ($541.44 billion) during the first 11 months of 2016, up 25.7 percent year on year.
The figures were backed up by Liu Rui, a professor at the School of Economics, Renmin University of China, "The development of e-commerce has been robust with a double-digit growth rate [in China]. Many shoppers are moving online, bringing great pressure to brick-and-mortar retail."
"To be in the forefront, retailers need to take steps to transform their companies into digital first, customer centric and fully integrated omni businesses," Anson Bailey, Head of Consumer Markets (Hong Kong), KPMG China, a Hong Kong-based audit, tax and advisory services provider, told Beijing Review.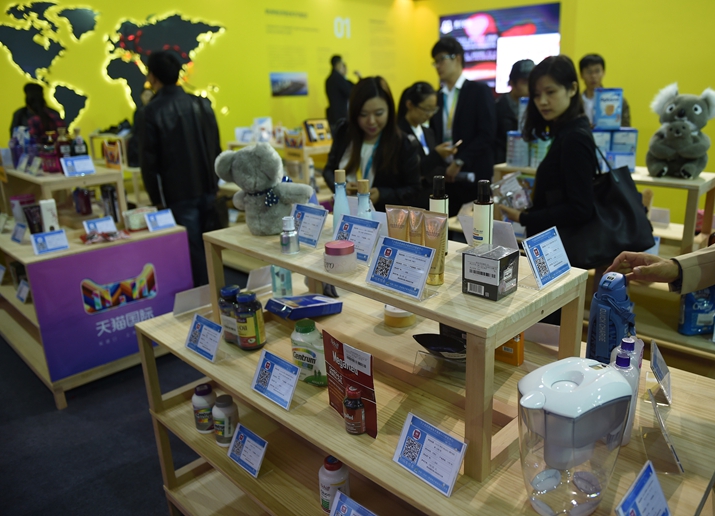 Visitors take a look at the products showcased in the trans-border e-commerce pavilion at the 2015 International E-business Expo in Hangzhou, east China's Zhejiang Province, on October 30, 2015 (XINHUA)
Integrating online and offline
In November 2016, the Chinese Government drew attention to the issue in a guideline aiming to improve physical retailers' innovation and transformation efforts. The guideline states that brick-and-mortar stores are encouraged to take advantage of information technologies to realize these objectives.
Against this backdrop, some physical stores have reached out to online marketplaces. Walmart Stores Inc. increased its ownership stake of online retailer JD.com to 10.8 percent in October 2016. The move was fruitful, according to Dong Minglun, President and CEO of Walmart China, since the supermarket giant gained a 4.2-percent sales volume jump in the third quarter of 2016 following a massive online sales campaign on JD.com.
On the other hand, a stronger physical presence is vital for online retailers to attract more shoppers.
"Consumers in China are influenced by both online and offline factors when deciding what to buy," stated a KPMG China survey. The number of consumers who bought a product after seeing it online increased from 19 to 42.6 percent in 2016. And 31.1 percent of consumers were triggered by seeing something in a physical shop, according to KPMG China.
Thus, "e-commerce is not an online-only affair. Both online and offline channels are effective in creating consumer awareness and demand, especially when used together," Willy Kruh, Global Chair of Consumer Markets, KPMG International, told Beijing Review.
Furthermore, despite the rapid rise, e-commerce still makes up a relatively small percentage of total retail spending in China. NBS figures show the online sale volume of physical goods made up only 12.5 percent of the total sales from January to November in 2016. To access the rest of the offline market, online platforms have to put up tangible sales outlets where buyers can touch, feel and experience products.
But some believe there is a long way to go before the new retail model gains momentum, even for online shopping titan Alibaba. "Offline retail is real estate meets complicated, local operations. Alibaba's strengths in software in Hangzhou won't help them much in this," said Towson.
It will take a lot of time for Alibaba and Intime Retail to get through the run-in period, since they need to streamline the two bodies and train up talent, noted Ding.
If the two retailers fail to get to grips with the new retail model, the acquisition is merely a bite of shares, warned Liu.
Towson also expressed similar concerns. "The real question is whether Alibaba can come up with a new integrated O2O model for Chinese retail. That is the big challenge and what I suspect Alibaba will put its biggest brains on," he said.
Copyedited by Dominic James Madar
Comments to linan@bjreview.com