An archaeological excavation site in Tongzhou on November 17 (XINHUA)
Over 1,000 ancient burial sites have been unearthed in Beijing's eastern district of Tongzhou as part of archaeological excavations conducted from February to September alongside construction of the capital city's new administrative center, according to the Beijing Municipal Government Information Office.
Treasure trove
The excavations, covering some 40,000 square meters, brought to light a city site, 69 kilns, 10 water wells, three roads, as well as over 4,000 artifacts of pottery, porcelain and bronze ware. Contents found at 60 locations, including the burial sites, have been relocated for protection and preservation.
Digging down through various strata has provided archaeologists with evidence of changes in the local natural environment and the impact of human activity on the land over the past 2,000 years.
In addition, the historical remains and unearthed artifacts present an abundance of information predominantly about the social development, culture, economy and burial customs of the region from the Warring States Period (475-221 B.C.) to the Qing Dynasty (1644-1911).
According to statistics from the Beijing Municipal Administration of Cultural Heritage, 79 percent of the 1,000-plus tombs belong to times ranging from the Warring States Period to the Han Dynasty (202 B.C.-A.D. 220). "This indicates that Tongzhou has had a large population since over 2,000 years ago. Especially during the Eastern Han (25-220) period, the region was prosperous and densely populated," said Guo Jingning, deputy head of the Beijing Cultural Relics Research Institute.
Also discovered was the site of the Luxian County seat, dating back to the Western Han Dynasty (202 B.C.-A.D. 8). Foundations of city walls measuring around 2,300 meters in length, a moat and roads, as well as relics including coins and pottery fragments, were uncovered.
The artifacts unearthed in Tongzhou resemble previous discoveries in Beijing's two neighboring regions of Tianjin Municipality and Hebei Province, which indicates the existence of a shared culture since ancient times.
"The relics have enriched the cultural connotations of the sub-administrative region and provided cultural foundations for the integrated development of Beijing, Tianjin and Hebei," said Yu Ping, deputy head of the Beijing Municipal Administration of Cultural Heritage.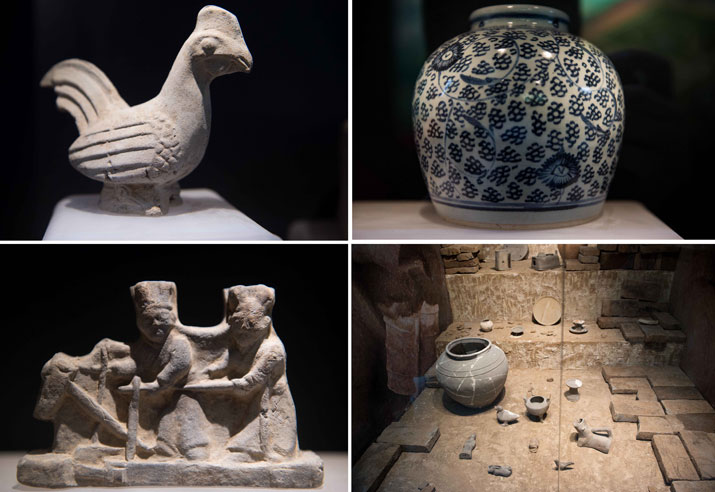 Pottery and ceramics recently unearthed in Tongzhou (XINHUA)
Ethnic fusion
"[Historically,] Tongzhou was the most open and inclusive part of Beijing. Multiple ethnic groups lived together and intermingled here due to convenient transport routes, especially water transport," said Liu Qingzhu, a researcher with the Institute of Archaeology under the Chinese Academy of Social Sciences.
Liu said the newly discovered tombs belong to the Liao (916-1125), Jin (1115-1234), Yuan (1279-1368) and Qing dynasties.
"The four ethnic minority-led dynasties all left their cultural footprints here. We can find out about how they merged into Han culture through the excavations," he explained.
Ethnic minorities' adoption of Han culture is reflected in their daily lives. "For instance, the Manchu ethnic group, which had the custom of cremation, embraced burial after the Manchu-led Qing court moved to Beijing from northeast China," Liu said.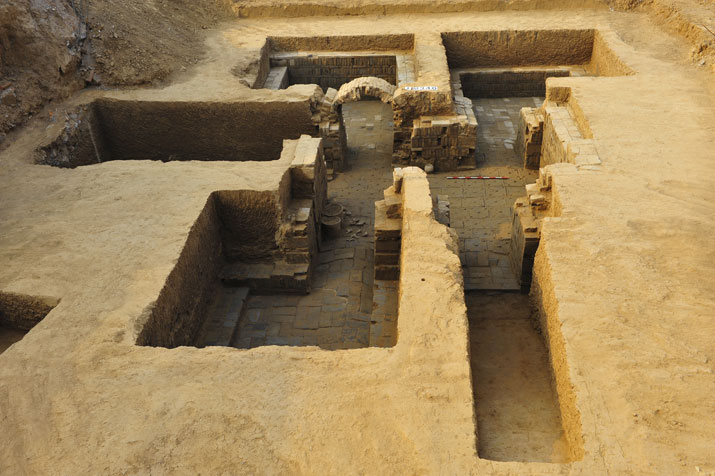 A multi-chamber burial site dating back to the Eastern Han Dynasty (25-220) unearthed in Tongzhou District, Beijing (COURTESY OF BEIJING CULTURAL RELICS RESEARCH INSTITUTE)
Lots to tell
According to Liu, the archaeological excavations are just the beginning of extensive academic investigations. "Laboratory research will take decades. For instance, tests of seed remains will be carried out to identify the staple food and newly introduced crops back then," Liu said.
The recent discoveries also include 26 well-preserved counting tools made of bone, of a type previously found only at one other site in Beijing.
"We can determine the main domestic livestock by studying the remains of animal bones," Guo said.
More museums will be built to display and repair cultural relics in order to explore the historical and cultural meanings of the sub-administrative area and improve its cultural facilities and services, according to Yu.
Beijing's New Administrative Center in Tongzhou
Tongzhou lies at the northern end of the Beijing-Hangzhou Grand Canal, which was listed as a UNESCO World Heritage site in 2014.
The relocation of Beijing's administrative center to Tongzhou was proposed in 2012 in order to rid the capital city of non-essential functions and curb problems such as traffic congestion and air pollution. Offices of the municipal authorities will all relocate to Tongzhou before the end of 2017.
The new administrative center has also been designated as a pilot area for the Beijing-Tianjin-Hebei integrated development initiative. This program was fast tracked in February 2014 when President Xi Jinping called for integrated and coordinated development of the region around Beijing. The area encompassed by the plan—Beijing, Tianjin and part of north China's Hebei Province—is inhabited by over 100 million people.
Copyedited by Chris Surtees
Comments to jijing@bjreview.com