Form-and-Will Six-Harmony Boxing master Cao Fengqi (front right) with his students in Beijing's Purple Bamboo Park on January 24 (WANG HAIRONG)
At the break of dawn on a crisp cold January morning, seniors sauntered into the Purple Bamboo Park in Beijing's Haidian District.

The picturesque park is a place where visitors can catch a glimpse of Chinese seniors' colorful activities such as dancing, singing, martial arts and Chinese chess games.
Dance to the music

Nowadays, it is literally impossible to walk through a major Chinese park at dawn or dusk without bumping into a group of square dancers, and the Purple Bamboo Park is no exception.

Various types of square dancers gathered at the park throughout the morning, some in groups neatly arranged in lines and some in ballroom-style pairs. They danced to a wide spectrum of music genres, ranging from classical music, ballads, passionate songs and pulse-quickening rock-and-roll.

On an open ground behind troves of bamboo shoots, dozens of seniors swayed, shuffled and swirled in pairs. A lady dressed in a short crimson coat and matching long skirt with a stylish blend of red and dark blue stood out from the crowd. Her light steps and elegant poses belied her age, as she danced like a 17-year-old ballerina.

Between dances, a senior in her 60s surnamed Liu told Beijing Review that she had been dancing here for about five years. "It gives me the chance to meet friends and makes me healthier," she said, adding that years of dancing have given her stronger immunity to the flu.

A tall man who identified himself as a retired researcher in his mid-70s said that he had been dancing for more than 10 years. "The benefit is that some of my peers are no longer in this world, while I am still here dancing," he said.

The elderly have medical, nursing, cultural and social needs. After their basic material needs are met, their spiritual and cultural needs will become more prominent, particularly in megacities such as Beijing and Shanghai, according to Zhao Baohua, deputy head of the Gerontological Society of China. He said that China is a rapidly aging society, with 222 million people (or 16.1 percent of the population) above the age of 60 as of the end of 2015.

At the Ninth Healthy China Forum held in Beijing on December 2, 2016, a declaration on culture-oriented elderly care was issued, which called for relevant parties to encourage seniors to participate in suitable cultural activities, and build platforms for cultural exchanges.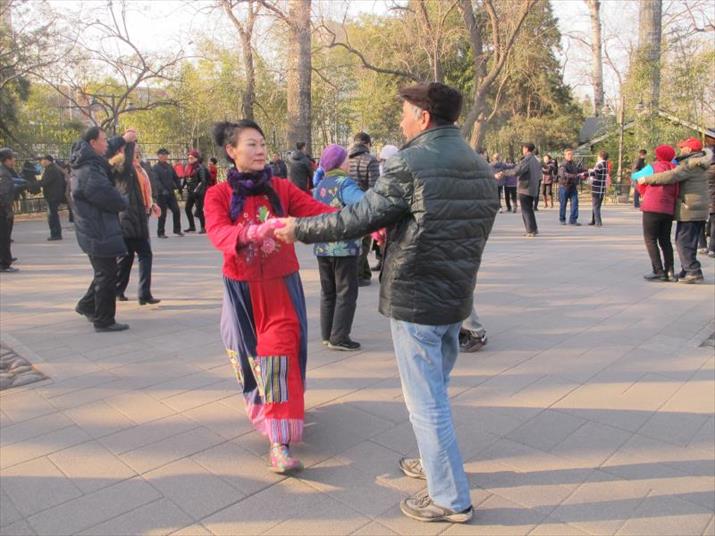 A couple stand out in the midst of dancing senior citizens in Beijing's Purple Bamboo Park on January 24 (WANG HAIRONG)
Keep on learning

For Sun Wenfeng, a resident of Xiqing District in Tianjin, retirement was the beginning of a new education and undertaking. Six years ago, she enrolled in a clay-making class in a local school for seniors, and has been fascinated with the art since then.

Thereafter, she spent hours shaping clay every day. "I pay special attention to depicting details in characters and animals. For instance, I use different kneading techniques for characters of different age groups. To knead life into a figurine, its body proportion and facial expression must be specific to individual character," she told local paper Tianjin Daily.

Over the years, she has produced more than 300 pieces of clay sculptures. In 2012, 2013 and 2016, her sculptures were displayed in local exhibitions and were highly commended.

Nowadays, many seniors attend schools for the elderly. More than 7 million seniors were studying in such schools, according to the development plan for elderly education (2016-20) issued by the State Council on October 19, 2016.

Haidian Old-Age University, founded in 1984, is the first of its kind in Beijing. Students can take classes in calligraphy, painting, seal carving and photography, and they can also learn how to use computers. Data from the school show that more than 2,900 students are enrolled in its 90 classes.

In the past three plus decades, more than 20,000 seniors have studied in the school. More than 300 of its students have won awards at national painting and calligraphy exhibitions; 150 plus students have held personal painting and calligraphy exhibitions or published collections of their work. Many of the school's graduates serve in community painting and calligraphy associations or teach in other community schools for the elderly.

Schools for the elderly have been set up in a large number of communities in Beijing and across the country. More such schools will be set up in the future. The development plan for elderly education (2016-20) predicts that by 2020, senior citizens who participate in educational activities in various forms should account for over 20 percent of the entire aged population. The plan states that by that time, every city and county should have at least one school for the elderly; 50 percent of townships (urban sub-districts) should have schools for the elderly; and 30 percent of administrative villages (urban communities) should have learning centers for the elderly.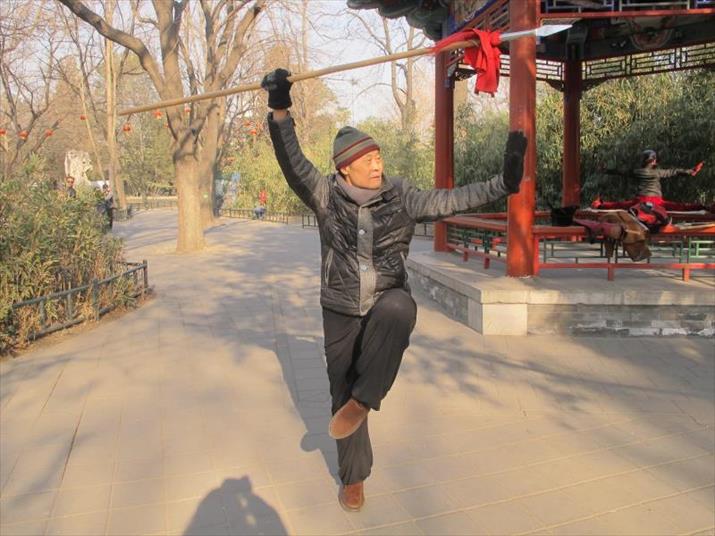 Song Guang'ai, a 72-year-old retiree, exercises with his spear in Beijing's Purple Bamboo Park on January 24 (WANG HAIRONG)
Give a helping hand
Seniors not only actively engage in cultural activities, but also in other social activities such as charity, as indicated by the fourth sampling survey of the aged population, conducted by the China Research Center on Aging, whose results were released in October 2016. With a sample size of 223,000 drawn nationwide, the survey is reported to be the most authentic one of its kind.
The survey revealed that in 2015, 45.6 percent of the elderly often participated in various charitable activities. Seniors also played an important role in community affairs, with 21.4 percent of them putting forward suggestions on community affairs.
Seniors play an important role in the management of an old-fashioned residential compound in Anningzhuang Community in Haidian, as it does not have a property management company.
Seniors take turns to patrol the compound to improve its safety. Some of them also volunteer to sweep and shovel snow in winter, and after heavy rains in summer they drain waterlogged places on the playground.
Seniors also organize their own cultural activities. A senior woman surnamed Wang volunteered to teach neighbors square dancing, and organized dances for them almost every evening.
Copyedited by Sudeshna Sarkar
Comments to wanghairong@bjreview.com