An award ceremony during the Chinese American Film Festival in Los Angeles on November 3, 2016 (XINHUA)
During the weeklong Spring Festival holiday from January 27 to February 2, China's box-office revenue set a new record of 3.419 billion yuan ($498 million), increasing 10.72 percent year on year.
Journey to the West: The Demons Strike Back took in 1.153 billion yuan ($168 million) over the seven days, topping the holiday box office rankings. Adapted from the Chinese classic Journey to the West, the fantasy action movie tells the story of a monk taking three disciples westward in search of the true Buddhist teachings. Kung Fu Yoga, an action comedy jointly produced by film companies in China and India and starring Jackie Chan as an archeologist seeking lost treasure using an ancient map, earned 870 million yuan ($126 million).
A cooling market
The new record comes after China's film industry registered mediocre performance in 2016.
According to the State Administration of Press, Publication, Radio, Film and Television, China's box-office revenue totaled 45.712 billion yuan ($6.6 billion) in 2016, increasing 3.73 percent year on year. The figures are a far cry from the predicted 60 billion yuan ($8.7 billion) at the beginning of the year and the growth rate of over 40 percent for five consecutive years since 2010.
Ticket sales in 2015 amounted to 44 billion yuan ($6.4 billion), increasing by 49 percent year on year, the highest growth rate in 10 years.
Like this year, strong ticket sales were registered during the Spring Festival period of 2016. Hong Kong-based director and actor Stephen Chow's comic fantasy, The Mermaid, which hit the screens during the 2016 Spring Festival in February eventually grossed 3.38 billion yuan ($491 million), becoming the highest-grossing film ever on the Chinese mainland.
The robust start raised expectations for the remainder of 2016. However, the film industry started to lose growth momentum in April and May. The revenue in July and September dropped by 1 billion yuan ($145 million) and 1.3 billion yuan ($189 million), or 18.2 percent and 38 percent, respectively year on year, the first negative growth in five years.
The lackluster performance was partly attributable to reduced ticket subsidies provided by online ticket booking platforms and the crackdown on ticket fraud.
It's estimated that of the 44 billion yuan box-office takings in 2015, 3 billion yuan ($426 million) to 5 billion yuan ($726 million) came from subsidies. Audiences were able to buy film tickets for just 9.9 yuan ($1.4) through online ticket sales platforms such as Gewara.
Many such online platforms scrapped subsidies in 2016, having tried to cultivate the habit of buying film tickets online among consumers. As a result, some people were unwilling to bear the increased cost.
Various forms of box-office fraud have also stopped following the enactment of a film industry promotion law in November 2016. The law, due to take effect in March 2017, stipulates strict punishment for malpractices. For instance, previously, film companies would buy the tickets themselves in order to create an illusion of high turnout and attract more people to cinemas.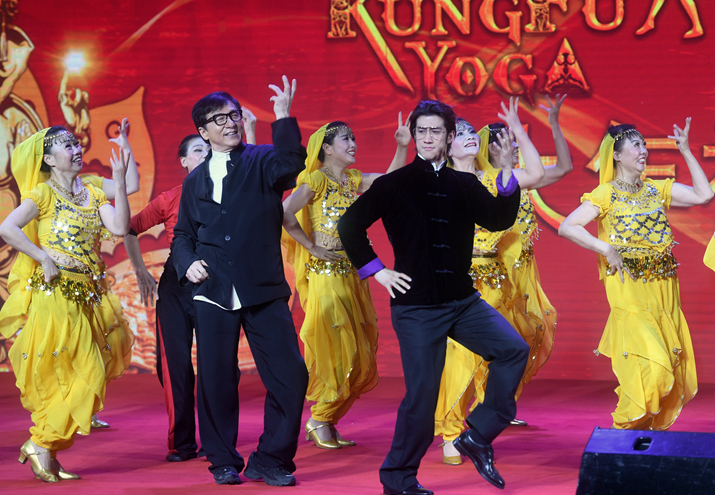 Leading actors of Kung Fu Yoga, Jackie Chan (left) and Aarif Lee, dance at the release of the film in Beijing on January 5 (XINHUA)
Bright spots
In spite of the slowed box-office growth, there were many notable films across a variety of genres in 2016.
For example, Operation Mekong, a Hong Kong crime action film based on the Mekong River massacre in 2011 when gunmen stormed Chinese cargo boats killing 13 crew members, raked in 1.184 billion yuan ($172 million), the highest takings for a domestic film of such genre. The film was released on September 30 and was claimed by some moviegoers to be the best action movie of the year.
Romantic film I Belonged to You, based on a work by novelist Zhang Jiajia, premiered on September 29 and earned more than 800 million yuan ($118 million) at the box office, becoming the highest grossing domestic romantic film in history.
There were also several movies which achieved success both at the box office and in audience ratings, such as youth movie Soulmate, which explores the subtle relationships in a love triangle of two girls and a boy. The leading actresses of the film, Zhou Dongyu and Ma Sichun, won the best leading actress title at the 53rd Golden Horse Awards in November 2016 in Taipei.
Director Feng Xiaogang's avant garde comedy, I Am Not Madame Bovary, won the International Federation of Film Critics prize for special presentations at the 41st Toronto International Film Festival on September 18, 2016. The film tells the story of a café proprietor, played by A-list actress Fan Bingbing, who spends a decade petitioning the legal system in China after being swindled by her ex-husband.
Sino-U.S. co-productions also broke new ground in 2016. The Great Wall, with an estimated budget of around $135 million, had grossed 1.17 billion yuan ($170 million) on the Chinese mainland by February 7, 2017. Directed by acclaimed director Zhang Yimou, the film is an epic historical monster film based on an ancient Chinese folktale surrounding the building of the Great Wall. It's also Zhang's first fully English-language film and is due to debut in North America on February 17.
When it comes to animated films, Zootopia and Sino-U.S. co-production Kung Fu Panda 3 earned more than 1 billion yuan each. However, locally produced animations registered mediocre performance in 2016. Only Big Fish & Begonia stood out, taking in 560 million yuan ($81 million) to become the second domestic animation to gross over 500 million yuan ($72.5 million) after Monkey King: Hero Is Back, released in 2015.
Yin Hong, a professor at the School of Journalism and Communication of Tsinghua University, told China Culture Daily the reduced ticket subsidies had effectively squeezed out the bubbles in the film market, especially that of box-office receipts, and will benefit the industry's overall interests and long-term growth. Yin is confident about China's film industry, believing that China will overtake the United States to become the world's largest film market in two years.
Dai Jinhua, Director of the Center for Film and Cultural Studies at Peking University, echoed Yin's views, saying the slowdown will help form a healthy film market. Following the explosive growth of the market fueled by the pouring in of a massive amount of capital, the importance of the content of films will receive renewed attention.
Dai compared the Chinese film industry to a "magnificent building with many empty rooms." It's her belief that there is a huge demand for top-notch professionals to fill these rooms with good stories.
Copyedited by Chris Surtees
Comments to jijing@bjreview.com