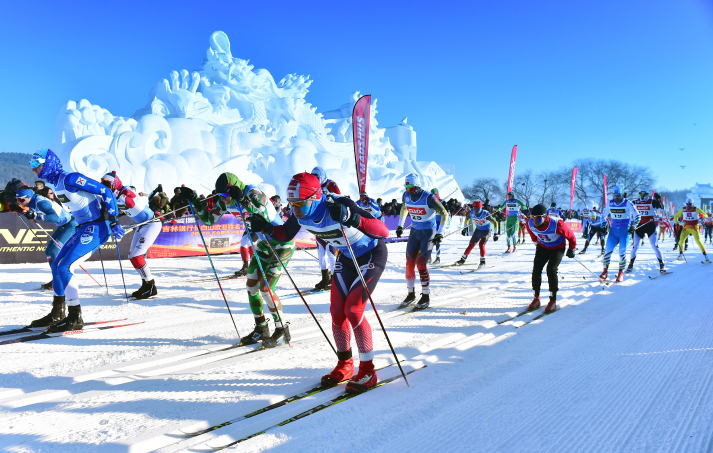 A cross-country ski race in Changchun, Jilin Province, on January 4
Wang Tingwei, a southerner studying in northeast China's Jilin Province, is amazed by the multifarious and frequent winter sports activities organized by his college, Changchun Normal University. Wang, once a rookie in winter sports himself, became a fan of skiing and volunteered to serve the joint opening ceremony of the 2018 China Changchun Ice and Snow Travel Festival and the Jingyuetan Vasaloppet International Skiing Festival in Changchun, capital of Jilin, on January 4.
"It seldom snows in south China; thus most southerners are not familiar with winter sports. On the contrary, people in the northeast are already very fond of them," said Wang.
During the festivals, both of which will last 100 days, more than 100 ice and snow-related public activities are taking place in over 40 locations, including ice and snow sculpture exhibitions, and skiing competitions. Also, popular traditional winter events, such as dragon boat contests on ice and fishing in icy rivers, are being staged.
Notably, a total of 1,500 skiers from 35 countries took part in a long-distance ski race on the first day of the Jingyuetan Vasaloppet International Skiing Festival, now in its 16th year. The Vasaloppet, an annual long-distance cross-country ski race held in Sweden every March, is the oldest, largest and longest race of its kind in the world. It was introduced to Changchun in 2003 and is held in the Jingyuetan scenic area.
According to Jonas Rosen, Vice President of Sweden's Vasaloppet, the aim of the festival is "to encourage skiers and some non-skiers to try their ability in a challenging adventure and to give everyone the chance to ski in the same race as the elite skiers." He made the remarks at the opening ceremony of the two festivals.
To give everyone the chance to take part in winter sports is an ambition for the Chinese Government. When bidding for the 2022 Winter Olympics in 2014, China promised to "engage 300 million people in winter sports" by 2025.
Getting active
In recent years, local governments have been encouraged to host ice and snow festivals and events to enable ordinary people, especially students, to enjoy winter sports. "The number of elementary and middle schools which highlight winter sports will amount to 5,000 by 2025," reads the Winter Sports Development Plan (2016-25) released by the General Administration of Sport, the Ministry of Education, the China National Tourism Administration (CNTA) and the National Development and Reform Commission in August 2016.
As a previous host of both national and Asian winter games, Changchun strives to promote winter sports in campuses and communities, enabling all residents to enjoy the ice and snow fun. "All 500,000 elementary and middle school students are offered free or discount tickets to the winter sport sites during the winter holiday. Many schools are now preparing skating rinks," Yuan Jiye, deputy chief of the Changchun Tourism Bureau, told Beijing Review.
"Most kids in my family are learning skiing," Guang Jian, a 59-year-old policeman in Changchun, said. "The various ice and snow festivals and events help make Changchun residents more interested in winter sports."
However, compared with table tennis, the popularity of winter sports is much lower. Some argue that an inadequate supply of winter sport sites and a lack of professional athletes and coaches are among the hurdles.
"China's current ice and snow projects and facilities are not enough to receive 300 million participants. It's foreseeable that more ice and snow tourism destinations will be built in the coming years," Li Xiaoming, President of the Beijing Skating Association, told Beijing Business Today in December 2017.
China is located in Earth's monsoon zone. Most regions are cold and dry in winter and warm and rainy in summer. Many winter sports sites are left unused in summer. Indoor skating and skiing rinks remain inadequate.
The lack of professional athletes and coaches is another headache. Winter sports like skiing are high risk, said Li. Without instructions from professional athletes and coaches, it's very difficult for rookies and students to learn skiing by themselves.
To cater to the need, China will train 5,000 coaches for elementary and middle schools, the Winter Sports Development Plan (2016-25) states. Moreover, according to the National Winter Sports Facilities Construction Plan (2016-22) released in November 2016, the number of skiing sites will amount to 800, including at least 240 newly built ones, by 2022.
A snow sculpture exhibition showcasing ingeniously carved sculptures situated in Jingyuetan National Forest Park in Changchun in January (LUO HAO)
New growth engine
The frozen and snowy world of winter, like the lucid waters and lush mountains in summer, is also an invaluable asset, said President Xi Jinping at a panel discussion held by the delegation of northeast China's Heilongjiang Province during the annual session of the National People's Congress in March 2016.
"The ice and snow are important natural resources for developing tourism. Turning snowflakes into silver coins has become a current trend," said Lu Fujian, Deputy Secretary General of the Changchun Municipal Government at the China Changchun Ice and Snow Industry Summit on January 5.
According to Lu, with Beijing's successful bid for the Winter Olympics, the Central Government has rolled out many preferential policies to develop the ice and snow industry, including the campaign to engage 300 million people in winter sports. "The golden era for China's ice and snow industry is coming," said Lu.
The latest data from the China Tourism Academy (CTA), CNTA's research arm, shows that the 2016-17 winter witnessed 170
million Chinese tourists spending their holiday in frozen regions, generating a total income of 270 billion yuan ($41.96 billion). The CTA estimates that China's ice and snow tourist population will double in the winter of 2021-22.
"China's ice and snow industry is expected to yield 600 billion yuan ($93.24 billion) in the year 2020 and 1 trillion yuan ($155.4 billion) in 2025," reads the Winter Sports Development Plan (2016-25).
As for Changchun, ice and snow tourism has become one of its economic drivers in recent decades. Now in its 21st year, the annual China Changchun Ice and Snow Travel Festival has attracted more than 100 million tourists and generated revenue of 150 billion yuan ($23.31 billion) in aggregate since it began in 1998, according to Yuan. Changchun was also listed as one of the Top 10 Ice and Snow Destinations in China in 2017 by CTA.
"We aim to make Changchun one of the top destinations in Northeast Asia. International tourists from both northeast and southeast Asia are also our target consumers," Yuan told Beijing Review, adding that people from Southeast Asia are quite fond of experiencing the frozen world in Jilin.
Ou Engchhung, a 19-year-old student from Cambodia, is one of them. He experienced snow for the first time in his life as he attended the joint opening ceremony of the 2018 China Changchun Ice and Snow Travel Festival and the Jingyuetan Vasaloppet International Skiing Festival in Changchun.
"My country doesn't have snow in winters. I'm so happy to see such a wonderful frozen world," he told Beijing Review.
But the insuffciency of professional service personnel is a challenge for developing ice and snow tourism. Many skiing sites and snowy destinations are located in rural areas far away from the city. Some farmers who now run homestays tend to swindle money out of customers.
China Snow Town, one of the most scenic winter destinations in Heilongjiang, has suffered recent scandals like unexpected price hikes, forced purchases and even violent attacks, as reported in January 2018.
"How to regulate the tourist market and train farmers to become qualified service providers are priorities for the local government," said Yuan Jiye.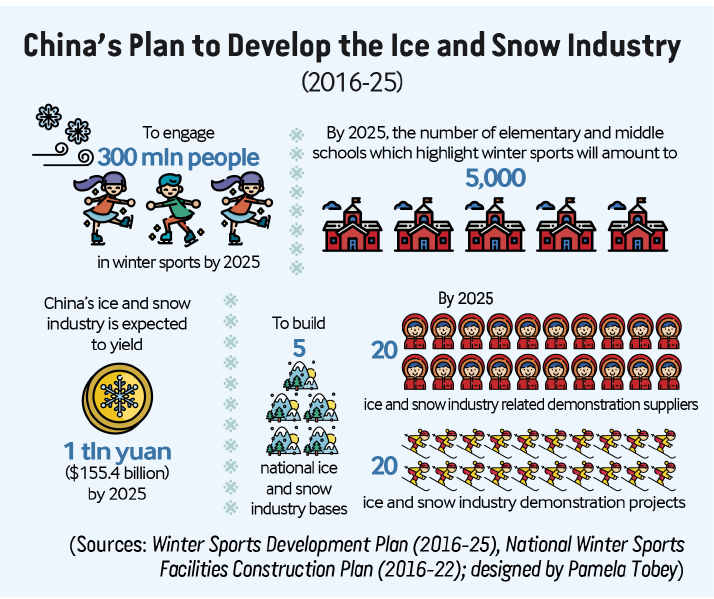 No More Slack Season
The long and cold winter used to be the offseason for residents in northeast China, when most preferred to maodong—curl up and idle away time in their cozy heated brick beds like a cat. In a frozen world with an average temperature of minus 20 degrees Celsius, there was neither farm work nor any business opportunities. Therefore, maodong has long been the typical way for northeasterners to spend the winters.
Like her peers, Pan Ya, a 48-year-old farmer in Jilin Province, spent countless winter days indoors, without any income for the whole season. Before 2007, her small hamlet in Dadingzi Village in Bonihe Town, Changchun City, was only accessible by dirt roads. Consequently, Pan lived off just her land for nine months a year, which brought her an income of 20,000 yuan ($3,108.5) to 30,000 yuan ($4,662.7) per year.
But things have changed in recent years. Skiers started flocking to her village in winter after a ski resort—Miaoxiang Mountain Resort (MMR)—was opened nearby. The once out of the way village was put on the tourist map. To accommodate the skiers, 20 rural families around the resort were encouraged to run homestays. The operators of the MMR helped train the farmers and redecorated their houses, installing flush toilets and offering free bedclothes.
The Pans were one of the chosen families. In 2012, Pan redecorated her farmhouse and started a homestay, offering accommodation for skiers. "We farmers turned hotel owners in winter thanks to the ski resort. My restaurant is already doing a brisk trade in winter." Pan told Beijing Review.
According to Pan, her restaurant receives 40 to 100 customers every day during the skiing season, which keeps her busy and generates additional earnings of 50,000 yuan ($7,771.2) to 70,000 yuan ($10,879.7) per winter, tripling her yearly income.
Also, Pan's homestay creates jobs for other villagers. Pan hired five housewives to be waitresses. Sun Guolian is one of them. "I now have a permanent job in the winter. It makes my life much better," Sun told Beijing Review, adding that the job helped double her yearly income.
In fact, Pan and Sun are not the only beneficiaries of the ski resort. A total of 70 villagers nearby are now working in the resort. But things were not always like this. "Rural northeasterners preferred to maodong at home and were reluctant to find jobs in winter. Now, running homestays and working in the resort enables many villagers to work at or very close to home. More and more villagers are willing to be active in winter," Wang Yong, MMR's President, told Beijing Review. After the year 2015, more and more homestay owners spontaneously improved their facilities and services to attract skiers, added Wang.
Copyedited by Chris Surtees
Comments to linan@bjreview.com