A smartphone installed with both Didi and Uber China's apps (XINHUA)
They have been at loggerheads over fares for years, but now a white flag has been waved across the ride-hailing market in China. Didi Chuxing and Uber have finally agreed to bury the hatchet ending their costly fight for the largest on-demand transportation market in the world.
Didi Chuxing, or Didi for short, is a homegrown juggernaut resulting from the merger of two Chinese ride-hailing companies—Didi Dache and Kuaidi Dache—in 2015. Uber, meanwhile, is the leading ride-hailing service in the United States and much of the world, except for China, where it has been a bleeding ground for the Silicon Valley-based startup.
On August 1, Didi announced that it will acquire Uber's brand, business operations and data in China. After the deal is completed, Uber will get 5.89 percent of the newly united company with "preferred equity interest," equal to a 17.7-percent economic interest, while other shareholders of Uber China will receive a 2.3-percent economic interest in the new company, according to a statement from Didi. It also said that Uber China will keep its independent branding and business operations to ensure the stability and continuity of the service for passengers and drivers.
The valuation of the combined operation stands at $35 billion, made up of Didi's latest $28 billion valuation and $7 billion value for Uber China, according to Bloomberg.com, citing people familiar with the matter.
Under the deal, Didi will also obtain a minority equity interest in Uber, which operates globally outside China. But Didi did not disclose the stake it will take in Uber.
The tie-up follows China's legalization of ride-hailing services. Previously, firms like Didi and Uber had operated in a gray area in the country, as there is a law against using private cars to offer paid rides.
China's first nationwide regulation on on-demand transportation services was unveiled on July 28, granting legal status to the industry. The regulation requires car-hailing platforms including Didi and Uber to review drivers' qualifications and criminal records as well as vehicle safety.
Bump and grind
About 96.6 million Chinese, or about one in every 14, hailed a taxi via online on-demand transportation services in 2015, while 21.6 million people booked private cars online, according to data from the China Internet Network Information Center.
Didi and Uber have been mired in a bitter discount war in the Chinese market since last year, with both offering massive subsidies to their drivers and passengers, using money raised from investors.
In June, Didi announced it had secured $7.3 billion in equity and debt financing, including $1 billion from Apple. Didi also has the backing of Chinese Internet giants like Alibaba and Tencent.
Uber has secured more than $6 billion in its latest financing round. China's search engine giant Baidu is one of Uber's investors. Liu Zhen, Uber China's head of strategy, said in June that most of the money raised would fund the company's operations in China. But considering the recent deal, the future of the funding's allocation is uncertain.
Uber entered the Chinese market fairly late in February 2014, two years after Didi was founded. The company claims that its services are now available in more than 60 cities throughout the country and that it serves over 150 million trips a month. In contrast, Didi's platform reportedly handles more than 11 million rides across 400 Chinese cities per day.
While Uber has generated more than $1 billion in profits from its top 30 cities worldwide, it has not yet turned a profit in any Chinese city, even though it provides more trips in China than in any other country. In February, Uber's founder and CEO Travis Kalanick said that the company's annual losses in China totaled $1 billion.
In a post on his Facebook page after the Didi-Uber merger was announced, Kalanick admitted that getting to profitability is the only way to build a sustainable business that can best serve Chinese riders, drivers and cities over the long term.
Analysts, however, have different views on the merger.
Fang Xingdong, Chairman of think tank China Labs, said that Uber China had a promising beginning but a lackluster ending.
Uber's China operation is based on the bureaucratic professional manager model, a commonly used model by foreign Internet companies. Therefore, it comes as no surprise that it was bought by Didi, Fang said.
Jeffrey Towson, a professor of Investment at Peking University's Guanghua School of Management, disagreed with Fang, saying that Uber's sale of its China business was a good strategy.
Towson told Beijing Review that because Uber had been unable to catch up with Didi's leading edge in China, it was a smart move that they turned their strong second-place position into a big stake in Didi.
Since news of the Didi-Uber deal broke, passengers have been concerned over a possible rise in fares.
Lin Chaoyue, a 32-year-old civil servant living in Beijing, is a frequent user of ride-hailing services.
"I often order cars on Didi and Uber China's apps when I think driving or parking is too tiring, expensive or just inconvenient," he told Beijing Review. "I think that after the merger, cash discounts will inevitably decrease and prices will go up."
Lin said that he would shift to other ride-hailing platforms, such as the minor market players Yidao and Shenzhou, if new Didi's prices become too expensive.
Guo Guangwei, a full-time Didi driver in Beijing, is less pessimistic. Guo started using his brand-new Camry to provide ride-hailing services through Didi starting from late 2014.
He told Beijing Review that over the past two years, he has worked around 12 hours a day and earned roughly 8,000 yuan ($1,200) a month, similar to the income of a local taxi driver. Although his income is partly subsidized by Didi, he was not worried about a potential income drop following the merger, reasoning that a combined company may result in more daily orders.
While Didi will in fact continue to offer subsidies to passengers and drivers in the long term, passengers have shown more concerns about easy access to safe, comfortable services, the company said in a statement posted on its website on August 1.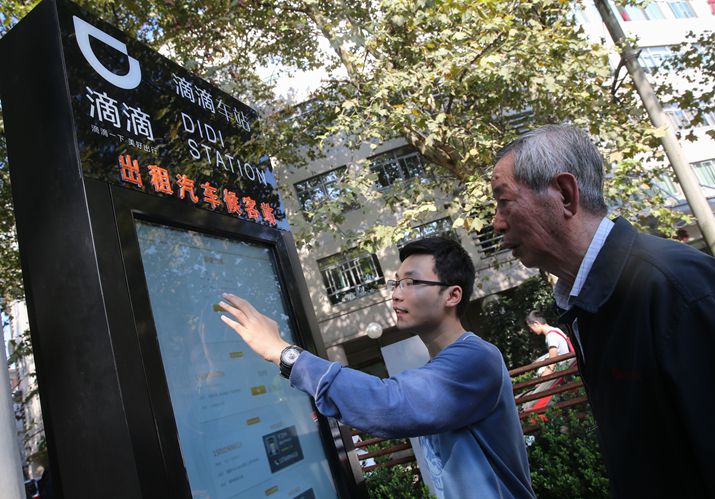 A Didi staff worker teaches a passenger how to use the company's ride-hailing service in Shanghai on October 15, 2015 (XINHUA)
Controversy
The Ministry of Commerce has nonetheless said on August 2 that Didi cannot proceed with its Uber China buyout deal without giving prior notification to the ministry.
"The Ministry of Commerce has yet to receive the notification of intent from Didi Chuxing and Uber China. In accordance with China's Anti-Monopoly Law and the provisions of the State Council on Notification Thresholds of Concentrations of Business Operators, the notification is required before the actual merger goes through," said spokesman Shen Danyang at a press conference.
Shen pointed out that Didi also failed to submit the notification before its 2015 merger with Kuaidi.
"If Didi Chuxing and Uber China intend to proceed with the buyout, they cannot do so without submitting formal notification," Shen said.
In response, Didi issued its own statement, saying that both companies had so far failed to achieve profitability in China, and that the revenue of Uber China in the last fiscal year did not meet the standard required for mandatory notification.
But Deng Feng, a law professor at Peking University, was quoted by Caijing magazine as saying that monopolists that are losing money are still monopolists.
Fu Weigang, Executive President of the Shanghai-based think-tank SIFL Institute, disagreed, saying that having a dominant market share is not equal to having a monopoly.
"Only when a company has a dominant market share and abuses its status can we call it a monopoly," Fu told news website Jiemian.com.
So what lies ahead for the ride-hailing market?
Zhang Xu, an analyst from Analysys International, said that this market will witness a drastic change following the Didi-Uber deal.
"After the Didi-Uber merger, the competition will intensify for other market players, forcing them to speed up product and service innovations, so as to expand their user base and increase user loyalty," Zhang said. "If they fail to do so, they will either die or be sold at cheap prices."
Towson expects Didi to become a tremendous cash machine after taking over Uber's China business.
"It (Didi) now has an unchallenged position in the on-demand transportation industry in China. They can now decrease the subsidies and start to monetize their activity," he analyzed.
Towson said that while rumors have surfaced about Didi going public, he believes the company will focus on profitability for now, and perhaps on a stock listing in a year or two.
Copyedited by Francisco Little
Comments to zhouxiaoyan@bjreview.com