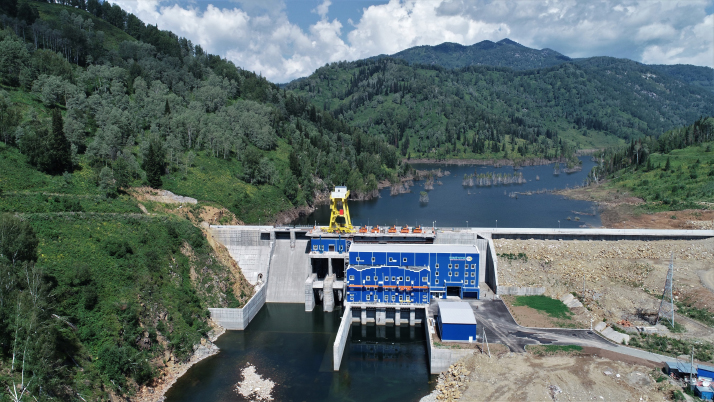 A China-aided hydropower station on the Turgusun River in Kazakhstan on July 29, 2021 (XINHUA)
This year marks the 30th anniversary of diplomatic relations between China and the five Central Asian countries, namely Kazakhstan, Kyrgyzstan, Tajikistan, Turkmenistan and Uzbekistan. Since their inception, these partnerships have endured and prospered despite the challenges posed by numerous changes in the global landscape. The former Soviet republics established their independence in 1991.
Heads of state from China and the five countries gathered for a virtual summit on January 25 to commemorate the anniversary. Based on the consensuses formed at the event, the nations are working together to create a closer community with a shared future and taking China-Central Asia ties to a higher level.
As part of their efforts to promote tangible cooperation, the Third China+Central Asia (C+C5) Foreign Ministers' Meeting took place in Nur-Sultan, capital of Kazakhstan, from June 6 to 9. The meeting agreed to build a mechanism for C+C5 heads of state to meet regularly and issued four outcome documents, namely a joint declaration, a roadmap for the implementation of the consensus of the C+C5 virtual summit, an initiative to deepen cooperation in the field of connectivity among C+C5 countries, and an initiative for cooperation of C+C5 countries in the field of data security. The participants also reached consensus in 10 aspects, involving deepening mutual connectivity, safeguarding food security and the timely coordination of positions on the situation in Afghanistan.
In the past 30 years, China and Central Asian countries have developed close exchanges between all levels of their governments. They have supported each other in defending their national interests relating to independence, sovereignty and territorial integrity. The five Central Asian countries firmly adhere to the one-China principle and oppose any form of "Taiwan independence" separatist activities. When COVID-19 hit China in early 2020, Central Asian countries provided timely aid and refuted the Western attempts to blame the emerging pandemic on China. When the pandemic situation worsened in Central Asia later on, China was very quick to send supplies and medical experts to assist regional countries.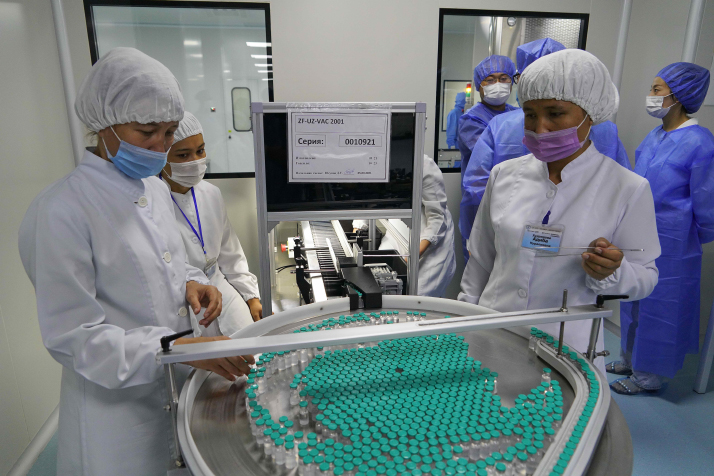 Staff members work on the production line for a Chinese COVID-19 vaccine at an Uzbek pharmaceutical company on September 5, 2021
(XINHUA)
When Kazakhstan saw large-scale riots in early 2022, Chinese President Xi Jinping spoke highly of Kazakh President Kassym-Jomart Tokayev's decisive and effective actions, which quickly calmed the situation. At the virtual summit, Xi also stated that China will continue to support and help Kazakhstan in maintaining stability and stopping violence to the best of its ability.
China and Central Asian countries are consistent with each other in the stances they take when engaging in significant international and regional affairs. They have worked together to fight the three evil forces, namely terrorism, separatism and extremism; drug trafficking and transnational organized crime. They are also committed to upholding the vision of common, comprehensive, cooperative and sustainable security.
In recent years, China and Central Asian countries have cooperated within the Belt and Road Initiative under the principles of extensive consultation, joint contribution and shared benefits, which have gradually nurtured a regional partnership architecture where mutually beneficial results are achieved in economic and people-to-people exchanges.
China never imposes its development mode on other developing countries, but encourages them to explore their own paths. It believes that common prosperity can be achieved by sharing wisdom and opportunities.
During the January summit, President Xi said that, on the basis of mutual understanding and accommodation, China and Central Asian countries have completely resolved boundary issues left from history, turning the over 3,300 km of shared borders into a bond of friendship, mutual trust and cooperation. This achievement has laid the foundation for deepening mutual political trust and advancing win-win cooperation, setting a good example of fostering a new type of international relations.
China will continue to enrich its strategic partnerships with Central Asian countries for the sake of mutual benefit and long-lasting friendship. With a willingness to support one another in difficulties, these partners will work hand in hand for future prosperity.
The author is an assistant research fellow with the Institute of Eurasian Studies at the China Institutes of Contemporary International Relations
__________
10-Point Consensus of the Third C+C5 Foreign Ministers' Meeting
Upholding the principles of mutual respect, good neighborliness and friendship, solidarity in trying times, mutual benefit and win-win results, and committing to building an autonomous, peaceful, prosperous and cooperative Central Asia
Continuing to advance high-quality Belt and Road cooperation, expanding all-round cooperation, exploring ways to promote financial cooperation, and further expanding the local currency settlement scale
Deepening the cooperation of connectivity, ensuring the safe and stable operation of the China-Europe freight train, promoting customs clearance facilitation, improving the "green lanes" for cargo, and accelerating the resumption of flights to ensure the complete industry chain and the continuous supply chain
 Maintaining security in traditional and non-traditional areas in a coordinated manner, cooperating to fight the three forces of terrorism, separatism and extremism, and ensuring food security
Continuing to work together to fight the pandemic, actively carrying out cooperation in vaccine and drug research and development, establishing the China-Central Asia health industry alliance, and setting up a Traditional Chinese Medicine center in Central Asia
Coordinating positions on the situation in Afghanistan in a timely manner, promoting peaceful reconstruction in Afghanistan, supporting Uzbekistan in hosting the Fourth Foreign Ministers' Meeting Among the Neighboring Countries of Afghanistan and the High-Level International Conference on Afghanistan Issue, and maintaining regional security and stability
Deepening cooperation in education, science and technology, arts, sports, tourism, poverty reduction and other areas, and promoting work on the "One Country, One Workshop" (an initiative aimed at training skilled personnel) and the mutual establishment of cultural centers
Promoting green and sustainable development, sharing experience and technology in environmental protection, and building a beautiful home featuring harmonious coexistence between mankind and nature
Continuing to support each other on issues related to each other's core interests, jointly implementing the Global Security Initiative and the Global Development Initiative, and contributing to global governance
Continuing to improve the C+C5 cooperation mechanism, actively carrying out exchanges and dialogues in the fields of political parties, economy and trade, investment, and think tanks and at the subnational levels, and fully releasing the cooperation potential among the six countries
(Source: Ministry of Foreign Affairs)
Copyedited by G.P. Wilson
Comments to ffli@cicgamericas.com