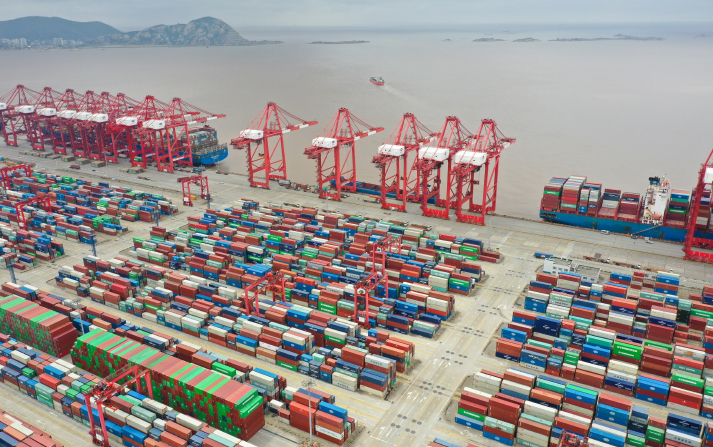 A container terminal at Yangshan Port in Shanghai on April 15 (XINHUA)
How will China's improved business climate help the domestic and global economies supplement and reinforce one another? Representatives of foreign business communities share their insights on CDF Voice, a social media column of the China Development Forum. The forum is an annual event hosted by the Development Research Center of the State Council. Edited excerpts of the discussion with Denis Depoux, global managing director of European consultancy Roland Berger, and Peter Grauer, Chairman of global business and financial information service provider Bloomberg, follow: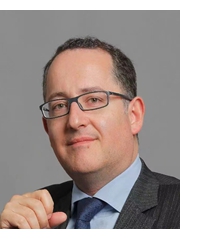 Denis Depoux, Global Managing Director of Roland Berger
Over three decades, I have witnessed the deep transformation of this country, supported by a gradual market opening up and reform. Some success factors: central planning, long-term vision, pragmatic adaptation, holistic approaches driven by the central and rolling out to the local level, front loading of infrastructure as a driver of future development and growth.
China today is very different from the China I first experienced in 1993, and even in 2014 when I came back to work here. For a foreigner living in China for a long time, what strikes me most is the impact its transformation has had on people's lives, on business, on culture and, of course, on opportunities for new market development. A new China story is being written.
More than ever, China remains the world's factory. Pandemic times saw exports from China surge for two consecutive years, in 2020 as Chinese manufacturing became an alternative to disrupted global supply chains, and in 2021 to absorb the surge in global demand. While the situation in 2022 is likely to return to a more normal distribution of production across the world, something has changed in the last couple of years:
First, over two years of surging global demand, production investments have been made to expand and modernize Chinese plants, rendering them more automated, productive, competitive and greener.
Second, the 14th Five-Year Plan (2021-25) emphasizes China's industrial modernization. Productivity used to be driven by the availability and affordability of labor, as well as fewer environmental constraints. Not anymore.
The new China story is different from that of the past. For multinational companies across many sectors, the Chinese market has become No.1 or 2 in revenues and often shows higher-paced growth than other regions.
Yet new challenges arise: technology bans have to be circumvented, cybersecurity regulations require specific approaches, and geopolitical tensions influence business through the uncertainty they create. Even more important is how Chinese markets increasingly demonstrate singular features in consumption patterns, domestic technology and business model evolution. Decoupling is not so obvious from the supply chain perspective, but design, development and production in China are increasingly geared toward the domestic market. Made in China, for China.
In more recently developed industrial sectors, Chinese companies are leapfrogging and gaining leadership positions worldwide, for example along the electric mobility value chain, from chemicals and materials going into batteries, to electric motors. The same holds true in photovoltaic (PV) solar power technology, wind turbines, as well as nuclear and telecommunications equipment.
And more is to come with considerable investment in research and development, which will still take some years to yield results in quantum simulation and computing, space exploration technologies, stationary energy storage or advanced materials, to name a few.
The double pledge to peak and to neutralize China's greenhouse gases emissions before 2030 and 2060, respectively, will drive the further acceleration of this modernization effort. There is little time to shift the production model. This will fast-track innovation, and drive down marginal costs of new technologies here, compared to the rest of the world. This is not a new pattern; we have witnessed it before with solar PV modules and batteries.
In a context where Chinese entrepreneurs and legacy companies will claim more leadership, the engagement of foreign companies may evolve. Developing and selling intellectual properties, shifting from original equipment manufacturers to suppliers in various fields, and designing and developing in China for China are attractive models. Developing technology and knowhow here, acquiring Chinese technology to export to the world will coexist with the previous pattern of imports and bringing intellectual properties into China.
Chinese companies used to venture out into the world through price-competitive exports and acquisitions. This will change to the more grassrooted development of foreign destination markets through technology and business model advantages­—we are already seeing this with the electric mobility value chain.
Though this does entail more competition for multinational companies, it will also increase their international engagement, creating even more ties and balance.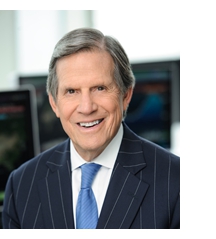 Peter Grauer, Chairman of Bloomberg
Throughout the past decades, we have witnessed firsthand the opening up of China's markets. I am very impressed with the tremendous progress China has made in its liberalization of financial markets.
Bloomberg plays its part in connecting China with the global investor community. By way of example, Bloomberg was the first index provider to include Chinese bonds in a major global bond index, driving substantial foreign capital into China's bond market. We are also a key technology partner in the infrastructure of the Bond Connect schemes that act as a crucial junction between Chinese and global capital.
We believe market transparency spurs investor confidence, drives investments and enables economies to grow.
Today, no market better represents the promise of market transparency and market growth than China. The long-term integration of China's economy with its global counterparts has the potential to become an indelible marker of progress for this and future generations.
The shared economic understandings between distant markets can serve as the basis for a greater shared understanding—an understanding of our future: the risks, the challenges, and the opportunities. The advent of COVID-19 has brought many of those shared challenges and opportunities into clear focus.
My hope is that we take the urgency of the past two years and apply it to our other critical issues, like climate change, unbalanced economic development and the delicate role of geopolitics in global progress.
For our part, Bloomberg and Bloomberg Philanthropies have committed themselves to supporting projects in environmental protection, public health, government innovation, education, and the arts—both here in China and around the world.
We will continue facilitating global participation in China's capital market by providing reliable data, technology, and information to drive future growth.
Copyedited by Elsbeth van Paridon
Comments to taoxing@cicgamericas.com