December 11, 2021 marks the 20th anniversary of China's accession to WTO. The past 20 years history of China in WTO has proved what Pascal Lami, then EU Trade Commissioner and later WTO Director General had said before China's accession: "China's accession will make WTO a genuine global organization."
China's contribution to global trade growth and WTO
As a country with 19 percent of world population and vast territory in East Asia and Asia-Pacific, and the largest developing economy of the world, China's membership made WTO completely representative of the world trade community. The fast growth in China's economy has contributed roughly 30 percent of world GDP growth each year since 2009. From 2001 to 2020, China's merchandise exports grew by 873.6 percent, from $266.1 billion to $2590.4 billion. Its imports grew by 743.8 percent from $243.6 billion to $2055.6 billion. China's share rose from 4.3 percent to 14.7 percent in world exports, and from 3.8 percent to 11.5 percent in world imports. During the same period, total world merchandise exports grew by 184.6 percent. Without China's strong growth, the aggregate growth would have been 153.7 percent. Similarly, total world merchandise imports grew by 175.0 percent and would have been only 152.8 percent without China's contribution.
China has more than implemented its WTO commitments on tariff reduction, cutting from 15.3 percent prior to WTO accession to 7.4 percent at present, with trade weighted tariff rate at only 4.4 percent, very close to the developed WTO members (Japan 2.1 percent, US 2.4 percent, EU 3.0 percent and Australia 4.0 percent). The vast China import market and infinite potentials in the future have benefitted manufacturers, exporters, workers and farmers of the world. In September 2021 alone, Chinese imports hit $239.0 billion, just a finger away from the world's largest importer the US which had imports of $239.2 billion for the same month. Undoubtedly, China will continue to offer an import market of over $2.6 trillion per year to the world and thus supporting the post-pandemic economy and trade recovery.
China has provided great additional help for the least developed countries (LDCs), with zero tariffs over 97 percent of total nomenclatures of imports from 36 LDCs.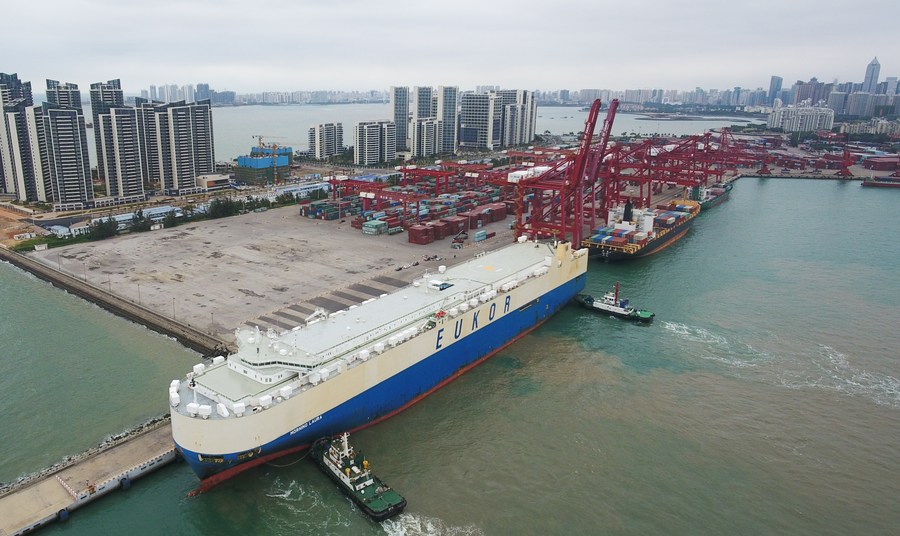 Aerial photo taken on Febraury 16, 2020 shows roll-on-roll-off ship Morning Laura docking at the Xiuying Port, Haikou, capital of south China's Hainan Province, on February 16, 2020. (XINHUA)
China is a firm supporter for multilateral trade and WTO
From the first day of being a WTO member, China has been devoting its all efforts to all WTO activities covering all the three major functions.
In the field of negotiations, China actively participated in Doha Round and put forward over 100 proposals. China was a strong pusher in the Trade Facilitation Agreement (TFA) (a part of Doha Round early harvest) reached at WTO ninth Ministerial Conference (MC 9) in Bali, Indonesia, on December 3-6, 2013. TFA shall take effect with 108 members' acceptance and China was the 16th member that approved it.
At MC 10 in Nairobi, on December 15-19, the new Information Technology Agreement (ITA) was reached, cutting tariffs on 201 information products to zero and China was an active player in the negotiation.
China was one of the founders of the negotiation on Environmental Products Agreement (EPA), and of the Joint Statement on Investment Facilitation joined by over 70 WTO members.
On December 2, 2021, 67 WTO members reached the historic conclusion of negotiations on services domestic regulation, titled Joint Initiative on Services Domestic Regulation Schedules of Specific Commitments. If implemented, world services trade could cut down domestic cost by $150 billion. China forwarded its specific commitments on October 29, 2021, the same date as EU forwarding.
In the field of trade policy review, China has passed eight interim reviews of its trade policy by WTO General Council and present full details of its trade laws, regulations, policies and measures. At the latest 8th interim review, China answered over 2,500 questions from the members, thus receiving full satisfaction from WTO GC and members.
In the field of execution (DSM), China has fully relied on the DSM and abided by all the final rulings. China referred 20 cases as complainant, 47 cases as respondent and 190 cases as third party. When the appellate body came to dormancy due to the US block in the appointment of chief justices, China worked persistently with over 60 WTO members including EU, and set up interim appellate multilateral arbitration arrangement to keep it functioning.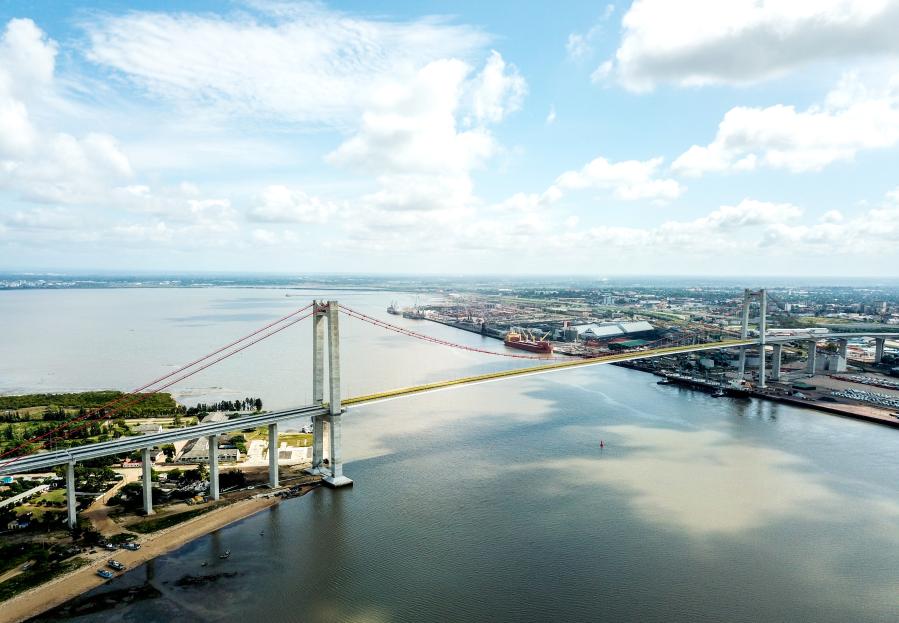 Aerial photo taken on April 8, 2019 shows the Maputo Bay Bridge in Maputo, Mozambique. (XINHUA)
Shared future for mankind
The whole world has witnessed the tremendous efforts and achievements by China in south-south cooperation at multilateral levels. Over the past eight years since China put forward the Belt and Road Initiative (BRI), China has reached cooperation agreements with 140 countries and 32 international organizations. In 2020 alone, China's trade with BRI countries hit 9.37 trillion yuan, more than its trade with the US and EU combined. Its direct investment in BRI countries reached $17.8 billion and engineering construction volume at $91.1 billion.
Over the past eight years, China has completed 14 railroad projects, nine bridges and highway projects, seven ports, five airports, eight energy projects and four telecommunication projects. It has set up over 80 industrial and trade zones in BRI countries with accumulate investment at over $100 billion, creating 330,000 local jobs and $3 billion local tax revenue. BRI is absolutely for a shared destiny of mankind, with its goals highly cohesive with UN 2030 Sustainable Development Goals.
China successfully eradicated all poverty at the end of 2020, and has lifted over 800 million people out of poverty in 20 years, contributing 70 percent of total world poverty alleviation. It is indeed one of the most fabulous miracles in human history.
WTO inherited the objective of GATT which was explicitly for the full utilization of world resources, substantive and persistent growth in real income and effective demand, and to secure full employment and improvement of people's living standards. All the multilateral trade mechanism, centered on WTO rules system, is exactly for this objective. The outstanding contributions and efforts by China are the most powerful enforcement and support of WTO core values and genuine multilateralism.
China has been criticized repeatedly by Washington for breaking the "rules". The above-mentioned facts have convincingly proved the allegations ridiculous and unsubstantiated.
In commemorating the 20th anniversary of WTO accession, China will work closely together with other 163 WTO members to uphold genuine trade multilateralism with WTO at the center, thus making even greater contributions to the common prosperity of all peoples of the world.
The author is a senior fellow at the Chongyang Institute for Financial Studies, Renmin University, a standing council member of China Society for WTO studies, and a senior fellow, Center for China and Globalization (CCG).