Elected democratically by the American people but unelected by anyone else, President Biden acted alone and unabashed in withdrawing US forces from Afghanistan. He did not consult the United Nations — nor even the members of NATO — because he knew that most governments would have counselled against such unilateral action.
The chaotic withdrawal, with its tragic consequences, has been described as "imbecilic" by the usually diplomatic Tony Blair who, as then UK prime minister, sent troops to invade Afghanistan alongside American forces in 2001. President Biden's move demonstrates that America's concern for democratic values — the right to life, freedom of thought, religion and expression, the equal treatment of women and a right to education — applies only to Americans. President Biden explained that the US invaded Afghanistan to "get those who attacked us on September 11th, 2001, and make sure al Qaeda could not use Afghanistan as a base… Our mission in Afghanistan was never supposed to have been nation-building. It was never supposed to be creating a unified, centralized democracy."
Moreover, President Biden's recall of history is correct. Yes, President George W Bush did declare that it was "the policy of the United States to seek and support the growth of democratic movements and institutions in every nation and culture." And, yes, after "routing the Taliban" the US did, as The New York Times recently reminded its readers, "spend billions trying to reconstruct a desperately poor country" but this was at the pleading of its allies. Donald Rumsfeld, then US Secretary of Defense, successfully resisted all efforts to deploy UN or even NATO peacekeepers. Furthermore, with the US Department of Defense rather than the State Department accorded prime responsibility for reconstruction, security matters assumed more weight than, for example, the building of much-needed infrastructure outside of Kabul.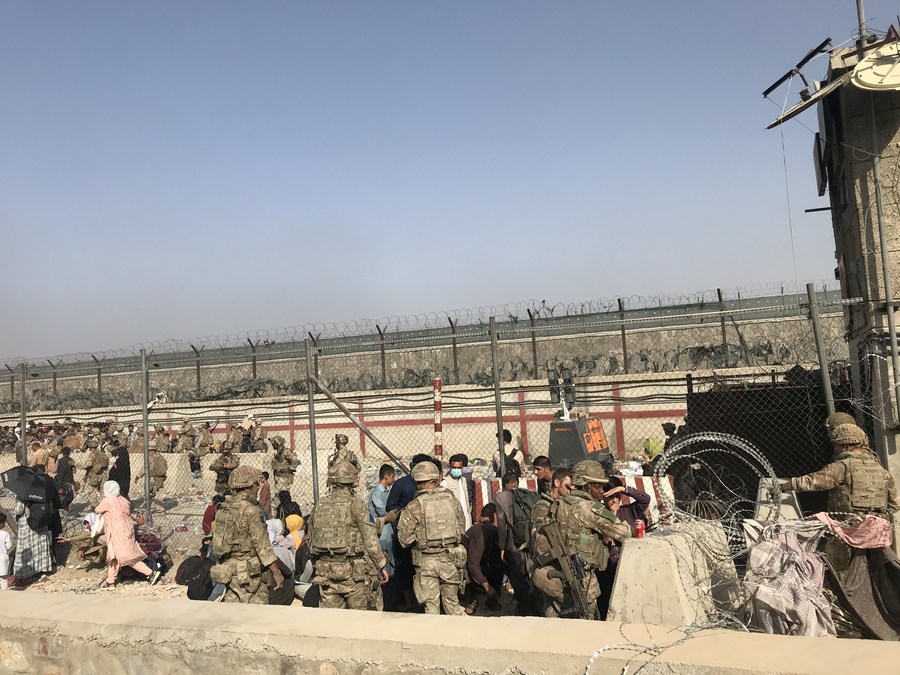 Afghans enter the Kabul airport in Kabul, Afghanistan, on August 22, 2021 (XINHUA)
So, President Biden's action was a continuation not a rejection of previous US policy. It also served his political domestic interests in extricating the US from an unpopular military occupation and war. True, the images of desperate Afghans, and of death, beamed from around Kabul's Hamid Karzai International Airport stimulated outpourings of human sympathy and political criticism of President Biden at home. But public concern in America has focussed on "helping those who helped us", not on the 38 million Afghans who have no means of escape and whose fate is sealed by 20 years of bold words and insufficient action.
Afghanistan is an instance of the inability of liberal democracies adequately to respond to even the most basic needs of people living in other jurisdictions. The management of Covid-19 is another example, with governments spending billions on buying vaccines to administer "triple jabs" while most of the world's population remains unvaccinated. But these limitations of democracy can be generalised as revealed in a very careful study recently published this month by two economists at Yale University, Yusuke Narita and Avumi Sudo.
Being economists, Narita and Sudo seek to measure "democracy." This is not straightforward since systems of governance vary in many ways. Therefore, they use four separate indices. One, their preferred measure, is taken from the Varieties of Democracy project and assesses freedom of association and expression and election fraud. It suggests that Sweden and Denmark are the most democratic jurisdictions and Saudi Arabia is the least.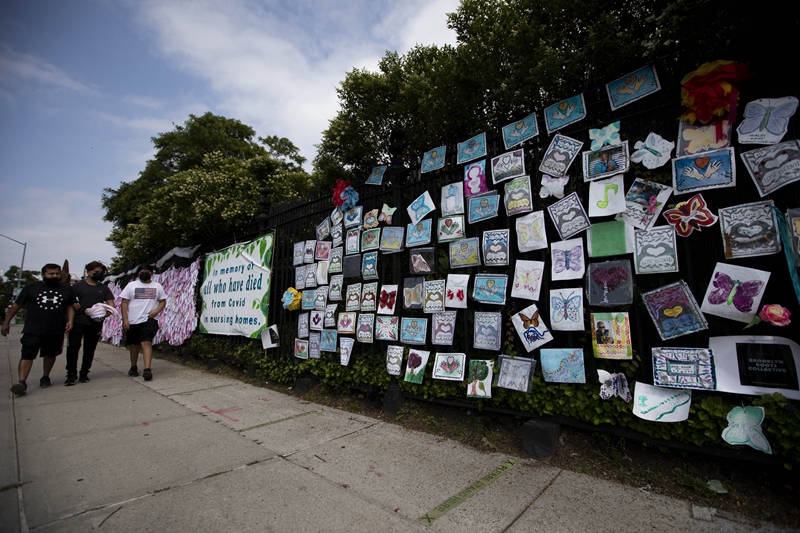 A memorial installation for those who died from COVID-19 outside Green-Wood Cemetery in New York, the U.S., on June 14 (XINHUA)
But simply finding a statistical association between a measure of democracy and say, Covid19-related deaths or economic growth, does not make democracy the cause. Many other factors could be involved. To overcome this problem Narita and Sudo use a technique called instrumental variable analysis which won its inventor, James Heckman, the 2000 Nobel prize for economics.
While noting these technical challenges, Narita and Sudo's conclusions are powerful. They find that, averaged across all countries, Covid19 caused an extra 292 deaths per million people in 2020. But more striking still, we learn that democracy itself resulted in more people dying from Covid-19. This seems not to be the result of a slow government response to the pandemic. Rather it appears to be because the control measures that were implemented were less wide-ranging and not so intense as in other types of regime. The modelling suggests that the USA incurred 1,050 more deaths per million population than China simply because of the nature of its democratic system and the way this influenced the pandemic control policies that were adopted.
Narita and Sudo also investigate whether systems of government affect rates of economic growth and conclude that, since the turn of the millennium, they have done so. Again, taking the USA and China as examples, their analysis indicates that China's annual increase in GDP (gross domestic product) was between 3.6 and 5.4 percentage points higher than that of the USA purely on account of its system of governance. They find that democracies had lower levels of investment, traded less internationally, and added less value in both manufacturing and services. These factors, they opine, might help to explain the slower rates of growth.
Trains are parked at the Metropolitan Transit Authority (MTA) 38th St Train Yard & Facility in the Brooklyn borough of New York, the United States, on August 10, 2021 (XINHUA)
The authors can only speculate, from their analysis, on why democracy should have these detrimental effects. Possibly influenced by President Trump's "American First" policy, they suggest that electorates might be swayed by political rhetoric to "protect our jobs" and therefore be supportive of trade tariffs. Lack of investment might reflect reliance on the decisions of fund managers and the profit motive rather than the strategic investment intended to directly benefit society that a strong government can achieve.
The negative effect of democracy on economic growth is something new and did not exist in the 1980s or 1990s. Possibly the governance in countries like China has improved over the last 40 years. That said, Narita and Sudo repeated their analysis with China removed found no change in their results. Possibly, it is the democracies that have changed. The legacy of the neoliberal ascendancy is clear. It successfully demanded that governments should leave the economy to the market, reduce welfare expenditure, and enshrine an economic doctrine based on the survival of the fittest. There has also been a growth in individualism, popularism and nationalism that all prioritise the self above the other and the common good. Standards of public life have fallen too, with leaders openly lying to their publics, thereby denying democracy its lifeblood, the ability of electorates to make informed choices.
Given these developments, the failure of America successfully to foster democracy in Afghanistan may be a blessing in disguise. However, if the reason for America's failure stems from democracy itself, and the demand to place national self-interest above the rights of others, then that would suggest that democracy could endanger the collective well-being of the global community.
The author is Emeritus Fellow of Green Templeton College, Oxford University, Professor at Beijing Normal University, 2021 Fellow at the Shorenstein Center on Media, Politics and Public Policy, Harvard Kennedy School