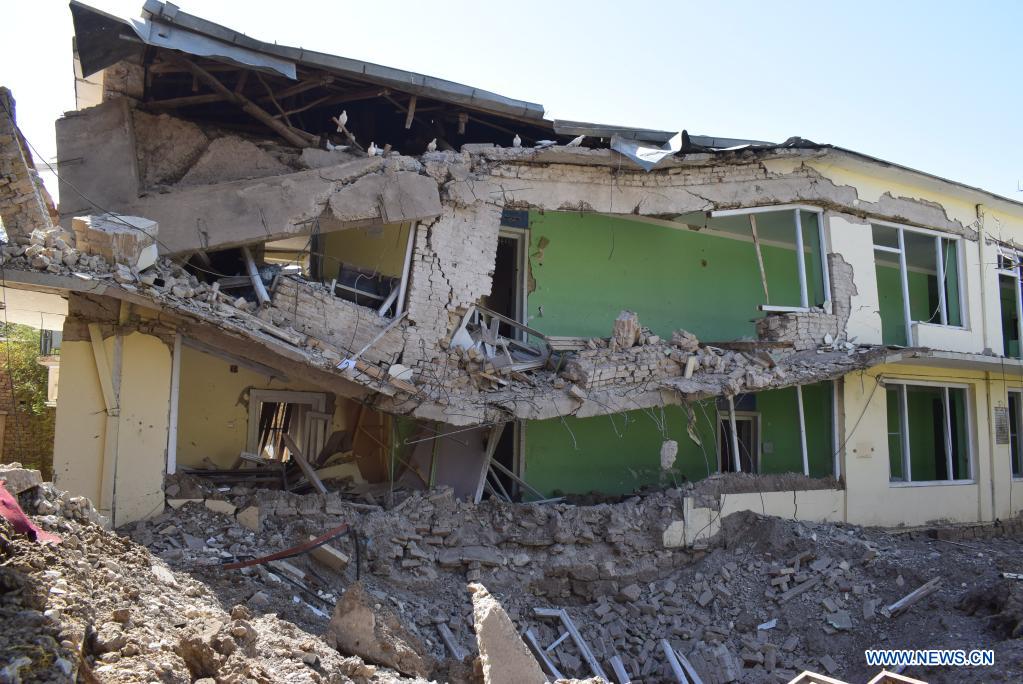 Photo taken on August 10, 2021 shows a damaged building after an airstrike in Shiberghan city, capital of Jawzjan province, Afghanistan (XINHUA)
The Taliban are overrunning Afghanistan. Just weeks before a U.S. led military withdrawal from the Central Asian country is set to be completed, the insurgent group has rampaged on a blistering offensive. They have seized dozens of districts and over nine provincial cities, defeating the demoralized Afghan army and capturing the near entirety of the country's southern region.
The central government is increasingly trapped within an enclave around Kabul with just a narrow lifeline linking to Pakistan, but observers are not sure how long they will hold on. A U.S. intelligence official told Reuters the Afghan army may last no more than 90 days, propelling an almost inevitable return to power for the Islamist group who the U.S. deposed through their invasion 20 years ago.
How is it that two decades of U.S. military intervention in this country has achieved absolutely nothing? The United States and its allies entered Kabul on October 7, 2001 under the auspices of counter-terrorism. They drove the Taliban from power due to their associations with Osama Bin Laden and Al-Qaeda, who had orchestrated the horrific September 11 attacks just a month prior. Their objective in sustaining the occupation was supposed to fight terrorism and engage in a process of "nation building" by propping up a new Afghanistan government. Yet with the Taliban now returning to power, the war – with all those trillions of dollars spent and lives lost – was an abject failure.
The Afghanistan War is a firm geopolitical lesson as to why you can't "bomb a problem out of existence" and that's precisely what America intended to do. It should be noted that the problem of extremism in Afghanistan is there not simply because "terrorists are evil and hate freedom" as U.S. discourse frequently depicted it as, but for the fact that Afghanistan is a chronically poor, ethnically divided and unstable country which Washington itself had contributed to and failed to resolve.
Having invaded Afghanistan in 2001 as part of the "war on terror," the U.S. believed that building a "democracy" was the key to solving all of Afghanistan's problems, ignoring the fact that the country remained poor and bitterly divided. However, democracy failed to change the lives of most Afghan people.
The Taliban group remained feared by many, but maintained support amongst the Pashtun ethnic group. Their resilience was also grounded in the popular opposition to the "foreign occupiers" who failed to solve the country's problems. America was an unwanted force who had no real solutions to Afghanistan's problems.
As a result, the current government of the country has found it has very little legitimacy or strength, and is quickly collapsing as the U.S. has hurriedly retreated, creating a vacuum of chaos, conflict and instability.
More war is not the solution for Afghanistan, and prudent steps are needed to secure the stability, security and peace of the region. The ideological, dogmatic and destructive approach of the U.S. has been a slow-motion car crash, and a 20-year commitment with nothing to show for it. These mistakes must be learned from and not repeated.
The author is a British political and international relations analyst and a graduate of Durham and Oxford universities