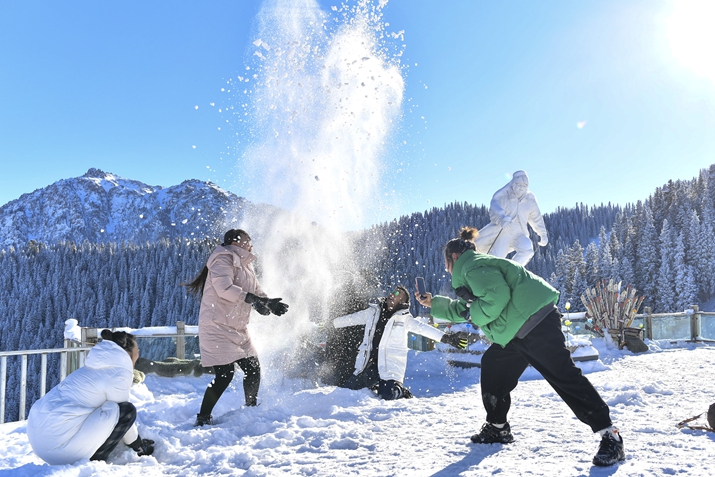 Tourists at a resort in Urumqi, Xinjiang Uygur Autonomous Region, on December 10 (XINHUA)
Pardon the pun. Having recently experienced the delights of being blocked by Adrian Zenz on Twitter, I came to realize that he'd actually added me to a long list of people whose opinions do or did not quite align with his own, more particularly those views homing in on the topic of Xinjiang.
Born and raised in this northwestern region of China myself, I sometimes share my connections with the area on social media platforms, like the aforesaid one. My goal is to add a sense of balance and local perspective to the distorted Xinjiang narrative dominating headlines around the globe.
What I struggled to understand about Zenz's decision to ban me from his following was: If this man really is who he declares himself to be, namely an outspoken scholar and expert on all things Xinjiang, then why doesn't he care about the actual voices in or from Xinjiang? Does this make sense?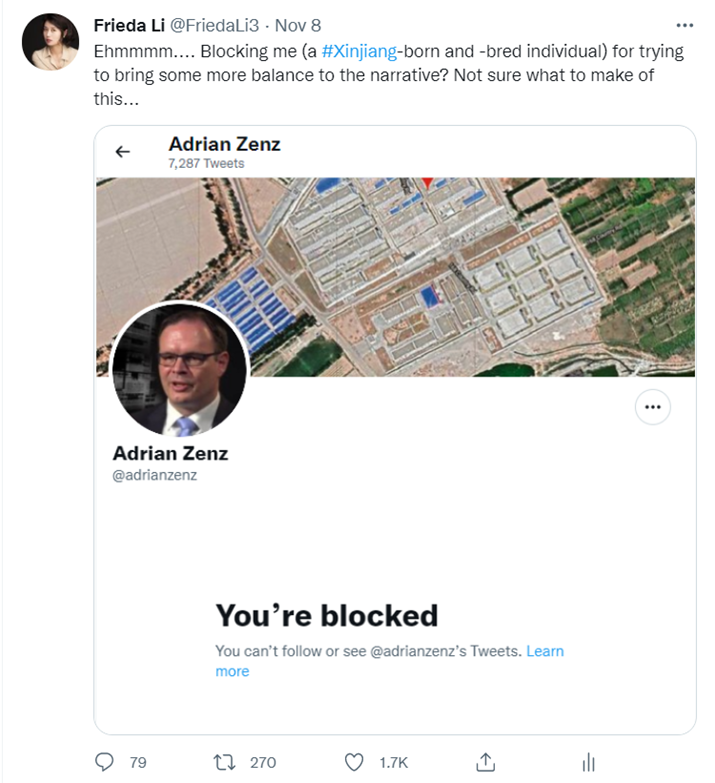 Adrian Zenz blocks Frieda Li from following his Twitter account because she challenged his Xinjiang-related claims
The funding files
But this isn't just about "silencing" my voice. Zenz has also put scholars who questioned his "scholarly" independence in gridlock. Australian scholar Maureen Garwood, for instance, recently shared that she got blacklisted by him. "Adrian Zenz has done the most un-scholarly act of blocking me—I would ask him why directly if I could," she tweeted on December 10. The Australian still awaits his reply.
One of Garwood's tweets in October may have constituted one reason for Zenz to do so as it referred to him as a "scholar" fallen from academic grace who published his "findings" regarding the so-called Xinjiang "genocide" without any field research and evidence to back them up.
The Twitterverse did not sit by idly, either, as netizens began to spread several certificates awarded to Zenz in the past years when he was widely cited as an academic source in many a Western media outlet's Xinjiang story as well as by American political advocates of economic sanctions against Xinjiang.
Among those certificates, one came from U.S. Senator Marco Rubio in 2019. "I'm a great sponsor to you, together with my good friend [Stephen] Bannon," reads the letter from the senator who has been actively involved in anti-China publicity in the name of "human rights."
So the question is: Who is Adrian Zenz, who pays for his "research" and why?
German-born Zenz is a senior fellow in China Studies with the Washington, D.C.-based Victims of Communism Memorial Foundation (VCMF), which is funded by the American Legislative Exchange Council's (ALEC) membership organizations such as the Heritage Foundation, a right-wing think tank "coincidentally" founded by the same man who established the ALEC, conservative activist Paul Weyrich.
"The ALEC, Heritage Foundation, and similar groups all share the same political ideals and principles and are supported by wealthy like-minded individuals," according to People's World—whose editors are independent Chicago-based journalists. That makes sense.
VCMF revenues suddenly increased six-fold and 20-fold in 2018, from 2017 and 2016 respectively, the organization's annual reports reveal. That same year, the so-called "restricted contributions," usually
referring to funds designated to specific programs, were no less than 30 times those of 2017.
Moreover, VCMF Director of Government Relations Kristina Olney was found to be a fellow member of CIA-sponsored propaganda machine National Endowment for Democracy (NED), and additionally had links to the Heritage Foundation, writes the NED's official website.
Additionally, Zenz is an advisor to the Inter-Parliamentary Alliance on China, an organization officially established to "develop a coherent response to the rise of the People's Republic of China." One may read into that what one likes.
"In being a world-class scholar, independence is critical. Corruption is a departure from what is pure and correct… You can call yourself a lobbyist or political promoter, but not a scholar," Garwood wrote on her Twitter.
On the outside, trying to look in
Zenz's views are frequently cited by Western media platforms without lending much coverage to the factual legitimacy of his reports. The public has been taken for a fool by sheer journalistic laziness, with reporters abandoning the search for perhaps more "inconvenient" truths and taking his suppositions as gospel. Yet even The Wall Street Journal once admitted, "He (Zenz) isn't a specialist on Xinjiang and visited [the area] only once, more than a decade ago." Though the newspaper never hesitates to cite Zenz when his "findings" suit its own narrative.
Most recently, Zenz claimed that he had obtained some "new, leaked documents" in Chinese, trying to interpret the Chinese political lexicon and create more "evidence" to back up his Xinjiang crusade. Funny how he has only presented the public with documents... in English; his Google-based research only exposing his true colors.
The real question remains whether Zenz is qualified to identify the reality of a country he's rarely visited, not to mention the entailed lack of opportunity to practice and hone his Chinese language skills before even beginning to accurately understand Chinese political language and its context. He overturns the ends and means by describing China's "language of counter-terrorism" as the "justification" of "their policies in Xinjiang."
I for one think there's some strong evidence out there proving Zenz's Chinese is on the weaker side of the spectrum: The term zhonghua minzu is interpreted by Zenz and his editor to denote "one" race (presumably the Han people), therefore excluding the Uygurs. This might explain why he interprets every Chinese government policy as a pretext to annihilation, even though the policies and their results directly contradict the genocide claim. However, the correct definition of the term zhonghua minzu actually includes all 56 recognized ethnic groups residing within the Chinese borders, very much including the Uygurs.
This indifference can only stem from an outsider trying to look in. He probably doesn't care how the residents of Xinjiang, regardless of ethnicity, have all suffered from the violent bouts of terrorism.
From 1990 to late 2016, thousands of extremist attacks claimed the lives of numerous innocent civilians and hundreds of police officers in the region. Xinjiang terrorist attack footage is a whole lot easier to come by than any so-called "leaked" documents. Yet the secretiveness surrounding the latter makes for a better headline. Or tweet. BR
(Print Edition Title: Does It All Make Zenz?)
Copyedited by Elsbeth van Paridon
Comments to ffli@bjreview.com