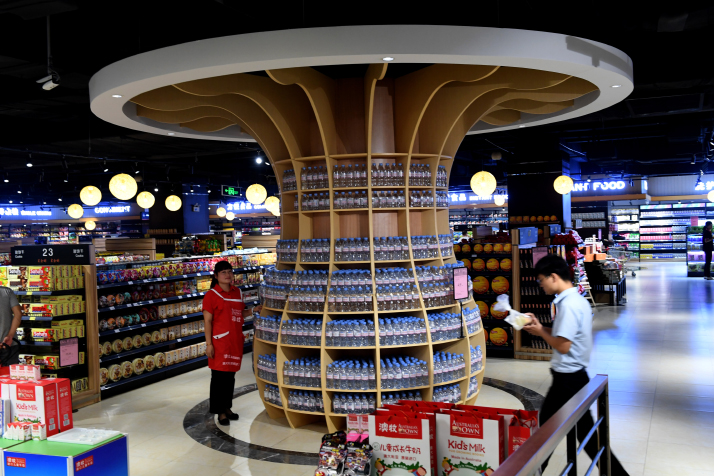 The Zhongdamen Bonded Commodity O2O Shopping Center in Zhengzhou, capital of central China's Henan Province opens on September 8 (XINHUA)
The lowering of tariffs on a wide range of consumer goods will benefit foreign brands in the Chinese market, and in the long run will also give a boost to domestic producers.
Effective as of this month, tariffs on products in 187 different categories including baby formula, diapers and cosmetics, will be reduced from 17.3 percent to 7.7 percent on average, whilst those currently imposed on certain types of baby formula and disposable diapers will be cut to zero, the Ministry of Finance said on November 24.
The reduction will afford consumers cheaper access to those high quality and specialty products that cannot be produced at home in a bid to meet increasing domestic demand, the ministry said.
The new plan echoes the government's pledge to bolster imports, open up the domestic market, and establish more balanced foreign trade.
The move will benefit companies such as Nestlé S.A. and Danone, as Chinese parents generally show a preference for foreign brands as a result of historical issues with domestic baby products.
Research by GF Securities Co. Ltd. showed that foreign branded infant formula accounts for around 50 percent of the Chinese market.
However, this figure is significantly higher in China's first- and second-tier cities where, according to Analysys.cn, a Chinese market data provider, 73 percent of consumers in first-tier cities favor imported infant formula over domestic brands.
Buoyed by the news, shares of Nestlé and Danone gained on the day the announcement was made.
According to a Goldman Sachs report, China's dairy industry sales look set to increase by around 15 percent, reaching 123 billion yuan ($17 billion) by 2020.
China plans to increase imports so as to both meet domestic demand and appease complaints about its massive trade surplus.
As part of an effort to bolster imports, Wang Bingnan, Vice Minister of Commerce, promised fiscal and monetary policy support for lower tariffs on consumer goods, faster customs clearance and reduced paperwork.
Since 2015, tariffs on imported consumer goods have been cut four times, with taxes on products in 152 categories reduced by an average of 50 percent.
Analysts claim lower tariffs will encourage people to buy imported products at home instead of overseas, which will in turn boost domestic consumption.
According to the World Tourism Organization, Chinese tourists spent $261 billion overseas in 2016, up 12 percent year on year. If one third of that total could be turned into domestic consumption, experts claim it could lift the contribution of consumption to the country's GDP by 1 percentage point.
Whilst in the short term the new move may come as a blow to domestic producers, it means a likely improvement in quality and decrease in prices in the future.
China's domestic milk industry has never fully recovered its credibility following a well-publicized scandal in 2008. Infant formula produced by the Sanlu Group, then a leading dairy company in north China's Hebei Province, was found to be contaminated with the chemical melamine, resulting in the death of six infants and leaving thousands of others seriously ill.
Reverberations from the incident were felt across the industry, and ultimately resulted in the improved production and delivery processes of domestic infant formula providers.
The Dairy Association of China has said that 99.5 percent of dairy products checked in 2016 were up to standard, and no illegal additives, including melamine, had been detected in fresh milk for seven years.
Yang Zhiyong, a researcher with the Chinese Academy of Social Sciences, said the hope is that lower tariffs will bring good competition between domestic and foreign brands, which will, in turn, create opportunities for domestic producers.
This is an edited excerpt of an article originally published by Xinhua News Agency
Copyedited by Laurence Coulton
Comments to yushujun@bjreview.com