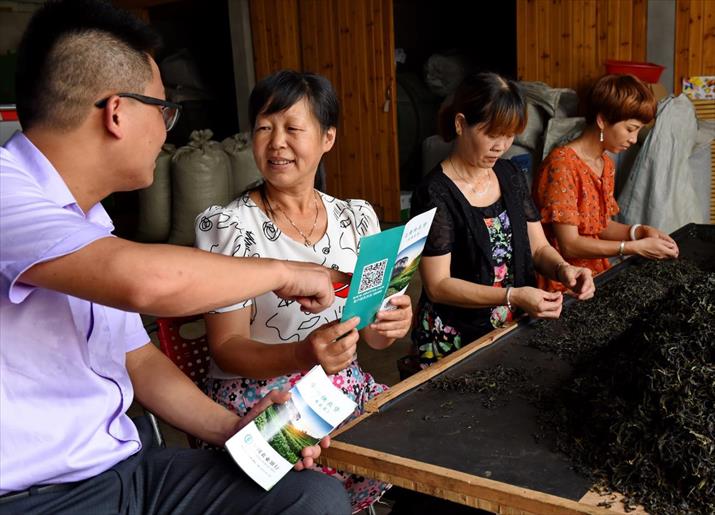 A loan officer at a local bank introduces micro-credit options to a tea farmer in Wuyishan, southeast China's Fujian Province (XINHUA)
Chinese banks extended a forecast-beating amount of new loans in September, while growth of broad money supply (M2) also accelerated, buoyed by credit demand from the real economy.
New yuan-denominated lending in September hit 1.27 trillion yuan ($192.8 billion), up from 1.09 trillion yuan ($165.77 billion) in August, well above market expectations, according to data released by the People's Bank of China (PBC), the central bank, on October 14. M2, a broad measure of money supply that covers cash in circulation and all deposits, at the end of September rose 9.2 percent from a year earlier, accelerating from the 8.9-percent growth recorded the previous month, the PBC said in a statement on its website.
It marked the first time M2 growth has picked up in eight months, but the rate was still 2.3 percentage points lower than that one year earlier.
Newly added total social financing, a broader measure of new credit in the economy, reached 1.82 trillion yuan ($276.79 billion) in September, up from 1.48 trillion yuan ($225.08 billion) in August.
The combined data reflect the sharp drop in loans from banks to other financial firms, which are considered a key channel for financing shadow banking transactions, Bloomberg chief Asia economist Tom Orlik said in a research note.
The PBC has been trying to strike a balance between defusing risks arising from shadow banking activities and guiding funds into the real economy to shore up growth.
"The government is aiming to deleverage without moving any great distance from its commitment to 6.5-percent annual GDP growth out to 2020. That implies credit to the real economy will have to stay on a rapid growth path," Orlik said.
In a bid to improve credit support for small and micro-sized enterprises, startups and agricultural production, the PBC recently announced a targeted reserve requirement ratio (RRR) cut.
The new policy, which goes into effect in 2018, offers commercial banks a cut of 0.5-1.5 percentage points in the RRR if their annual outstanding or new loans in inclusive financing reach certain requirements.
China International Capital Corp. Ltd. had previously estimated that the cut may release more than 800 billion yuan ($122 billion) of liquidity into the economy after implementation.
According to Jiang Chao, chief economist at Haitong Securities Co. Ltd., the announcement, together with the September M2 data, did not indicate that the central bank is loosening its stance on financial deleveraging.
"Taking into account the high leverage in the domestic real estate market and potential interest rate hike by the U.S. Federal Reserve, it's unlikely the PBC will loosen its monetary policy," Jiang said.
PBC data also showed that in the first three quarters, Chinese banks extended 11.16 trillion yuan ($1.7 trillion) in new loans, 998 billion yuan ($152 billion) more than that in the same period last year.
New loans made to non-financial enterprises and government institutions hit 5.73 trillion yuan ($871.43 billion) in the first nine months, indicating credit demand from the real economy.
Medium- to long-term loans made to home buyers, mainly consisting of personal housing mortgages, increased by 4.2 trillion yuan ($638.74 billion) during the period.
By the end of September, outstanding yuan loans had grown 13.1 percent from a year earlier to 117.76 trillion yuan ($17.91 trillion).
The narrow measure of money supply (M1), which covers cash in circulation plus demand deposits, rose 14 percent year on year in September, on par with the rate at the end of August.
This is an edited excerpt of an article originally published by Xinhua News Agency
Copyedited by Chris Surtees
Comments to yushujun@bjreview.com