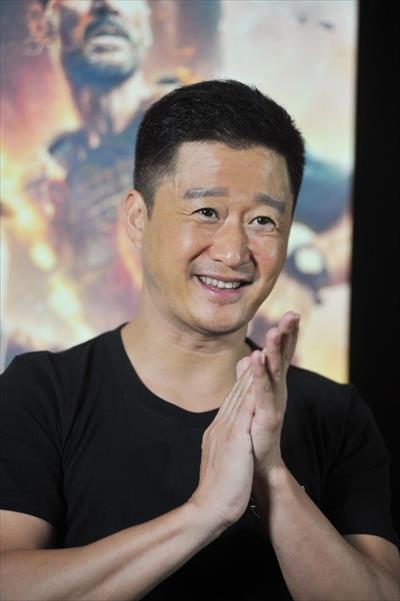 Wu Jing
Wolf Warrior II, released on July 27, has become China's top-grossing film of all time. After concluding his nationwide promotional tours for the movie, Wu Jing, director, writer and star of the film, talked with Beijing Review's Li Nan about introducing a new genre, Hollywood and the hoopla about jingoism. This is an edited version of the interview:
Beijing Review: What has been your greatest gain from the Wolf Warrior series?
Wu Jing: The greatest gain is the experience. First, there is the action part. I undertook a shot in water and underwater without any cuts. I could have died while doing it. This is an experience I will always take pride in.
I am also proud of the tank chase scene [a climactic moment featuring several tanks skidding like cars in the same shot], which is the first time ever in the world. Not even Western films have done it.
Second, I think I am the first to make action films on a military theme in China, together with a bunch of international elites. So I am a forerunner in China. Others making action films with a military theme would come after me. This experience of being the first one is something that I cherish most.
How would you rate Wolf Warrior II?
I thought differently in different phases. When the film was being shot, I gave it a score of 100 points since it was a perfect film in my heart as I had spent so much effort in making it. All the 4,077 shots, each and every one of them, are part of my painstaking efforts. But after it was released, it means nothing more. It's the process that matters. I would not value a medal I won but the effort I put in to win it.
Do you regret anything in Wolf Warrior II that you would like to amend in your next film?
There are surely many regrets and shots that require improvement in the film. And they will not appear in Wolf Warrior III. A film is an individual work of art. Its shortcomings will be confined to itself.
In the action part, for instance, we don't have dust and smoke billowing in a scene when a tank skids. We should have had but we didn't because of the location where the shot was taken. Then there is the scene in which a helicopter explodes. We tried very hard to make this look real and the cast risked their lives.
However, because of the ill-chosen background, the shot looks like an oil painting even though it was an absolutely real scene. So, like I said, we always have regrets, but they would not recur in my next film.
BBC News has labeled Wolf Warrior II as a "nationalist movie." How do you feel?
All nations are implementing a national patriotic education. Wolf Warrior II promotes patriotism. What's wrong with that? Is there a rule that says only Hollywood can promote patriotism and not a Chinese film? Maybe the Western media would be happy if China were like what it was in 1840, with a large opium-addicted population and defeated in the First Opium War by the British.
I accept artistic criticism but please do not criticize me for being patriotic. It is never illegitimate to love your own country.
Would you like to star in a film in Hollywood in future?
I haven't got an invitation from Hollywood yet. I think action films, or military-themed films, are universally patriotic and uphold peace. What does it matter where you make such a film since it is borderless? However, to improve our homemade productions, I want to study shooting technologies in Hollywood and learn filmmaking and logistics in Hong Kong.
What's your future plan?
I need to recharge myself and my 3-year-old son needs his father. I am also going to have conversations with my friend Yu Baimei [a Chinese playwright] on the gap between Chinese and Western films. Also, I need to continue my Executive MBA classes and learn how to get rid of capital control in filmmaking.
Copyedited by Sudeshna Sarkar
Comments to linan@bjreview.com