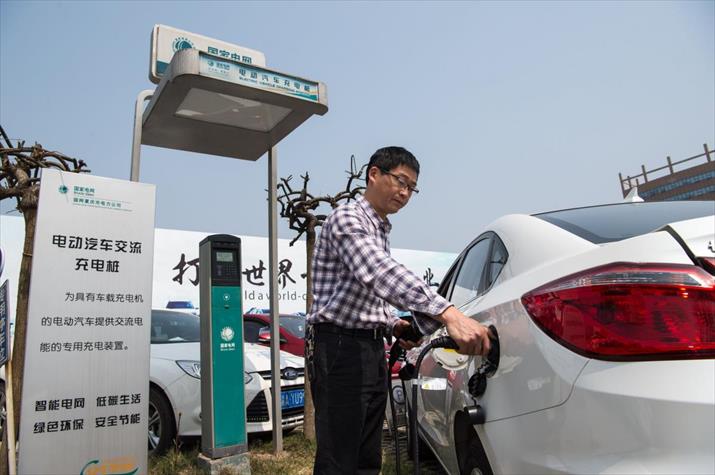 A driver charges his electric car in Chongqing on March 18, 2016 (XINHUA)
Debates over a surplus of new-energy vehicles (NEVs) have recently emerged in China. Some media reports claimed that from 2015 to the first half of 2017, more than 200 NEV production projects had been launched in China, with a total investment of 1.03 trillion yuan ($154.42 billion) and a total planned output of 21.24 million vehicles per year. The figures might not be precise, but still they indicate possible dangers behind the industry's boom.
Benefiting from the Central Government's powerful policy support and measures by various local governments, China's NEV industry has ranked first in the world for two successive years in terms of sales and output volumes, and the country now owns roughly 50 percent of the NEVs in the world.
Stimulated by the huge potential, some businesses, investors and local governments are rushing to enter the industry, causing some problems. For instance, some companies merely focus on expanding production capacity but ignore technology development; some only produce the models with most government subsidies; some only produce concepts and "stories" instead of real cars. Some local governments blindly subscribe to NEV projects, regardless of whether they have the conditions necessary to produce them; some local governments try to promote NEVs just to revitalize local existing automobile production facilities.
There are many reasons for the problems, but the most vital one is that NEV makers and local governments fail to understand the industry. Accelerating the development of NEVs is not only an urgent task to effectively alleviate energy and environmental pressure and promote sustainable development of the auto industry, but also a strategic measure to upgrade the industry and forge new economic growth drivers and international competitiveness. The more eager the investors are to enter the industry, the more cautious we must be to avoid chaos after the investment rush.
First, NEV makers should better understand the industry, strengthen technological innovation and develop highly marketable models. The industrial chains, core technologies, car structures and production techniques for NEVs are different from those of conventional cars. Producers of electric vehicles around the world are still exploring possibilities, and no mature designing, production or research patterns have been established to learn from. So Chinese producers must fully understand that the NEV industry has a high market entrance threshold, and they must concentrate on research, development and innovation, instead of remaining at low-level competition.
Second, local governments should make plans suitable for local conditions, in order to foster competitive advantages in the industrial chain. The auto industry makes much higher contributions to the local economy and employment than other industries. Particularly after China decided not to approve new factories for fuel-based cars, NEV projects have become pet projects for local governments. However, local governments must consider whether the conditions are suitable. Blind development and excessive production capacity in the photovoltaic industry is a lesson to learn from.
Last, the supervising authorities should prepare for an early warning on production capacity and raise the industry entry threshold at proper times. No government department, industrial association or consulting institution in China has conducted surveys on NEV investment. Therefore the government must do so as soon as possible and release the survey results in a timely manner. Raising the threshold for market access in NEV investment and projects at the right time will also help guide the industry to develop in a sound and orderly way.
This is an edited excerpt of an article published in The Economic Daily. The author is an economic commentator
Copyedited by Bryan Michael Galvan
Comments to zhouxiaoyan@bjreview.com