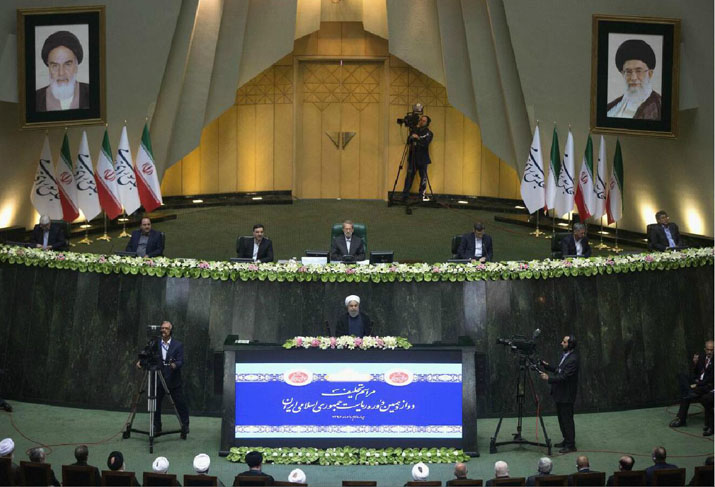 Hassan Rouhani delivers a speech during the swearing-in ceremony for his second presidential term in Iran's parliament in Tehran on August 5 (XINHUA)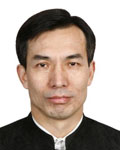 Hassan Rouhani was sworn in as Iranian president for his second four-year term in Tehran on August 5.
Rouhani won reelection in May by a wide margin, taking 57 percent of the vote. However, Iran now faces hard challenges and potent threats. He must lead the country to break through the current outside encirclement that is being built by the United States and its Gulf allies, as well as achieve progress in domestic affairs.
Iran's supreme leader, Ayatollah Ali Khamenei, gave his official seal of approval to Rouhani at a formal endorsement ceremony in Tehran on August 3. In his speech, Khamenei also expressed his expectations for Rouhani to maintain fairness and justice in governance, safeguard the interests of underprivileged groups, strengthen national unity, and protect national dignity and sovereignty. Khamenei's remarks could be regarded as general instructions for Rouhani's policymaking during his second presidential term.
At the endorsement ceremony, Rouhani pledged to continue constructive interactions with the international community and safeguard Islamic democracy and the people's right to vote. His agenda also includes reducing poverty, strengthening social welfare, raising productivity and promoting employment.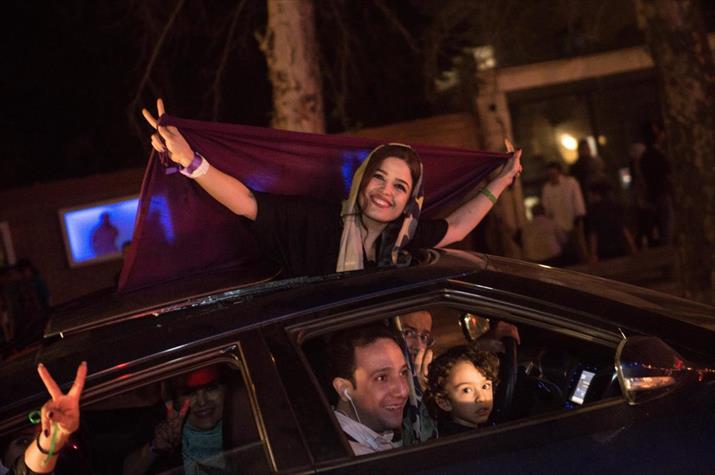 Supporters celebrate Hassan Rouhani's reelection as Iranian president in Tehran on May 20 (XINHUA)
External pressure
It is a heavy task for Rouhani's government to realize economic growth and improvement of people's livelihoods in the next four years. Especially, to revitalize its domestic economy, Iran needs a sound and stable external environment as a prerequisite.
Iran is always a critical geopolitical player in the Middle East, the world's most complicated region. The longstanding tension between Iran, where Shiite Muslims are the majority, and Sunni-dominated Gulf states, the hostility between Iran and Israel, and the U.S. sanctions on Iran all have become burdens on Iran's domestic development. Therefore, Rouhani concentrated on improving diplomacy and security in his first presidential term.
Rouhani seized the opportunity when the Middle East was in chaos after the "Arab Spring" movement of 2011 and then President Barack Obama made adjustments to U.S. Middle East policy. The Obama administration and the Rouhani administration together with other world powers reached a nuclear deal in 2015, which has been regarded as a diplomatic victory for Rouhani that breaks the Western blockade. In the deal, Tehran finally made concessions, abandoning its nuclear weapon program. In return, Washington and the international community recognized Iran's right to make use of nuclear energy peacefully. Furthermore, the United States and the West agreed to partially lift the sanctions on Iran, making it possible to improve U.S.-Iran bilateral relations. Meanwhile, through strategic cooperation with Russia in addressing the Syrian crisis, Iran has expanded its influence on other Shiite-led countries including Syria and Iraq, and gained a louder voice in regional affairs.
But Iran's rise as a regional power has intensified conflicts between rival Shiite and Sunni Muslim factions. Worse still, since Donald Trump took office as U.S. president, Washington has enhanced its alliance with both the Arab world and Israel in order to curb Iran. The multinational isolation of Iran will not only harm Iran's diplomacy and security, but also have negative effects on its economy.
Actually, Rouhani's work on the economy was not remarkable. In 2013, when Rouhani began his first presidential term, Iran's economy was on the brink of collapse. Iran's currency had devalued by two thirds, inflation had reached as high as 35 percent, and oil and other exports had shrunk 60 percent.
In 2015, after the nuclear deal was reached, Iran rapidly resumed its oil production and export. Meanwhile, the West unfroze part of Iran's overseas assets, and the relaxation of U.S.-Iran ties came with increasing foreign investment in Iran. Iran's economic growth reached 6.6 percent in 2016. Nevertheless, the recovery should be mainly attributed to the nation's resurgent oil industry. Government fixed-asset investment accounted for only 5 percent of the GDP, which is far below the ideal figure of 20 percent. The unemployment rate remains in double digits, family income has seen an unimpressive increase, and the poverty-stricken population is still large. Rouhani also abolished the subsidiary policy that was adopted by his predecessor, resulting in a 50-percent surge in prices.
The multilateral nuclear deal is not a solution for all of Iran's problems. In fact, the United States agreed to lift the nuclear-related sanctions on Iran, according to the treaty. Other non-nuclear sanctions, however, will continue. So, the barriers hindering Iran from returning to the global economy and trading still remain.
Furthermore, the relationship between Iran and Saudi Arabia, the leader of the Sunni states, has worsened, badly affecting regional trade and economic exchanges. Iran finds it difficult to advance domestic economic growth through trade with other countries in the region. Perhaps, that is the fundamental reason why Rouhani emphasized in his August 3 speech that Iran would "continue constructive interaction with the international community."
Domestic agenda
Rouhani's efforts to improve relations with Washington and his promise of peaceful use of nuclear energy have won applause from the international community. Meanwhile, his moderate foreign policy has aroused criticisms and opposition from the hardline camp at home. However, Rouhani has Khamenei's trust and support. Moreover, the United States' acknowledgment of Iran's right to nuclear power and its security commitments to the Islamic republic under the multilateral nuclear deal have been a big diplomatic victory for Rouhani. Set against these elements, the opposition's voice is much quieter. Even though unemployment remains serious, young Iranians were willing to vote for Rouhani because of his relatively liberal political and inclusive social policies.
Unfortunately, the Trump administration has undone Obama's work and reverted U.S. policy on Iran.
Trump chose Saudi Arabia as the first stop on his first foreign tour in May, suggesting that he attaches importance to Middle East affairs. In a speech at the Arab Islamic American Summit held in Riyadh on May 21, Trump accused Iran of "fueling the fires of sectarian conflict and terror for decades."
"Until Iran is willing to be a partner for peace, all nations of conscience must work together to isolate Iran," Trump said.
The U.S. House of Representatives voted 419-3 to approve a bill to enhance the sanctions on Russia, Iran and North Korea on July 25. Trump signed the bill into effect on August 2. Undoubtedly, the new legislation will cause more trouble for the three nations and others that are willing to engage with them in economic cooperation.
In Iran, Rouhani also faces hurdles to adopting economic reform. If Iran wants to attract more foreign investment, the country must be open to the outside world, which might not be favored by the conservatives. On one hand, an opening-up policy might come with some risks for Iran's political stability. On the other hand, as the country gradually deepens economic integration with other countries, the firm control of the domestic economy by the Islamic Revolutionary Guard Corps and state-owned enterprises will certainly be shaken.
Khamenei reminded Rouhani of these risks in his remarks at the endorsement ceremony. He said he hopes Rouhani can overcome these difficulties.
There is a strong link between the Rouhani government's economic and diplomatic strategies. Iran's economy relies heavily on oil exports. To boost economic growth and improve people's livelihoods, Iran needs sound foreign relations. Therefore, to implement his development program and convince the United States to raise the remainder of the blockade against Iran, Rouhani must begin with diplomacy.
The author is an op-ed contributor to Beijing Review and a professor at Beijing Foreign Studies University
Copyedited by Chris Surtees
Comments to liuyunyun@bjreview.com