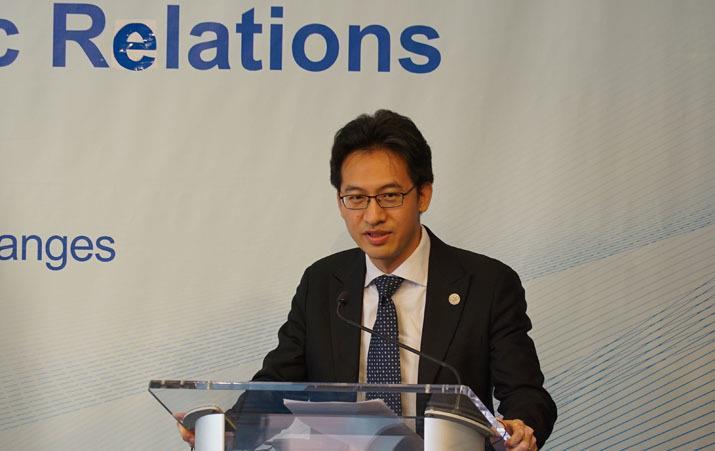 Lin Feng, Director of American Affairs, Ministry of Commerce, delivers a keynote speech at a high-level think-tank dialogue between China and the United States on June 14 in New York City (ZHANG PENGPENG)
Why does China always have a huge trade surplus over the United States every year?
Lin Feng, Director of American Affairs, Ministry of Commerce, used Apple Inc.'s iPhone value chain to explain the complicated reasons at a high-level think-tank dialogue between China and the United States on June 14 in New York City.
With its very famous logo of a bitten apple, Apple is one of the most popular smartphone brands around the world. Its patented technology is held by the United States, but its manufacturing takes places in China due to its low labor costs.
Lin specified the secret of Apple with following figures. According to Apple's 2016 financial report, its annual sales were $214.2 billion; and net profit, U.S.$45.7 billion. According to a third-party agency survey that year, each iPhone7 was sold for a minimum of $649. Lin quoted a research report on China-U.S. Economic and Trade Relations issued by China's Ministry of Commerce in May. "How much does a Chinese company get from assembling an iPhone? Just a few [U.S.] dollars," stressed Lin.
The research report gives a series of convincing numbers: the total cost of producing an iPhone7 is about $237.45, of which the cost of processing in China is only about U.S.$5.96; the core electronic components cost $153.88; and only one Chinese company is involved in the supply of the battery, whose value is about $2.5. In other words, the Chinese enterprises get $8.50 in total, while U.S. companies get $64 for providing core components.
At the same time, China is also the main market for the iPhone, whose sales volume in China accounts for one-fifth of its global sales volume. Statistics from International Data Corporation, a U.S. market research firm, show 44.9 million iPhone units were shipped to China in 2016, representing 20.8 percent of the 215 million worldwide.
This is a typical case illustrating the distribution of value across global value chains. On one hand, Apple has made huge profits from sales in China. On the other hand, the iPhone is assembled and manufactured in China by virtue of Apple's global distribution of production.
The story of Apple is just a miniature of the big picture of China-U.S. trade.
According to Chinese statistics, 59 percent of China's surplus in goods trade comes from foreign-funded enterprises, and the proportion is 61 percent for processing trade. China earns little processing fees from processing trade, and the United States benefits greatly from the design and supply of spare parts as well as from marketing.
The research report also illustrates the example from the angle of the international division of labor. China's surplus in trade in goods is also closely related to the global industrial distribution of multinational corporations and is the result of the transfer of the international division of labor. Foreign-funded enterprises have flooded into China to assemble and manufacture goods in China and sell them to the global market. China's surplus with the United States is transferred from those the latter has with Japan, South Korea, Taiwan and other countries and regions in East Asia. According to statistics from the United States, of Uncle Sam's total trade deficit, the proportion related to China increased from 20 percent in 2001 to 47 percent in 2016, while the combined shares of Japan, Korea, Hong Kong and Taiwan dropped from 23 percent to 11 percent. "Trade surplus or deficit is the embodiment of the comparative advantages of China and the United States and the division of labor in the global industrial chain," said the report.
"The U.S. trade deficit in goods with China is exaggerated," Lin concluded. In 2016, China reported that its surplus in goods trade with the U.S. was $254 billion, while the United States stated that its corresponding deficit with China was $366 billion, presenting a discrepancy of $112 billion between the two sides' figures. Citing complex accounting reasons, which included differences in statistical methodology, as well as entrepôt trade and re-exports, a joint study by China's Ministry of Commerce and the U.S. Department of Commerce indicated that the deficit figures released by the U.S. from 2008 to 2014 were overestimated by an average of 19 percent. Accordingly, considering the imports in the form of processing trade in China and the U.S.'s surplus in services trade, the figure for the total U.S. trade deficit with China in 2016 should be cut by more than half to $164.8 billion.
Moreover, the import of cheap products from China also reduces the living expenses of Americans, which also offsets part of the U.S.'s trade deficit with China.
"In global value chains, China runs trade surpluses, but the U.S. benefits from that. So, on the whole, the two sides have formed a win-win partnership," said the report.
Seeing as China just tastes a little bite, it is not fair to charge it the price of a whole apple.
(Reporting from New York City)