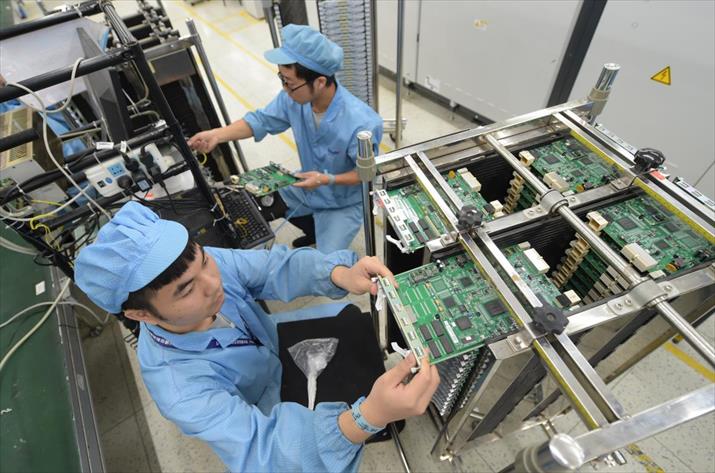 A workshop of FiberHome Technologies Group, an equipment vendor and global solution provider of information technology and telecommunications, in Wuhan, capital of central China's Hubei Province (XINHUA)
While the official manufacturing data for May have added evidence to an overall picture of a stabilizing Chinese economy, a private survey has found warning signs of contraction.
The Caixin China General Manufacturing Purchasing Managers' Index (PMI) slipped to 49.6 in May from 50.3 in April, according to a survey conducted by financial information service provider Markit and sponsored by Caixin Media Co. Ltd.
The Caixin PMI released on June 1 contrasted with the official manufacturing PMI, which came in at 51.2 for May, as a reading above 50 indicates expansion, while a reading below 50 represents contraction.
The official PMI, flat with April, indicates the 10th straight month of expansion, while the Caixin figure marks the first contraction in 11 months.
Caixin said manufacturers reported softer growth in production, reflecting a relatively muted increase in total new orders in May.
Employment also declined at the quickest pace since last September, partly due to downsizing by companies.
Weaker-than-expected sales weighed on purchasing, according to Caixin. As a result, input inventory declined at the quickest pace since January.
The official PMI, which is released by the National Bureau of Statistics (NBS), samples 3,000 manufacturing enterprises in China. The Caixin PMI samples some 500 manufacturers and is relatively volatile due to its small sample size and less involvement from large enterprises.
Regional differences also contribute to the divergence, as the Caixin sample is skewed toward east and south coastal areas.
Caixin said China's manufacturing sector had "come under greater pressure" in May, citing Zhong Zhengsheng, Director of Macroeconomic Analysis at CEBM Group, a subsidiary of Caixin Insight Group, who believes that the economy is on a downward trajectory.
UBS China, meanwhile, said in a research note that the official manufacturing PMI implies steady manufacturing activity momentum but also softer production, and the bank expected industrial production growth to have edged down in May.
The bank noted "signs of the current mini-cycle peaking" after a significant recovery in demand and corporate earnings, but it said the slowdown in economic growth has been very gradual and will likely remain so.
China's economy expanded 6.9 percent in the first quarter, well above the annual growth target of around 6.5 percent. However, moderation in growth is also expected in the following quarters.
In a joint CEBM report released along with the data, Zhong said the slowdown in manufacturing has highlighted the need to promote the ongoing deleveraging and regulatory scrutiny in the financial sector, as short-term pains could bring steady medium-high growth in the long run.
A strong start might have secured the full-year target of 6.5-percent growth, but "without any major technological breakthrough or structural improvement, deceleration in economic growth may come sooner than expected," the CEBM report said.
On the bright side, China's official PMI for the service sector quickened to 54.4 in May from 54 in April, according to the NBS.
The non-manufacturing sub-indexes that measure expectations for new business orders and activity came in at 50.3 and 59.2 respectively, indicating the sector will probably continue to grow relatively rapidly in months to come, according to NBS statistician Zhao Qinghe.
The service sector is gradually picking up steam as business confidence strengthens, said Zhao.
The Caixin PMI for the service sector also rose to 52.8 in May from April's 51.5, breaking a four-month decline and marking the highest reading since January.
This is an edited excerpt of a commentary published by Xinhua News Agency
Copyedited by Chris Surtees
Comments to zhouxiaoyan@bjreview.com