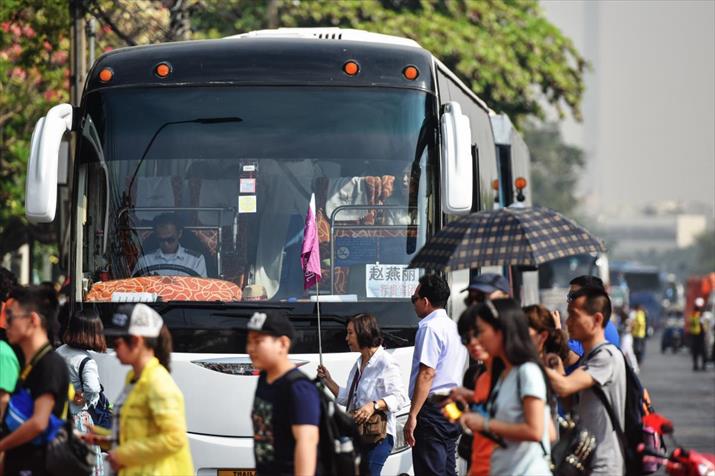 Chinese tourists in Bangkok, Thailand, on February 11, 2016 (XINHUA)
In the first quarter, China's retail sales of consumer goods totaled 8.58 trillion yuan ($1.25 trillion), up by 10 percent over a year ago, according to the National Bureau of Statistics (NBS) on April 17. During this period, consumption contributed 77.2 percent to China's economic growth.
Days before the NBS figures were released, the UN World Tourism Organization (UNWTO) said in 2016, China's international tourism spending grew by 12 percent to $261 billion, consolidating China's position as the number one source market in the world since 2012 and continuing the trend of double-digit growth in tourism expenditure every year since 2004. Last year, China's international tourism spending was more than double that of the United States, which stood at $122 billion.
It is widely known that the United States' economy is one of those best stimulated through spending. It has successfully recovered and now maintains sound growth, despite the negative impact of the global financial crisis in 2008, mainly because resumption of spending occurred first in the country. For quite a long period of time, outbound tourists from the United States spent more than those from any other nation.
Beyond any doubt, the fast growth of the number of the nation's outbound travelers is a major reason for China's increased international tourism spending. Concerns about quality of products at home also encourage China's outbound tourists to spend more overseas.
It is undeniable that in terms of quality, some products sold in China are inferior to those sold in foreign markets, especially products made in countries with advanced manufacturing industries. In addition, the problem of counterfeit and shoddy goods is still serious in China, and protecting consumer rights is difficult.
Another reason many of China's consumers spend abroad is because foreign products enjoy more fame than Chinese products. Given a choice between similarly priced goods, some of which are well known compared with others, deciding what to buy is straightforward, especially for younger shoppers. And once they experience better products, many consumers in China continue to purchase the same foreign goods via the Internet, as e-commerce is now so well developed.
The influence on China's consumer markets of spending that follows on from buying sprees during international trips will grow stronger. If producers in China fail to establish reputable brands, they will find it increasingly difficult to compete in the international marketplace.
Increased spending by international travelers from China is not bad news by itself, but we must understand the underlying factors to be able to determine whether or not the magnitude of the increase lies within normal range.
Obviously, excessive increases deserve attention. The nation must work to establish its own high-end brands, which will improve the recognition and influence of China-made products and thereby, generate more profit for domestic businesses.
"Made in China" should not solely be characterized by medium and low quality, and neither should Chinese producers merely churn out cheap goods for foreign consumers.
Furthermore, the government should work to improve the market environment and combat fake and shoddy products in order to enhance the trust of China's consumers in local products.
The author is an economic commentator and this article was first published in National Business Daily
Copyedited by Chris Surtees
Comments to zhouxiaoyan@bjreview.com