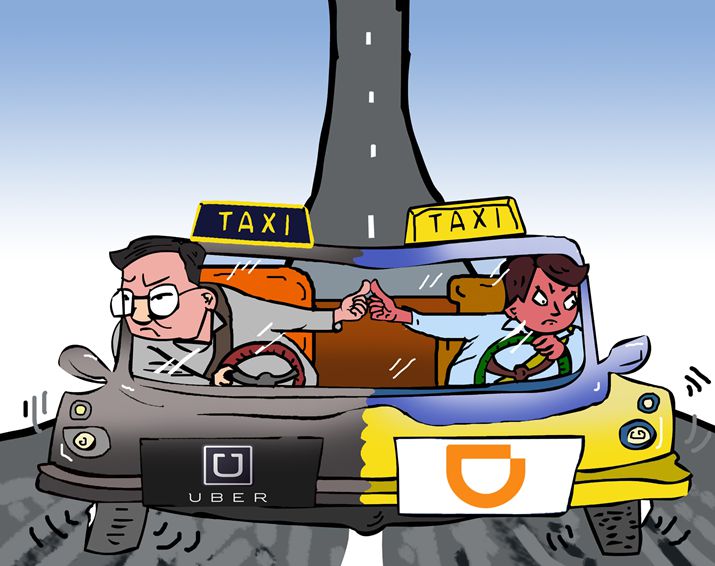 (LI SHIGONG)
In September, the consumer protection authority of Shenzhen, in south China's Guangdong Province, sent a letter to the Ministry of Commerce saying that it had received several complaints about price hikes for services provided by Didi Chuxing, the country's largest ride-hailing company, whose market share is nearly 90 percent. The ministry has agreed to investigate the matter to safeguard a fair market environment as well as consumers' legitimate rights and interests.
Since its acquisition of Uber's business in China on August 1, Didi has started raising the price of its services. This has stirred up accusations of monopolistic practices. However, some disagree with that assessment, claiming that such actions are the natural result of a maturing market.
Didi has said that by raising service charges, it means to lower operational costs and encourage users to carpool.
Regulation needed
Zou Jianjun (finance.cnr.cn): Didi's recent price hikes are indeed the result of its dominant market position.
A sharing economy comprises the sharing of surplus resources in a way that allows others access to such resources at relatively low prices. But, as it puts both passengers and drivers under increasing pressure, Didi's strategy may be taking the company out of the realm of the sharing economy. Before their merger, both Didi and Uber had engaged in unfair competition and, thereby, disrupted market order with the initial strategy both adopted of "buying" market share by offering incentives to drivers and passengers. Didi eventually won the price war, and this has led rather predictably to the recent price increases. Without effective government supervision in the aftermath of the battle, though, the car-hailing market could conceivably veer out of control.
Tian Shuiyue (www.gold678.com): In order to win market share, Didi racked up huge losses over the course of several years by subsidizing drivers and charging low-cost service fees. By acquiring Uber's business in China, however, Didi has secured a monopoly position in the car-hailing market, and several successive price hikes have followed.
As car-hailing services have become part of the public transport system, leaving the price setting to Didi is unacceptable. The government should regulate the pricing or provide reference pricing.
As for the operational costs of car-hailing services, these should be determined by an independent third party instead of solely on the basis of statistics produced by Didi.
If the car-hailing market is open to free competition, then it's all right for the sector's participants to set prices in line with market rules. With car-hailing now monopolized, however, market forces cannot be relied upon to ensure fair prices, and this situation warrants government intervention to ensure moderate pricing.
No hasty judgment
Wang Zhe (www.eastday.com): The union of Didi and Uber has undoubtedly grabbed a big share of the market. However, there are still several other car-hailing platforms to choose from, and since consumers still have access to these companies, there is no monopoly.
Besides, hailing a car online is only one method of transportation—conventional taxis and other services are still available. These taxis have not been squeezed out, but instead, have begun to improve their quality of service as a result of competition from companies such as Didi and Uber. Therefore, rather than having a monopolized transportation market, we now have more competition than before, which can benefit users.
The real culprit behind the fear of a potential monopoly is the decline in subsidies provided by the new Didi to its drivers and users. The general public, which has become accustomed to the cheaper transport service, now finds the added expenses unacceptable. However, the service still falls into the category of sharing economy, as taxi users can get a cab on time and enjoy more benefits than the conventional taxi service offers. Actually, it's only a matter of time before car-hailing companies adopt the same prices as those of conventional methods of transportation. If, by then, such prices are still unacceptable, those users can use other services.
The traditional taxi sector is regarded as a monopoly industry in China, so online car-hailing services were considered to be a breath of fresh air at first. We don't think that an emerging business that thrives on countering an existing monopoly will itself become a monopoly too.
The sharing economy has just set out on the road, and there is a long way to go before the dust settles. We should tolerate the new challenges brought about by the online transportation market and encourage its healthy development. Accusations of monopoly will only deter others who want to commit to innovation along that avenue.
Li Er (Shenzhen Economic Daily): Many drivers who provide ride-hailing services complain that since the merger of Didi and Uber, they have seen a drop in subsidies and income. Thus, some of them have chosen to sever their ties to Didi, which has led to a fall in the supply of the company's services and a rise in the price of its services.
Some drivers therefore complain that as the largest car-hailing platform in China, Didi has now begun to abuse its monopolistic position by raising prices. This also highlights the challenges of ensuring fair competition in the ride-hailing market.
We have to take into account that, regardless of its lofty goals and promises, Didi is a for-profit business just like any other. Therefore, its subsidies were not meant to last forever. To put it simply, its subsidies were just a tool to gain more users and to expand its market at the early stage of the company's development. Once it has secured its goals, the subsidies are bound to drop. It's possible that the company may even charge its users and drivers some extra service fees in the future. Users will just have to get used to the new reality.
What about drivers who provide ride-hailing services? What should they do to retain or expand their share of the market? In the context of a market economy, these drivers don't rely on official documents or regulations to win out, they seek success through competition. For them, their biggest advantage is the added convenience that they can provide to their customers. More importantly, the quality of drivers' services and credit ratings are linked directly to their income. This is what differentiates them from normal cab drivers.
Through several rounds of competition, Didi has finally won the lion's share of the car-hailing market in China. Left without rivals, Didi has now begun to analyze its costs and benefits carefully, abandoning its old strategies. In this sense, it's natural for drivers and users to see declining subsidies and rising prices.
We don't want to see Didi kick down the ladder. Transferring the costs and pressure of operation to drivers is improper behavior. In particular, we don't want to see endless price hikes in various forms following consolidation of its position in the market.
Liu Songhan (www.cnhubei.com): At a time when car-hailing has become increasingly popular, the continuous price hikes are fueling public concern over Didi's monopoly of the market.
According to Didi, price hikes mean to reverse the trend of losses. However, this will increase the cost of traveling for Didi users. Didi is supposed to exemplify the sharing economy by enabling resources to be used efficiently to relieve supply-demand imbalance. This should not lead to a monopoly which exploits its users.
While other Internet-based businesses employ many methods to make money, Didi has only its drivers and users at hand. Its lack of profit-making tools has somewhat forced Didi to raise its prices. However, this will inevitably lead to bitter relations between Didi and its drivers and users. Didi needs to broaden its mind when it comes to making profits. For example, by taking advantage of its fame, Didi can seek revenue through advertising.
Pan Helin (Cangzhou Evening News): Actually, the subsidies offered before the merger of Didi and Uber were not designed for the company's current dominance in the car-hailing market. The motive behind the subsidies was to boost its number of users and, in doing so, expand its network of operations. Once this goal was attained, regardless of the merger, prices were bound to rise. Removing the subsidies is the natural course of action, as no business can sustain long-term losses on the scale of those incurred during the Didi-Uber turf war.
Copyedited by Bryan Michael Galvan
Comments to yanwei@bjreview.com