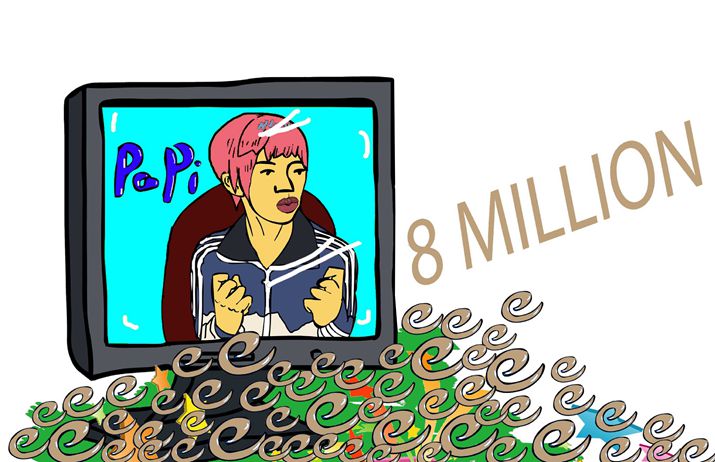 (LI SHIGONG)
Papi Jiang has recently received 12 million yuan ($1.85 million) worth of investment after having attracted more than 8 million fans on Sina Weibo, a Twitter-like online platform, by complaining about what she does not like. Jiang Yilei, her real name, is a master's student at the prestigious Central Academy of Drama, and routinely criticizes "pretentious people in daily life" through her short online videos.
The online star represents a group called wanghong, or Internet celebrities, some of whom are characterized as having tiny faces, sharp chins and extraordinarily big eyes. They often gain notoriety as social critics, talking about humorous topics, or inventing funny stories. Most of them are photogenic and many have transformed their good looks and online fame into money.
Thanks to their unique personalities and huge fan bases, they are able to run online shops that make big money through a business model called the wanghong economy. While some cyber celebrities operate their own shops, investors have realized the huge potential of the business, beginning to fund other celebrities and hoping to expand their own businesses by associating their products with the starlets.
The investment in Papi Jiang has aroused a heated debate on this business model. Some think it's risky to make large investments in these celebrities, as they tend to be forgotten swiftly if their online behavior falls out of public favor. If this occurs, their online fame will not be able to push sales forward. Meanwhile, others believe this business model is a natural result of Internet development, and it deserves an open and tolerant environment for further growth. To that end, it has been stressed that innovation, clear image-building, high quality and moral standards are also crucial for the continued success of the wanghong economy.
A new growth engine
Liu Yan (Economic Information Daily): Entrepreneurs are trying to create new business models and develop new industrial chains, and today, Internet celebrities are no longer just people who attract the public's gaze, but also a kind of business platform that can be infinitely expanded. As for cyber celebrities, we should have less prejudice and become more understanding of their value. When these celebrities meet with entrepreneurs in an open environment for business development, it's natural that this would become a new way to boost consumption.
Meanwhile, we should never neglect the interaction between the wanghong economy and the real economy, as the former is quite likely to influence the latter's industrial structure and efficiency.
In the early stages of the wanghong economy, Taobao.com, China's largest online retailing platform run by Alibaba, was the major platform for the nascent industry. However, due to the lack of a professional team, using cyber celebrities to promote sales was no more efficient than conventional means. Nowadays, changes are taking place. Cyber celebrities have begun to build their own studios and design their own brands. They manage to make these famous by capitalizing on their popularity and then develop production chains. This kind of business model is being used in the real economy.
Although the wanghong economy is now experiencing exponential growth, this does not mean the path forward will always be smooth. There are always bubbles in venture investments and the inherent volatility could make success brief. The biggest challenge is how to achieve sustainable growth and large-scale development. It's not easy to transform the public's affection into consumption, but if there is no tangible content, it's difficult to maintain the momentum of rapid growth in this business model. Today, due to the high efficiency of information tools, fans are becoming increasingly analytical when it comes to cyber celebrities. Fans now demand more engaging content based on originality.
As a swiftly emerging new business model, the wanghong industry needs more tolerance from society as a whole. Only in a tolerant and fair environment can this business model go further.
Wen Jing (Beijing Youth Daily): The wanghong economy is a new economic model that has gained momentum in recent years and it's uncertain how this industry will be carried forward. One thing is now clear: The beneficiaries of this economic model include not only the individual celebrities, but also the teams behind them, the fans that follow, as well as the related production chains, and even society at large. To some extent these celebrities are entrepreneurs. They make their own brands with original content to harvest fans. Against the backdrop of the Internet's rapid development, the wanghong economy is likely to become a new growth engine.
Of course, there will be cases in which celebrities mislead consumers. This new industry should therefore be put under government supervision to prevent violations of law and regulations. Otherwise, investors and consumers will move away. Fans repeatedly go to wanghong online shops to buy things because of their good quality and management. If a celebrity does not care about consumers' feelings, his or her reputation will be damaged.
The Internet celebrity economy is neither a positive nor a negative concept. It is a wise choice to accept it and allow it some space for growth in this Web-driven era.
Inherent defects
Yu Fenghui (www.cnhubei.com): Today, Internet celebrities possess a huge number of fans and they are easy to round up. For this reason, these celebrities will be chased by investors, giving rise to a new economic phenomenon.
The boundless stage of the Internet offers infinite space for people with all kinds of talent to show off; their personal advantages are brought fully into play. The wanghong industry is a part of the new economy.
Nevertheless, this new industrial sector has its defects. It is presently a form of an eyeball economy: The more views one gets, the more money one makes. In order to attract more fans, some Internet celebrities even resort to rude remarks and display ungrateful behavior. No matter how popular they are, if their moral standards are questionable, they'll be resisted by the mainstream and even kicked out of the "vanity fair."
These celebrities tend to emerge during outbursts of extreme individuality. However, after being acquired by investors, they will be restricted in many ways, and once conflicts arise between the two, the celebrities' special status may be affected, posing questions on whether they can continue to be so popular. Actually, it's common for these celebrities to be hot for three or five years and then be replaced by new people. It's hard for them as individuals to last for that long. Of course, the Internet celebrity industry will continue, but its sustainability remains to be seen.
He Ke (Anhui Daily): There are all kinds of Internet celebrities: Some are funny, some pretty and others are just weird! As long as they're able to attract a huge number of fans, they'll have economic value. The wanghong economy is in essence a fan-based economy. The emergence of this industry was inevitable. Since this economy is based on generating public interest, once people tire of this model, or rather, when they develop a weariness of this aesthetic-based industry , these celebrities will be abandoned.
Therefore, offering high-quality content is the key to success of the wanghong economy. It is also the core factor in attracting clients and enhancing cohesion. Internet celebrities and the teams behind them must keep up with innovation and stick to their unique selling points. In this way, they will be able to keep making money and maintain their fans while attracting new ones.
Meanwhile, as providers of information, Internet celebrities must take responsibility for their content, as they try to attract more attention. As their fans are more likely to pay for high-quality content, Internet celebrities may have to say goodbye to short-term advertisement revenues, so as to maintain their popularity with their fans. They must also try to keep a balance between catering to their fans and adhering to their personal styles.
Being young and beautiful is a basic requirement for Internet celebrities, but if they confine themselves to these elements and are incapable of creating fresh ideas, no matter how liked they are, their popularity will soon wither. Keeping up with innovation is thus essential to Internet celebrities' continued success.
Copyedited by Dominic James Madar
Comments to yanwei@bjreview.com