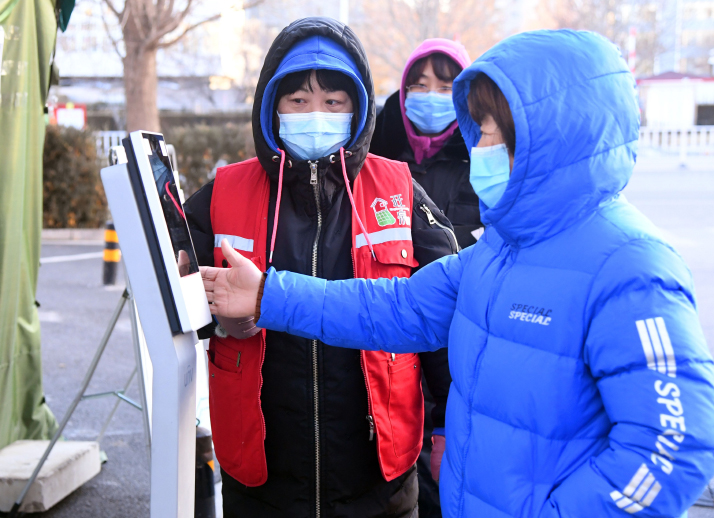 A community worker escorts a compound resident to have her temperature taken at the entrance area of a compound in Shunyi District, Beijing, on December 29, 2020 (XINHUA)
China has recently seen new locally transmitted novel coronavirus disease (COVID-19) cases in multiple areas, including the city of Beijing and Hebei Province in the northern part of the country and Dalian of Liaoning Province in the northeast.
The National Health Commission said that it received reports of 63 newly confirmed COVID-19 cases on the Chinese mainland on January 6, of which 52 were locally transmitted and 11 imported. Of the locally transmitted cases, 51 were reported in Hebei and one in Liaoning. The places affected have tightened measures against the virus.
Sporadic cases
The recent cluster of cases Shunyi District, northeast Beijing, was first reported on December 23, 2020, when a 34-year-old resident, who had taken the COVID-19 test to sit the postgraduate entrance exam tested positive for the virus. By January 6, Shunyi had reported 26 cases.
Pang Xinghuo, Deputy Director of the Beijing Center for Disease Prevention and Control, said during a press conference on December 30, 2020 that epidemiological investigations and genetic sequencing traced the Shunyi cases to an asymptomatic person who flew to China from Indonesia on November 26, 2020.
This person arrived at Shunyi on December 10 after having tested negative following a mandatory 14-day quarantine in Fujian Province, southeast China.
Shunyi has taken swift measures to cope with the epidemic, such as tracing and quarantining close contacts as well as mass testing.
By 2 p.m. on January 4, 423,800 residents in key business areas and communities across Shunyi had been tested and results for 415,000 had come out, which were all negative.
As to the origin of the latest cluster of cases in Dalian, the city's health commission stated at a press conference on January 3 that it could be traced back to five dockworkers unloading imported cold chain cargo from a Russian ship.
Whole genome sequencing of the virus showed it to be highly homologous with a strain circulating in Russia last November.
The epidemic in Hebei was detected on January 3 when the province reported four confirmed cases. Two of them are villagers from Gaocheng District, Shijiazhuang, capital of Hebei. Neither had left their villages for the larger part of the previous week until their symptoms worsened, and then they visited local clinics. The other two are brothers in their 30s from Nangong of the city of Xingtai, both of whom checked in with hospitals several days before testing positive.
By January 6, the city had reported a total of about 90 confirmed cases, and scores of asymptomatic ones. Multiple cases had participated in weddings and funerals.
The provincial health commission has classified the city's Gaocheng District as a high-risk area for COVID-19. It is highly possible that the virus in the province was imported from Europe, Feng Zijian, Deputy Director of the Chinese Center for Disease Control and Prevention, told China News Service.
Wang Jianfeng, spokesperson for the Shijiazhuang Municipal Government, announced at a press conference on January 5 that a city-wide nucleic acid test would be carried out starting from January 6.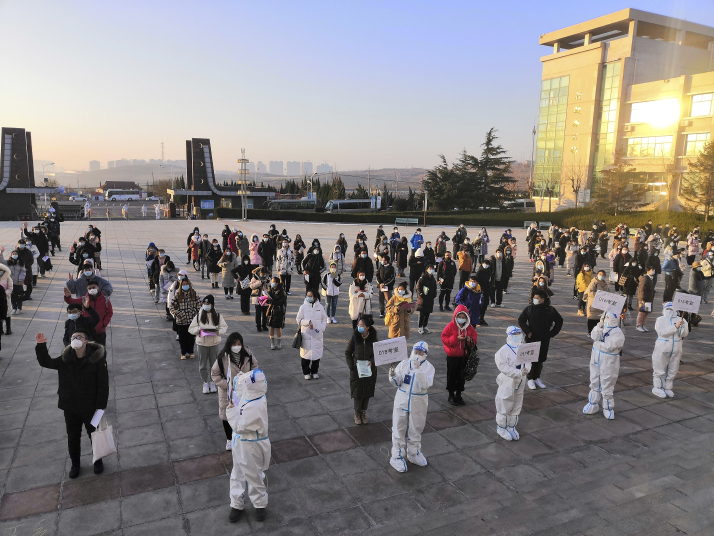 Students from neighborhoods under lockdown in Dalian, Liaoning Province in northeast China, wait to enter the exam room for the National Postgraduate Entrance Examination on December 26, 2020 (XINHUA)
Tightened measures
The sporadic COVID-19 cases in China mean the country still faces a grave situation of epidemic prevention and control and the nation's authorities have once more tightened epidemic response measures.
To prevent the spread of COVID-19 on campuses, the Beijing Municipal Education Commission announced on December 29, 2020, that the winter vacation for primary school students in the capital city will start on January 16, two weeks ahead of schedule. Grade one and two junior middle school students will commence their holiday one week ahead of schedule.
In Beijing, taxis and ride-hailing cars are not allowed to leave the city for destinations classified as medium- and high-risk COVID-19 areas. Beijing has also extended the COVID-19 observation period for inbound travelers to 21 days.
Dalian, one of China's busiest ports, now requires a statement containing disinfection information on all imported and domestic cold chain food containers and bulk cargo unloaded from the port to halt the transmission of the virus through imported products.
In Shijiazhuang, primary and middle schools have all been closed and bus services at the city's major bus hub have been suspended starting from January 6.
The upcoming 40-day Spring Festival travel rush, starting late January, too, poses new challenges to China's COVID-19 control.
The State Council's joint prevention and control mechanism against COVID-19 issued a circular on December 31, 2020, instructing local governments to discourage mass traffic and gatherings during and around the Spring Festival holiday. Employees are encouraged to celebrate the Spring Festival, which falls on February 12 this year, where they work instead of returning to their hometowns and people are advised to avoid traveling abroad.
Vaccines
Vaccination is another highly important measure to prevent the epidemic from spiraling out of control. On December 15, 2020, China officially launched a vaccination program for the winter-spring period targeting several priority groups, including those handling imported cold chain products, customs officers, medical workers, and those employed in public transport and wet markets.
On December 31, 2020, China granted its conditional marketing authorization for the inactivated vaccine developed by China National Biotec Group (CNBG) affiliated with Sinopharm. The vaccine, shown to be 79.34 percent effective against COVID-19, will be provided to all Chinese citizens free of charge.
Zhang Boli, a member of the Chinese Academy of Engineering and a prominent expert in traditional Chinese medicine, told the media that the cold weather makes it easier for the virus to survive. He said the upcoming two months will be crucial for the country to secure a decisive victory against the virus next spring with measures such as reduced mobility and large-scale vaccination.
(Print Edition Title: Continuing War on COVID-19)
Copyedited by Elsbeth van Paridon
Comments to jijing@bjreview.com