Two staff members of the New China International Exhibition Center in Beijing help an inbound passenger choose a designated hotel for medical observation on March 24 (XIA YUANYUAN)
It was late March and the number of novel coronavirus disease (COVID-19) cases in the U.S. was surging. My classes had moved online, and it was crunch time for me. Should I stay or should I go? I thought long and hard before deciding to cut short my studies as a visiting scholar in the School of Journalism, University of Missouri, and head back home to Beijing.
Before departure I psyched myself up into the right frame of mind. Faced with a global pandemic, international travel was going to be no picnic, and despite being prepared mentally, the stress of the journey was far beyond my expectations.
On the evening of March 24, I finally landed safely in Beijing. My family and friends comforted me, sending messages, "How lucky you are!" "Getting back safely is more than you could ask for."
Yes, I am indeed lucky. But I know that a large part of the reason that I am safe and writing this account is because of the strict pandemic prevention measures carried out by the Chinese Government. The dedication and sacrifice of all involved helped make a harrowing period of my life one filled with care.
Welcome home
On March 22, I arrived at the Los Angeles International Airport after a five-hour flight from St. Louis, the city closest to the university I studied in. It was a rainy and cold day. I was already exhausted, shuffling along with my heavy suitcases.
At the check-in counter of Air China, though it was five hours before the boarding time, the queues were already long. Most passengers were Chinese, who were armed to the teeth with personal protective equipment. Face masks, goggles, hazmat suits, and even raincoats were common sights. I was one of them. The pandemic made travelers jittery and extra precautions were being taken as air travel was proved to expose passengers to high risk of COVID-19 transmission.
Before checking in, every passenger was asked to fill out forms detailing one's personal information and travel history. My body temperature was then taken and recorded. I was given a form indicating I met the requirements to board.
This was not the only time that my temperature was checked. In fact, I was tested about 10 times during the entire trip. If one fails the test there is no chance to board the flight.
"Welcome aboard! Welcome home!" said an attendant wearing a hazmat suit, face mask and goggles. Though the attendants looked alien like and surreal, yet after experiencing fear, anxiety and tiredness, I became joyful when I heard their warm greeting. It was a touching moment for me.
To ensure passengers' safety, airlines took special measures such as disinfecting the aircraft cabins and removing items like pillows and blankets to reduce the risk of infection.
Before landing in Beijing, attendants measured our temperature again and presented us with health declaration forms.
After passengers disembarked a plane, the terminal was disinfected. Once again our temperatures were checked by health officials and at passport and customs control, all officials wore full protective suits.
After collecting disinfected luggage we were all transported to the New China International Exhibition Center in Shunyi District, Beijing, and then our medical observation site for the next two weeks.
In retrospect, there is no doubt that all these extensive measures played an important role in controlling the spread of imported COVID-19 cases into the country.
Quarantine experience
Beijing has set up over 200 medical observation sites for people entering the city from overseas, who are required to undergo a 14-day quarantine to prevent imported COVID-19 cases.
Inbound travelers at the sites are offered a single room, with meals and disinfection supplies.
After a short ride and a warm late-night welcome, I found a clinical thermometer, disinfectant spray and information about COVID-19 in my comfortable room.
A WeChat (Chinese microblogging) group had been set up for the whole building, which had doctors participating, to either check temperatures or offer health and psychological counseling services. Every traveler were required to submit two body temperature readings daily. Three nutritious meals were provided daily, left outside our doors.
Prior to my quarantine, I had read of people complaining online about the measure of quarantine and the unsanitary conditions of the quarantine sites.
Personally, I felt a sense of dignity and humanity in how we were cared for. On the second day of quarantine, I received a message from the hotel service staff saying: "My dear friend, the inconvenience now, for the time being, is for your health, ours, and everybody else's. Quarantine is against virus, and not an isolation of warm hearts. We stand together with you."
Looking at the effort being made by the hotel staff around me in their sweaty, protective suits to ensure my wellbeing and safety, I had no reason to complain.
When my quarantine ended, I left the hotel and returned to my normal life, but they continued to fight the pandemic.
I am grateful to them and all the other selfless people for their care for me and other travelers. They are all my heroes.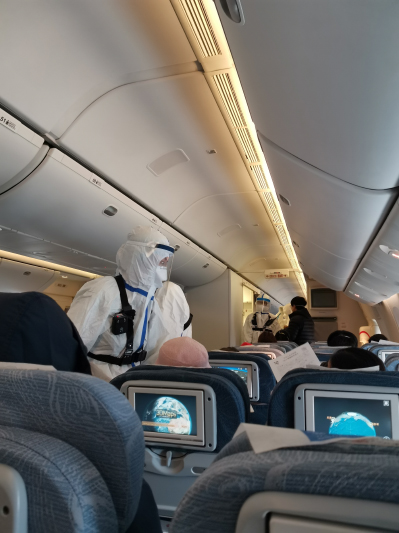 An attendant of Air China dressed in a hazmat suit guides passengers to fill in the health declaration form required by customs on March 23 (XIA YUANYUAN)
Love from motherland
Fortunately, I was cleared and released from quarantine and safely returned home. I shared the good news with my friend, Wen Xiang, who was still in Missouri at the time.
Wen told me she and all other overseas students were given health packages, which included face masks, disinfectant, sanitizers and guidelines for self-protection, along with a message of solidarity from the Chinese embassy in the U.S.
China has about 1.6 million students studying abroad. Some returned home after the COVID-19 outbreak, about 1.42 million remain in their host countries and regions, according to the Chinese Ministry of Foreign Affairs.
As of early April, the ministry had distributed more than 500,000 health packages worldwide to protect overseas students. Wen showed me her package when we had a video chat.
As protective items are not always easy to find in supermarkets and pharmacies around the world, this is the best gift overseas students could have at this time.
"It warmed my heart," Wen told me. "I have a sense of security because of the warmth and love from the motherland. I know I am not alone."
After what I have been through, I cannot agree with her more.
The author is a reporter with the ChinAfrica magazine
(Print Edition Title: An Arduous But Warm Journey)
Copyedited by Francisco Little
Comments to wanghairong@bjreview.com