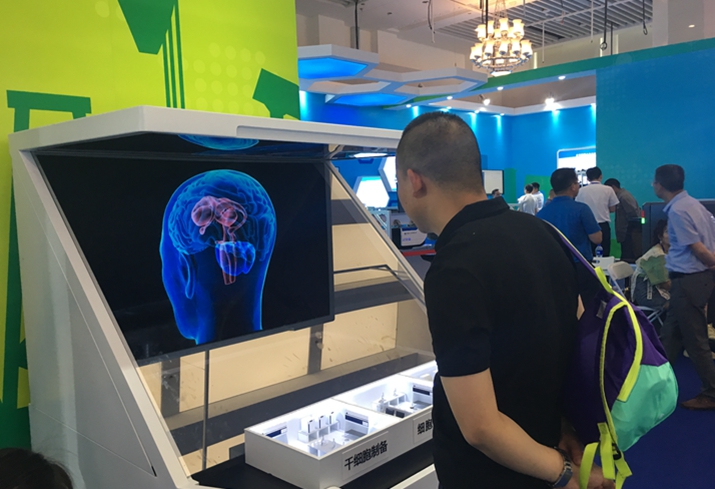 A man watches a video on medical scientific breakthroughs at a science and technology exhibition in Beijing on May 22 (LU YAN)
In 2018, the added value of Beijing's high and new technology industry rose to 697.6 billion yuan ($101 billion), up 9.4 percent over the previous year, according to statistics released at a press conference on the capital's advanced sci-tech innovation achievements on May 22.
The added values of hi-tech manufacturing and strategically important emerging sectors saw a year-on-year growth of 13.9 percent and 7.8 percent, respectively.
"Beijing has seen accelerating growth of high-end industries such as health and medicine, artificial intelligence, big data and 5G," Liu Hui, an official with the Beijing Municipal Science and Technology Commission, said at the press conference held in Beijing, adding that over 2.5 billion yuan ($362 million) was invested in sci-tech development last year.
In addition, the municipal government is working on establishing a set of sci-tech innovation funds to promote the development of fundamental research, technological innovation and the gathering of production factors.
In May, a series of activities were held to encourage more people to get involved in Beijing's sci-tech efforts. For example, a sci-tech exhibition on May 19-26, aims to inform people about advanced technological achievements and experience the fun of science.
A competition on innovation and entrepreneurship was also held on May 22, offering a communication and cooperation platform for young science technological talent, as well as young entrepreneurs.
Copyedited by Rebeca Toledo
Comments to luyan@bjreview.com