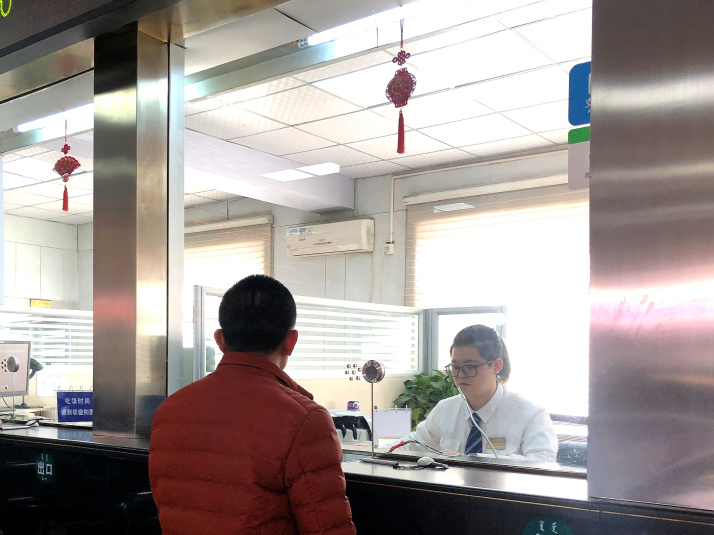 Qin Ying sells tickets at the Baotou East Railway Station, Inner Mongolia Autonomous Region, on February 13 (COURTESY PHOTO)
With her trademark ponytail above a buzz cut, reminiscent of sumo wrestlers, and lightning speed of speech, Qin Ying used to leave a formidable impression on people: Here is a person not to be trifled with.
An excellent debater when she was in college, the 25-year-old is adept at reasoning and if needed, arguing with people. However, in the Chinese Lunar New Year of the Pig, the train ticket booking clerk's resolution is not to debate with customers any more.
For the past three years, Qin worked at the Hohhot Railway Station in Inner Mongolia Autonomous Region, north China, when she was obsessed with winning arguments with prospective passengers who lined up at her ticket counter, just like she did in the debate competitions.
"I can't understand why people always make unreasonable demands," she said.
"Some think they can buy tickets at the counter even after the online platform tells them all tickets have been sold out. They think if they line up in front of the window, we can conjure up new tickets. So they would always think I was lying to them when I told them the truth," she shrugged her shoulders.
During the past three years working with Hohhot Railway, one of the 18 bureaus of China Railway Corp. (CRC), Qin was obsessed with arguing with customers. This year, however, she has realized that the arguments occurred "due to a lack of understanding."
She has had more time to work this out.
With the advancement of Internet technologies, online booking has become popular, to a great extent freeing the booking clerks. "We feel grateful for the technologies. Online booking and self-service ticket machines have greatly reduced our workload," she said. "Last October, the station added facial recognition check-in machines, which is a boon for my colleagues."
Currently, Qin works at the Baotou East Railway Station in Baotou, Inner Mongolia. Although most passengers there have grasped the essence of using the Internet to book tickets, some still rely on the old-fashioned ticket counter.
"Booking clerks who are superefficient can sell nearly 1,000 tickets daily during holidays," she said. Those still using offline services are mainly senior citizens who do not know how to use the Internet, and people with urgent or special demands. Normally in these cases, communication is fraught with tension.
However, she said the past three years have taught her to understand different people as well as the hardship that people in the service industry have to shoulder. She has also learned to appreciate the good things.
Once she ran short of small change and asked a passenger, who had a bundle of coins, to swap with her. He refused to count the notes she gave him, saying, "I know you won't cheat me." Qin said it touched her, the feeling of being trusted.
There are also the times when passengers thank her for helping them. Such moments, she said, make her realize the value of her job.
For Qin, there is no difference between the Spring Festival and other days as she has to routinely work during the holiday. After every two days she has a day off. But since she also does night shifts, that day is normally used to catch up on sleep as working overnight makes her exhausted.
This year she is working in a bigger station, which means longer hours, less time for rest and a heavier workload. But she would rather push herself as she is now near her home and can look after her parents.
Unlike her counterparts, she has chosen not to work in big cities like Beijing, Shanghai or Shenzhen, where there are more opportunities. She is happy simply to be among the railway personnel who help their families, friends and millions of others go home in safety.
According to CRC statistics, over 60 million train trips were taken during the February 4-10 Spring Festival holiday. The number is expected to grow to 413 million by March 1, when the travel rush ends, up 8.3 percent year on year.
Qin appreciates the prospects in the transportation industry. At the end of 2019, high-speed train services will start in Inner Mongolia, which will bring more convenience and choices for passengers.
On the Lunar New Year's Eve, after finishing her day shift, Qin joined a party thrown by her high school friends, who returned home from different places. They exchanged stories of the past year and shared their moments of success at work.
After a brief rest, Qin was back to work, doing the night shift on the first day of the Lunar New Year.
Though still with her trademark ponytail, this year she has resolutely slowed down her speech to be more patient and understanding with every customer. What she would like is to get more respect from them.
"Some people, even youngsters, think those who work in the service sector and in junior positions are inferior, which hurts me," Qin said. "People who are committed to helping turn the wheel of social and economic development deserve equal respect, no matter in what position they are."
Copyedited by Sudeshna Sarkar
Comments to zhangshsh@bjreview.com