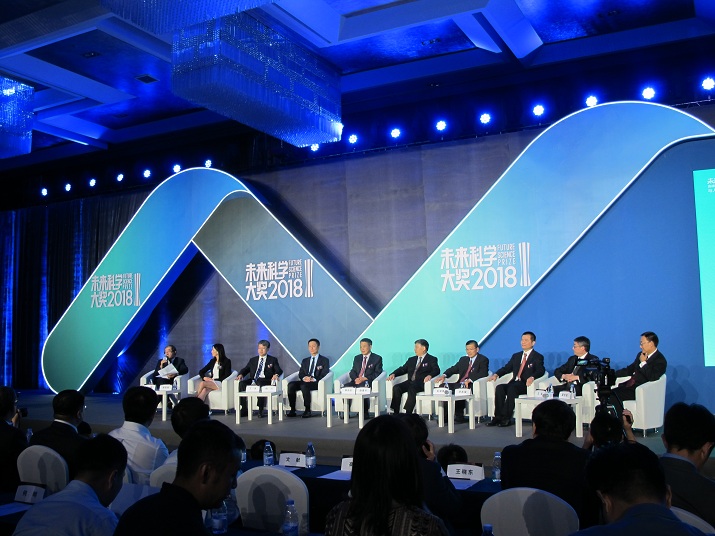 A discussion on the need for high-caliber science personnel is held on the sidelines of the announcement of the Future Science Prize in Beijing on September 8 (LU YAN)
The future of science requires young, high-caliber personnel who are ready to face challenges, dedicated to their work and full of creativity, said Ding Hong, researcher with the Institute of Physics of the Chinese Academy of Sciences at a discussion panel held on the sidelines of the announcement of the Future Science Prize winners in Beijing on September 8.
Established in January 2016, the Future Science Prize is a non-governmental prize initiated by Chinese scientists and entrepreneurs. It was established to pay tribute to outstanding scientists and reward them for their significant contributions, so as to arouse the enthusiasm of the public for science and inspire more youngsters to join the noble cause of science and realize China's "science dream."
The Future Forum, a non-profit organization formed by a group of elite scientists, businesspeople and government leaders who initiated the Future Science Prize, views the prize as an innovative way to bring more private funds to promoting fundamental scientific research in China and to use the innovative and scientific spirit to affect China, the world and the next generation.
Jeff Xia, professor with both the Department of Mathematics of the Southern University of Science and Technology in China and Northwestern University in the United States, as well as a committee member of the Future Forum, said that most U.S. students are more interest-driven when choosing math as their major, while some Chinese students see it as a launching pad for other careers such as financing and computer engineering.
"Many Chinese students choose math as a major without carefully thinking about if they really like it or not, thus they can be less passionate and tend to leave," Xia said. He hoped that more funds could be given to youngsters as a motivation for their interest in basic science research.
"Students should cultivate diversified ways of thinking and seeing the world and embrace unlimited possibilities. In this way they can create things in either science or the humanities," noted Victor Wang, cofounder of ZhenFund, a Chinese angel fund and one of the donors of the Future Science Prize.
Being the first private science prize jointly established by scientists and entrepreneurs in mainland China, the Future Science Prize aims to recognize scientific breakthroughs and innovations in science and technology in the Greater China region, which includes mainland China, Hong Kong, Macao, and Taiwan. Laureates of the prize will be selected regardless of their citizenship, as long as their achievements are original and innovative, and have long-term significance or have passed the test of time.
"In the future, we hope that more foreign scientists can be a part of the prize so as to make it more inclusive and international," Ding said.
Currently the prize has three categories: the Life Science Prize, the Physical Science Prize and the Mathletics & Computer Science Prize. This year seven laureates were announced in Beijing on September 8.
The Future Forum Annual Conference and 2018 Future Science Prize Award Ceremony will be held on November 17-18.
Copyedited by Rebeca Toledo
Comments to luyan@bjreview.com