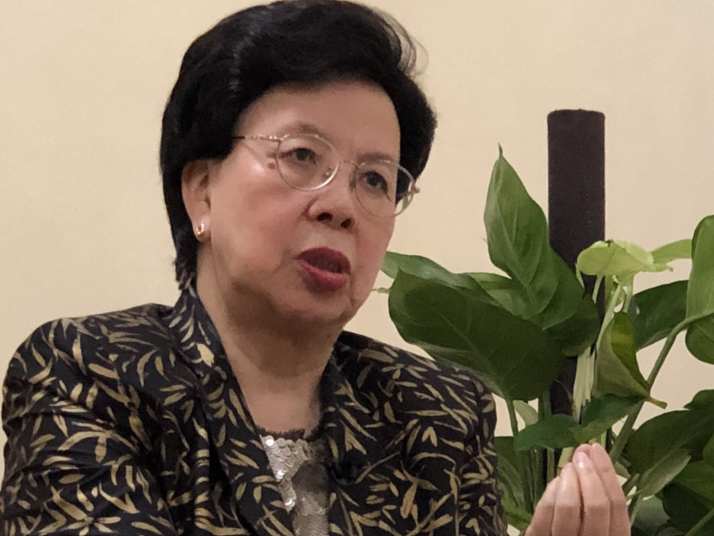 Margaret Chan, Chairwoman of the Global Health Forum of the Boao Forum for Asia and former Director General of the World Health Organization (LI NAN)
On August 22, the Chinese Government rolled out a policy to enable the country's migrant workforce to directly clear their healthcare expenses in the places where they work, rather than in their hometowns. In addition, designated medical institutions are to be linked via a national platform, which will make online reimbursement possible in China's latest move to make its healthcare system more efficient. A day later, Margaret Chan, former Director General of the World Health Organization (WHO) and Chairwoman of the Global Health Forum of the Boao Forum for Asia, shared her views with Beijing Review reporter Li Nan, as well as colleagues from other media outlets, about China's healthcare reform.
Beijing Review: What is your opinion of China's healthcare reform?
Margaret Chan: From a global perspective, healthcare reform is an ongoing process. Although many effective measures and policies have been introduced, new problems continue to emerge. No one country can solve perfectly the problems of healthcare. No one universal model fits every country. In terms of healthcare reform, all nations are crossing the river by feeling, step by step, for the stones.
China has done a great job of safeguarding its drug and food security, scaling up the coverage of its health insurance system and improving the conditions of national health, including raising life expectancies and cutting maternal and infant mortality rates.
Over 95 percent of China's population of 1.4 billion is covered by the health insurance system. The overall health of Chinese people, even compared with those from medium- and high-income countries, is quite good. It is not easy to reach the point we are at today.
The direction and blueprint for China's healthcare reform is positive. The question is how to carry out the blueprint step by step. There are specific instructions in the Healthy China 2030 blueprint released by the Central Government in 2016 and the relevant ministries are taking action to carry out this reform.
I am excited by the new policy released on August 22 to enable the migrant workforce to directly clear their healthcare expenses in the place where they work. It is a move that benefits the grassroots community and it shows that the Central Government cares about the interests of ordinary people.
What are the challenges in China's healthcare reform?
The first is a shortage of talent. China needs to train a large number of general practitioners (GPs) as most large and medium-sized hospitals in the country are crowded with patients every day. Why is it that even patients with minor illnesses prefer to travel to big hospitals far away than to community and township clinics? Because there are not enough well-trained GPs to serve them in these places.
The second problem is the limited fund for health insurance. Although the coverage of Chinese health insurance is enough, the proportion of medical expenses reimbursed is relatively low. I suggest that capable citizens do more in the interests of their health, such as investing more money in health insurance.
When I was the director general of the WTO, one Singaporean minister of health once asked me to help increase the public's awareness of personal health. I think that this is a good idea. Every year, people spend a lot of money on things like tourism, but why don't we invest more in our health?
Take my family as an example. My husband and I pay $700 for our health insurance every month. I am 72 years old so no commercial insurance provider wants to insure me. I hope that younger generations will invest more in their healthcare and buy commercial insurance according to their income.
People must also live a healthier way of life. Every citizen should do more to prevent illness, by stopping smoking, drinking less alcohol and doing more exercise. It is not inaccurate to say that 80 to 90 percent of illnesses could be prevented through lifestyle adjustments.
Of course, the country should provide insurance for the impoverished groups. What does full healthcare coverage mean? It means that the rich should subsidize the poor, the healthy help the sick. A good health insurance program should cover all the people and be led by the government.
The third challenge is furthering reform in public hospitals. Preliminary success has been made in eliminating old policies which encouraged hospitals to rely on medicine sales to fund their operation. But more efficient management is still needed to push reform further.
In July, the Chinese film Dying to Survive took the domestic market by storm. It is about a man who smuggled unlicensed leukemia medication from India to help poor patients unable to afford the more expensive, officially licensed version in China. The film ignited public debate on the prohibitive costs of cancer medication. Now, China is starting to include some cancer medications into its health insurance basket. What is your opinion on the matter?
I watched the film during my last stay in Beijing. The film highlights a complicated problem. We must protect the Intellectual property (IP) of brand-name drugs. Pharmaceutical companies, which invest a lot in the creation of these drugs, expect a certain return on that investment. But of course, they also need to shoulder a certain level of social responsibility.
In addition to basic health insurance, the government should do more to alleviate the burden of medical expenses on its citizens. Measures like removing tariffs on cancer drugs and further cutting drug rebates are a step in the right direction. In fact, the inclusion of certain cancer drugs in the medical insurance system is a way to relieve the burden of medical expenses.
China, as a member state of the World Trade Organization (WTO), must obey WTO rules to protect intellectual property rights. I think China can employ a two-pronged approach by creating brand-name drugs and producing drugs with expired patent protection at the same time. The key is to ensure the safety and effectiveness of the medication.
As far as I know, some departments are formulating plans to encourage drug producers with independent IP to invest in China so as to lower the price of medicine. This is a good idea. The problem is how to actually put these plans into reality. I hope that good policies can ultimately contribute to improving people's health.
What is the lesson learned from the Changchun Changsheng Biotech Co. scandal involving substandard vaccines?
I was shocked and distressed by the event. Vaccines are critical medical supplies. It is proven that they can effectively slash the occurrence of diseases and save thousands of lives, and they must be produced and monitored carefully and seriously. Governmental supervision is very important. It is an effective barrier to keeping vaccines safe. Vaccine producers must also be self-disciplined and acknowledge their social responsibility. The initiative and responsibility of the producers themselves is the first line of defense in keeping vaccines safe.
Right now, many countries are highlighting the social responsibilities of enterprises, and more Chinese companies are embracing theirs. My hope is that all healthcare-related enterprises in China will shoulder more social responsibility.
What role does China play in the international healthcare community?
China has made great progress in the field of health. I think that China, as the world's second largest economy, can contribute more to the world, and this is what the rest of the world expects.
China has implemented healthcare reform differently in the more developed eastern regions of the country and in the less developed west. This approach has worked. China can now share this experience with other countries.
However, I don't think it wise for one country to completely imitate another country's method. Each country should formulate a tailored and affordable healthcare plan according to its own development history, economic status and cultural background.
China is at a turning point, with its economy transitioning from a model of rapid growth to one of quality and upgrading. In the healthcare sector, China needs to improve the quality of its drugs, vaccines and medical equipment. It is more than capable of achieving this goal.
What have you been focusing on since becoming chairwoman of the Global Health Forum of the Boao Forum for Asia (BFA)?
To better deal with the critical healthcare problems facing the world, the BFA is planning to organize a Global Health Forum. I have been invited to be its chairwoman. The first forum, to be held under the theme Internet Plus Era: Health for All, is expected to convene next January. International healthcare organizations, NGOs, medical care institutions, entrepreneurs and scholars will all be invited to exchange views on various healthcare topics. An exhibition of medical products is also set to take place. As its chairwoman, I believe that the forum can exert a positive impact on China's healthcare reform and medical industry. I hope that more departments, institutions, enterprises and individuals can sign up for the forum and make it a success together.
Copyedited by Laurence Coulton
Comments to linan@bjreview.com