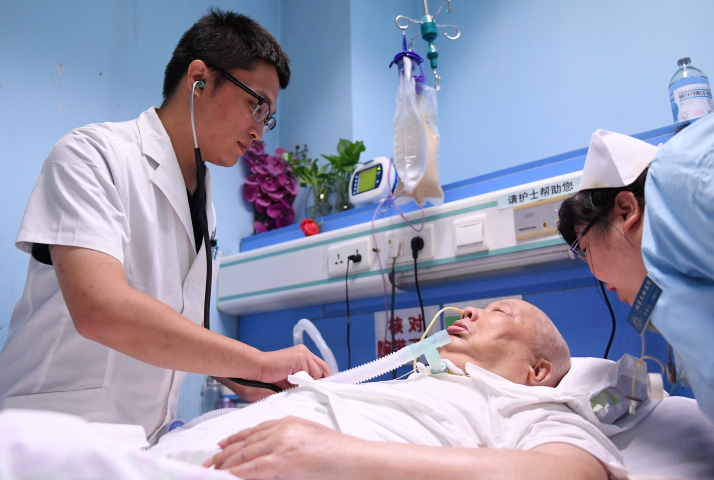 A doctor at the Emergency Department of Beijing Tian Tan Hospital examines a patient on August 19, the first Medical Workers' Day (XINHUA)
On August 19, the first Medical Workers' Day was observed in China, with many patients expressing their gratitude toward medical staff across the country.
"You have given hope to our family," a man with the pseudonym Yibawu told Liu Ping and Yang Zi, doctors at Peking University Third Hospital and the reproduction medical team headed by Qiao Jie, the hospital's president.
Yibawu said that six years ago, his wife was diagnosed with a chromosome abnormality, indicating that the couple had a very slim chance of having a healthy baby. "This news almost crushed us," he said. They sought out the hospital, known for its cutting-edge reproduction technology, where the medical team helped his wife get pregnant and give birth to two healthy boys.
In November 2017, China's State Council decided to designate August 19 as Medical Workers' Day. This is the fourth holiday set aside for a specific profession, after Nurses' Day, Teachers' Day and Journalists' Day.
To usher in the day, President Xi Jinping spoke highly of doctors' contributions. They have saved lives, healed the injured and devoted themselves to improving people's health, he said. They have played an essential role in preventing and controlling diseases, educating other medical workers and developing medical science and technology. In particular, in the face of severe epidemics and natural disasters, medical doctors, undaunted by danger, have saved others regardless of their safety, winning high praise.
Zhang Yanling, President of the Chinese Medical Doctor Association, said that the establishment of Medical Workers' Day will help recognize the contributions of doctors and pay the highest respect to the profession. It will encourage society to respect and care for doctors and prompt doctors to enhance their professionalism and ethics.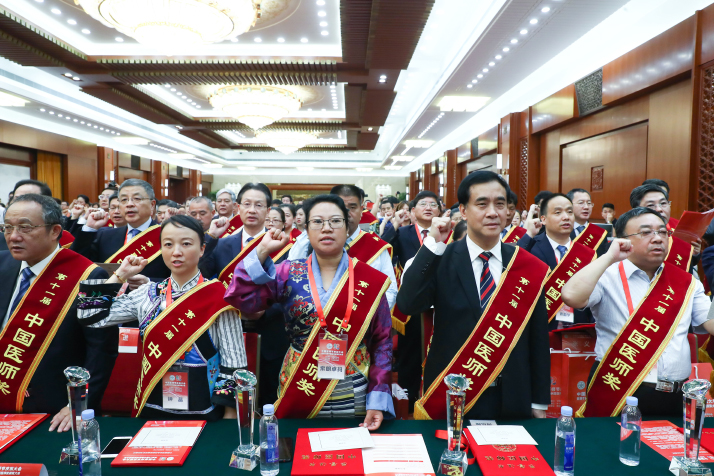 Eighty doctors receive awards granted by the Chinese Medical Workers' Association on August 19, the first Medical Workers' Day (XINHUA)
Shouldering responsibility
Official statistics show that at the end of 2017, China had 11.749 million medical workers, including 3.39 million licensed practicing doctors and more than 900,000 rural doctors.
Doctors are a special professional group that faces life-and-death issues and guards people's health, Zhang said, so the profession requires not only high entry qualifications and strict professional training, but also sound professional ethics.
Doctors shoulder great responsibility and often work under stress and deal with traumatic situations. Zhu Hong, deputy head of the Respiratory Department of Peking University Third Hospital, has worked in the hospital for 30 years. She said she keenly felt her responsibility and helplessness one month after joining the hospital. One day, a freshman at Renmin University of China was admitted to the hospital. He came from a rural area in east China's Anhui Province. Shortly after he arrived in Beijing after an exhausting journey, he got a fever. He was diagnosed with fungal brain abscess, a dangerous infection with a high mortality rate. His condition soon deteriorated and he was put on a respirator and moved to intensive care.
Despite two months' of rescue efforts, the young man passed away. The image of the grieving father crying over his son's body which he held in his arms left an indelible mark on Zhu. Back then, rural Anhui was poor, and it was no easy feat to raise a son that was admitted into a top university. The father's agony over the loss of his son—the family's pride—acutely reminded Zhu of the heavy responsibility of being a doctor. Over the years, a strong sense of responsibility has compelled Zhu to constantly improve her medical skills and put them into practice. She believes that doctors should not only read medical literature, but also learn from clinical cases as well as life's common sense experiences.
She recalled a case in which she used a combination of medical and social knowledge to save a patient who had been admitted to the hospital during the day. A cardiogram showed that the patient had a slight heart problem and by the evening, he was having difficulty breathing, but his heart condition did not deteriorate. Zhu accessed that the shortness of breath was not caused by the heart problem. She also noticed an abnormal coloring of the patient's lips and fingers. It suddenly occurred to her that he might be suffering from sodium nitrite poisoning for she had heard TV news report about workers on construction sites and people at home being poisoned by sodium nitrite after eating leftover or pickled Chinese cabbage. It was winter, a time when locals tended to eat a significant amount of the vegetable. Zhu conducted relevant tests on the patient and they confirmed that her diagnosis was correct. The patient was given proper injections and recovered. Although Zhu was busy that entire night, when she got off that day and was greeted by the morning sun at dawn, she felt happy.
Relieving disaster
Usually, doctors treat patients in hospitals, whereas during crises such as natural disasters, severe epidemics and war, doctors must play an important role on the front line.
Li Weishi, deputy head of the Orthopedics Department of Peking University Third Hospital, took part in disaster relief during the 7.0- magnitude earthquake that struck Lushan County in Ya'an City, southwest China's Sichuan Province, on the morning of April 20, 2013.
Not long after the quake struck, Li received an emergency call from the hospital, requesting that he go to the disaster-stricken region. At that time, Li was on his way to drop off his young son at an English class, one week before the family's scheduled overseas holiday. Upon receiving the order, Li gave up his holiday and packed up for the mission.
The next morning, a team of 27 medical workers led by Li started the rescue work in the stricken area. Li operated on wounded victims despite many aftershocks, with his squad completing 58 operations in a week.
One day, he operated on a woman in her 70s who had a spinal compression fracture; the wound kept bleeding and the condition was severe. Because the only X-ray machine in the hospital was out of order and he could not accurately see the injury, Li had to operate based on his experience. Fortunately, the operation was a success.
The medical team won the gratitude and trust of the local people. A 40-year-old farmer who injured his spine said that if not for expert doctors from Beijing, he may not have been able to stand again.
Li has accumulated rich clinical experience in spinal surgery. In addition, he has done research and published 30 research papers, including more than 10 articles in journals covered in the Science Citation Index. Several of his writings have won national prizes. He has also instructed doctoral and masters candidates. In July, he was honored as an excellent doctor by the Beijing Medical Doctors' Association.
Legendary 'detective
On the first Medical Workers' Day, Jia Liqun, a doctor with the B-ultrasound Department at Beijing Children's Hospital, also won the title of excellent doctor. He is among 80 doctors who received the accolade from the China Medical Doctors' Association. In his 36-year career at the hospital, he has diagnosed complicated diseases in more than 70,000 children, saved the lives of more than 2,000 critically ill children and demonstrated a high level of medical skills and professional ethics.
Jia often goes into the operating room during the day to observe procedures, and in the evening, he reads international B-ultrasonic periodicals. Through trial and error, he discovered the advantages of small organ probe techniques and applied it to clinical practices, improving the diagnostic accuracy and detection rate of children's diseases and bringing the ultrasonic technology of Beijing Children's Hospital to the highest level in China.
One widely circulated story attests to Jia's superb technique. In December 2009, an 8-year-old girl who had suffered stomach pains for six years came to the hospital. Before coming to Beijing from Gansu Province in west China, she had undergone two operations in a local hospital, but the doctors failed to identify the cause of the pain.
During a B-ultrasonic scan, Jia found a soybean-sized cyst in the child's intestine, the cause of her abdominal pain. When surgeons began to operate on the girl, they could not find the cyst. Jia rushed to the operating room and put a sterilized B-ultrasound probe into the patient's abdominal cavity through an incision, and found that the small cyst was located behind the pancreas and was surrounded by it.
The cyst was not easy to reach and the chief surgeon was perturbed by the difficulty of the operation. With his experience, Jia confidently guided the surgeon through the procedure with the probe. Two hours later, the operation was successful and the girl's parents were very grateful.
Jia is an example of doctors across the country who have meticulously performed their duties under stress, cared for patients and consciously improved their professional skills.
While visiting Beijing Haidian Hospital on Medical Workers' Day, Vice Premier Sun Chunlan said that the day is a special honor given to medical workers, urging doctors to continue to improve their ethics and medical skills so as to improve people's health with quality service. She added that policies will be implemented to ensure that their work is respected and its value realized.
Copyedited by Rebeca Toledo
Comments to wanghairong@bjreview.com