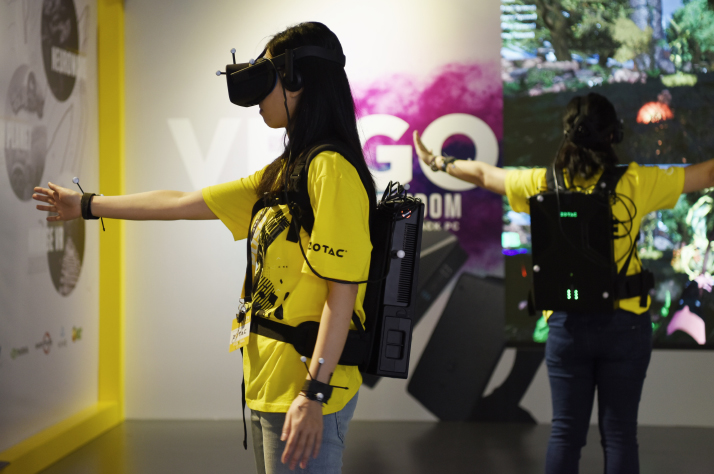 A local resident plays a VR game at an esports and music festival in Hong Kong on August 4, 2017 (XINHUA)
Tan Jun can still feel the adrenalin rush he experienced in November while watching the world's premier competitive gaming event at the 2017 League of Legends World Championship (LLWC). As an indication of the rocketing popularity of gaming, the grand-scale, full-house event took place in Beijing's iconic National Stadium, dubbed the Bird's Nest, which is usually reserved for major music concerts and international sporting events.
"The price of a single ticket for the final game fetched an amazing 6,666 yuan ($1,057), but still they were sold out," Tan, 30, who runs an esports players' team, told Beijing Review.
Held in China for the first time since the LLWC esports event was launched in 2010, the championship is regarded as a milestone in terms of public and commercial recognition of competitive gaming as a sport in China. According to the world's leading gaming market research and predictive analytics firm, Newzoo, based in the Netherlands, the 2017 LLWC was the most watched event on Twitch, a U.S.-headquartered live streaming video platform focused on video gaming, generating $5.5 million in ticket sales.
With viewership climbing to over 100 million and onsite audience totaling 40,000, the event catapulted gaming from a perceived casual pastime to a multi-billion-dollar business. Ticket sales are just the tip of the iceberg, however, in terms of esports revenue. Newzoo's 2018 Global Esports Market Report predicts that global esports revenue will top $906 million this year, a growth of 38.2 percent year on year. China's contribution is expected to be especially prominent, accounting for $164 million, or 18 percent of the world total.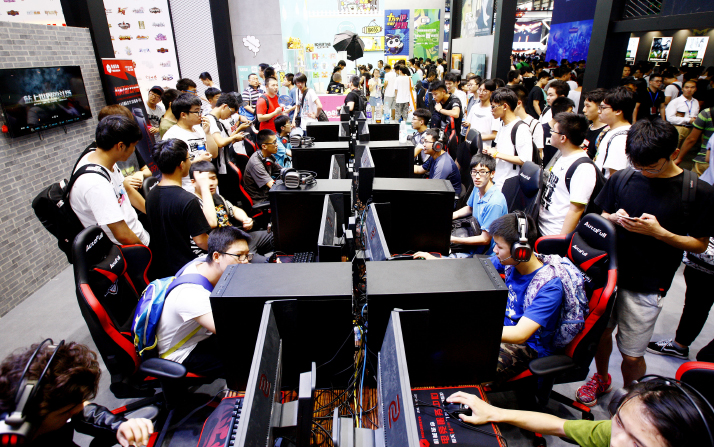 Visitors play games at the 15th China Digital Entertainment Expo and Conference in Shanghai on July 27, 2017 (XINHUA)
Fast-growing business
In China 10 years ago, the esports business was bleak due to lack of sponsorship and limited awareness. In 2011, Wang Sicong, the only son of Chinese real estate tycoon, Wang Jianlin, opened a lot of doors for the sector with his reputation and money.
In August 2017, Wang pledged to integrate the esports industry on his Weibo account, the Chinese equivalent of Twitter. He invested heavily in the sector, buying a dying team for about $6 million and renaming it Invictus Gaming or iG. In 2012, iG won first place in the International Dota2 Championships in Seattle, claiming the prize money of $1 million.
Wang expanded his esports interests to the extended chain of esports broadcasting. In 2015, he launched Panda TV, an esports streaming channel, to compete with Twitch. He also made efforts to push forward unified standards for league competition. Following his lead, other young Chinese businesspeople and entertainment celebrities invested in esports teams and related businesses.
Pop singer Jay Chou from Taiwan is one of them. As a dedicated enthusiast of League of Legends (LOL), he bought his own team and invested 18 million yuan ($2.85 million) to build a 1,700-square-meter esports bar in Shenzhen, south China's Guangdong Province.
The influx of investment and the growing public awareness of esports as a mainstream entertainment sector augur well for its long-term progress. Chinese Internet analytics firm iResearch reported that the market value of China's esports hit 65 billion yuan ($10.3 billion) in 2017, an increase of nearly 60 percent year on year.
China is also notably contributing to esports player numbers in the world, said Newzoo. The 2017 Statistical Report on Internet Development in China released by the China Internet Network Information Center showed that 420 million out of 751 million Chinese Internet users played competitive gaming in 2017.
"Growing up in the era of the Internet, people born in the 1980s, 1990s and 2000s accept esports as a natural phenomenon," said Ding Dong, former Director of the Sport Information Department with China's General Administration of Sport (GAS).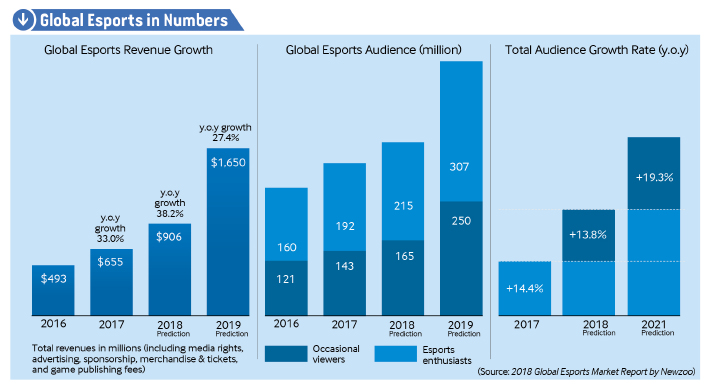 Supporting policies
The recognition of esports as an official event and support from the government have lured venture capitalists to the sector. It will be an event at the Asian Games in Jakarta, Indonesia, this year and also a medal event at the 2022 Asian Games in Hangzhou, China. In late 2017, the International Olympic Committee officially agreed to add professional gaming competitions to the Olympics program.
"Esports should be a global professional medal event due to its sportsmanship and spectatorship and because it is an intellectual confrontation that tests people's agility, intelligence and willpower," said Jin Yibo, head of Chinese Internet giant Tencent's esports business, adding it requires the same intense preparation and training as other traditional sports.
In 2016, China introduced a series of policies to support the esports sector. Early that year, GAS held the first China Mobile Esports Games and the National Development and Reform Commission issued an action plan to promote economic restructuring through consumption, which clearly encouraged businesses to host national and international esports events.
These initiatives triggered capital's zeal for the sector, with JD.com and Suning Commerce Group investing heavily in the esports business. In December 2017, the two giants won berths to the LOL Pro League, China's top national esports event, at the cost of 90 million yuan ($14.2 million). Insiders say winning the berths means the businesses could share the considerable revenue from sponsorship, advertising and media rights.
"The commercial potential is not only about holding league competitions or tournaments, but also about a whole industrial chain," said Jin. He estimated the value of the sector will reach 100 billion yuan ($15.8 billion) in the next few years, with additional multiple sources of revenue coming from game publishing, live-streaming platforms and gaming peripherals.
At the state level, China's policy of fostering characteristic towns nationwide sets a long-term bright future for esports. By virtue of the policy, esports-themed towns attracting related businesses and complete training facilities are being built to nurture professional players and tap into the commercial potential of offline establishments.
"With these changes and support, I am confident that my future career is extremely bright," said Tan.
Copyedited by Rebeca Toledo
Comments to yanwei@bjreview.com