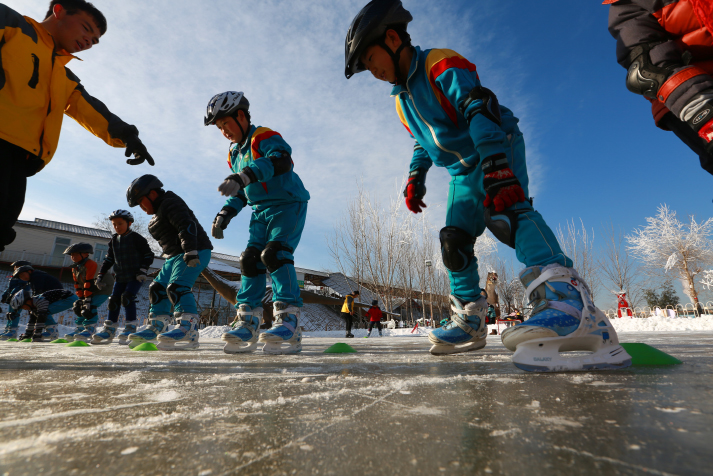 Beginners learn skating at an ice and snow park in Huairou District, Beijing, on December 15, 2017 (XINHUA)
Hu Yanzhong, manager of the Huzai & Chengnan Brothers Club, has devoted over 20 years to winter sports. For the past eight years he has stayed in Beijing for one reason: to teach ice hockey to children.
For Hu, the first half of his ice hockey career was spent in Qiqihar, northeast China's Heilongjiang Province. In the past in China, the best cities for winter sports were all scattered across the far northeastern part of the country, Hu told Beijing Review.
During the 1980s in particular, frigid conditions and a lack of indoor facilities meant that most schools in the northeast could only offer ice-based sports for their physical education classes in winter. Hu's passion for ice hockey emerged when he was a student and he later became a professional player.
Today, however, things are very different. Beijing, which has no tradition of snow sports programs, has caught up and become a major player nationwide for winter activities.
Right time
On the day Beijing Review visited him in southeast Beijing, Hu was preparing for a match between two Huzai & Chengnan teams of 6-year-old children. The club, which entered the Beijing winter sports market back in 2011, has eight ice hockey teams and eight coaches, with most of the players aged between 6 and 12, divided into different groups according to age and ability. According to Hu, the age from 6 to 8 is the most important period for basic training.
The match is part of a preliminary contest for the New Year Cup. The competition is organized by the Icestar Group, the parent company of Huzai & Chengnan as well as dozens of other winter sports clubs including short-track speed skating and figure skating.
"In Beijing, I would estimate that there are at least 8,000 children receiving training in winter sports, which makes it the leading city nationwide in this regard," Hu said. "It's the best time for private companies to enter the market, and we are feeling quite good about the future."
Beijing, together with Zhangjiakou in neighboring Hebei Province, won the bid to host the 2022 Winter Olympics in 2015. As part of the bidding campaign, the Chinese Government promised to the International Olympic Committee that 300 million of its people will take up winter sports.
The government's positive attitude came as an encouraging sign for companies like Icestar, a sports management company which started out as a club running a single ice stadium. Now the company runs 12 ice stadiums around the country and holds multiple international games.
As both stadium manager and ice hockey coach, Hu said participants are no longer charged for games within the Beijing Ice Hockey Association, suggesting that the government is encouraging winter sports financially as well. The electricity and upkeep of the stadium cost a lot of money, Hu explained.
Mass participation
Perhaps the best thing the government can offer the burgeoning market is a good social environment which encourages participation in winter sports, and in this regard Beijing has already done a fine job.
Campaigns are underway in the city to promote winter sports to students. In December 2017, Beijing, Tianjin and Hebei signed a framework document on the coordinated development of juvenile physical education, and in recent years, Beijing's education authorities have been working with related government departments and schools to promote winter sports.
Wang Jun, an official with the Beijing Municipal Education Commission, outlined the three steps the city is taking. "Firstly we ensure that schools in Beijing have winter sports programs on their curricula, we then focus on improving the quality of such programs, before lastly, we find ways to make such programs competitive."
According to Wang, many educational institutions are arranging classes for students according to their own conditions. Zhongguancun Second Primary School, for example, has established a student organization dedicated to winter sports and an ice hockey team.
However, due to limited access to stadiums and a lack of professional and experienced coaches in public schools, many parents in Beijing and neighboring cities choose to send their children to privately operated clubs on weekends or during summer and winter vacations in order to seek quality training.
A Mrs. Zhang told Beijing Review that she and her husband saw advertisements for an ice hockey club at a shopping mall, and that their son expressed great interest in the game. After a few trial lessons, they decided to carry on attending the training classes.
Ice hockey classes for children are an expensive venture for Beijing's parents. According to Zhang, her son's equipment and lessons have cost her over 10,000 yuan ($1,554) in a year, not including the time and money spent on traffic and accommodation.
"My son started at 6," Zhang said. "Ice hockey is expensive for us, but we will always support our son as long as he loves it."
The incentives motivating Beijing's children and parents to take up winter sports are varied. Ice hockey is considered beneficial because it is a group activity which can help build team spirit and healthy social skills.
It is also not uncommon for parents to send their children to ice hockey clubs as a means of preparing to send them abroad to receive secondary education in Canada or the United States. Their ability to play ice hockey is in this case a way for these children to integrate into local life.
Hu claimed that although only a few students choose to become professional, the current wave of mass participation is forming a large talent pool for the nation's ice hockey players of the future.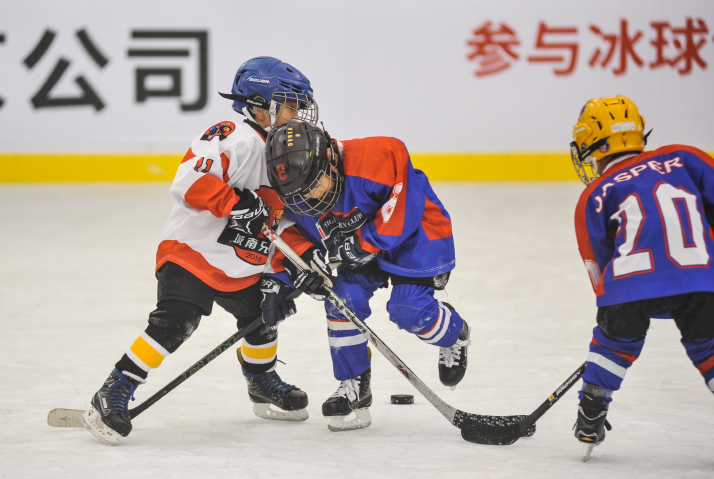 A dozen 6-year-olds from the Huzai & Chengnan Brothers Club compete for the New Year Cup tournament on December 30, 2017 (Wei Yao)
Market boom
On January 15, Analysys, a data analysis provider, together with Tencent and Toyota, released a report on China's winter sports industry.
The sector is growing quickly with the implementation of favorable government policies and news of the 2022 Winter Olympics, it said. In 2017, the market volume of China's winter sports industry reached 397.6 billion yuan ($61.8 billion) and looks set to maintain sustainable growth. According to the report, in 2020 this figure will jump to 600 billion yuan ($93.24 billion), before topping 1 trillion yuan ($155.4 billion) in 2025.
Statistics show that 61.35 percent of those who participate in winter sports are less than 24 years old, while higher incomes in Beijing, Shanghai, and Shenzhen create potential for major consumer groups in these cities.
"To fulfill the promise of getting 300 million people to take up winter sports, the government needs to encourage all parties to join hands," said Pu Xuedong, a member of the Organizing Committee for the 2022 Winter Olympic Games.
Pu also places high hopes on the opportunities brought by the huge demands of the market. "Making money from market development activities is important, but transmitting the spirit of the Winter Olympics to the people is more so," he said.
Copyedited by Laurence Coulton
Comments to zanjifang@bjreview.com