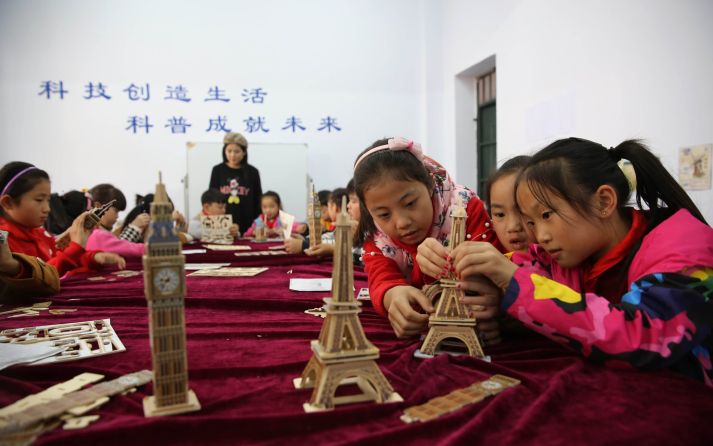 Students learn how to make models at a children's activity center in Sanyang Town, Wuzhi County, central China's Henan Province. Local students can have free classes in music, calligraphy, sports and science and technology at the center, which opened in March 2016 (XINHUA)
If students from China and Denmark were tested in reading, math, English, innovation and cooperation, in which aspects do you think Chinese students would win or lose? Many people would probably doubt Chinese students' innovation and cooperation capabilities.
For a long time, Chinese students have been tagged as smart and diligent, but less creative and cooperative, due to the educational system they experience, particularly at the elementary level. However, several facts are overturning this widespread perception.
A documentary made in Denmark, 9.Z mod Kina, recently went viral in China. Students from two public schools in Aarhus, Denmark's second biggest city, and Harbin, a second-tier city in northeast China, were tested in the five subjects and skills with questions designed by Danish educational experts. Chinese students won the math exam as expected. But their unexpected victory in innovation and cooperation made the experts question the education in Denmark.
As a matter of fact, Chinese parents and schools have realized the urgency of the need to improve youngsters' ability to solve practical problems in creative and cooperative ways.
Li Jing, an educator, has 15-year experience in public and private schools both in China and the United States including YK Pao School, an independent school in Shanghai, and the High School Affiliated to Renmin University of China, a top public school in Beijing.
She found that both public and private schools in China spend much energy in cultivating students' creativity in both thinking and practice.
"Public schools in China have launched many initiatives to foster students' creativity, which involve cooperation with universities, laboratories and enterprises to provide more opportunities for exposure to society," Li told Beijing Review.
Wang Yajuan, a mother of an 11-year-old boy in Beijing, is satisfied with the diversified activities her son's school provides.
Besides six hours' class time per day, her son, a Grade-6 student at one of the elementary schools in Beijing's Xicheng District, also rehearses fairytale dramas, trains in martial arts, practices public speaking and debate, and learns the ruan, a plucked stringed instrument originating in China, every week. All of these activities are organized by her son's school.
In addition, the school regularly takes students on outings to engage in social activities such as the traditional arts of paper cutting and making soap as well as jewelry identification.
"The school does not impose the pressure of scores on students. Instead, it encourages students to get equipped with diversified capabilities," Wang said. "My son feels it's lots of fun there."
Xicheng District launched a program in 2014 to enhance students' comprehensive capabilities and campus activities by introducing external educational resources to elementary schools in the district. The program, which comprises more than 100 courses in arts, science, technology, sports and Chinese culture, was expanded to all of the district's 38 middle schools in March 2017.
However, students of public schools still have pressure from the senior high school and university entrance examinations, namely, the zhongkao and gaokao, under China's current educational system. That's why Wang pays for extra classes in Chinese, math and English for her son with the intention that he outperforms his peers.
"My son still has to face the zhongkao and gaokao. Too little study pressure from school would cause me more anxiety," Wang said.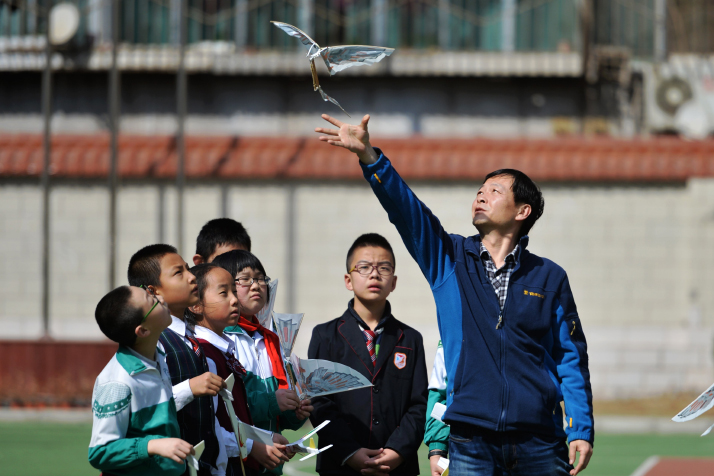 A teacher demonstrates how to fly a model airplane to students at Tongweilu Elementary School in Lanzhou, northwest China's Gansu Province, in 2016 as part of a program that combined sport, science and technology to promote comprehensive progress of students (XINHUA)
Other options
Actually, public schools are not the only choice for Chinese parents nowadays.
Li said that private schools started as a supplement to public education and they have developed into an important part of the whole educational system in China.
Li's daughter recently completed one year at the YK Pao School in Shanghai. When her daughter subsequently participated in a survey of children in Beijing, she picked resilience which is one of the school's core values, as the most significant of the characteristics presented in one particular question. "It was really beyond my expectations," Li said.
Compared to public education, Li thinks that private schools have demonstrated a lot of endeavors to foster interest and cater to individual needs. "YK Pao School is renowned for its moral education," she said.
Besides public and private schools, particularly those in top-tier cities featuring international educational practices, some trailblazers are now trying a "third way" by conducting educational experiments and exploring diverse forms of learning, according to Yang Dongping, Director of the 21st Century Education Research Institute, a think tank in Beijing.
Li Yinuo, a former partner at global management consultancy Mckinsey, couldn't find a suitable school for her son after moving back to Beijing from California's Silicon Valley in the summer of 2016.
Li Yinuo looked into all kinds of schools in Beijing but felt that each has its own Achilles' heel. As a mother of three, she doesn't want her children to study just to attain high scores in the public educational system, or to grow up to be a "foreigner" in China by attending international schools.
"Our efforts to find a satisfactory school ended in vain because the public ones available to us were too uniform and reliant on tests, while international schools offer an education that is too Westernized and lacks Chinese roots," said Li Yinuo, who is currently the chief representative of the Bill & Melinda Gates Foundation in Beijing.
Li Yinuo decided to create something in between, absorbing both styles' strengths. Three months later, ETU School was born. "What we want to do is personalized education, based on the models of Khan Lab School and AltSchool, [but] of course with Chinese characteristics," she said.
Located on the campus of No.80 High School in Beijing's Chaoyang District under a cooperation agreement, ETU has only three classrooms and one teachers' room; however, it has attracted much attention from Chinese parents.
The initial plan was to recruit 24 students for the first semester, but ETU received more than 150 applications. Finally, there were 31 students and six teachers.
Students at ETU are taught in an innovative and personalized way. For example, when learning numbers, they are required to understand numbers by engaging in a practical project under the guidance of their teacher.
"The textbook is just a tool. Teachers will not start a class with 'please open your book to page such and such'," said Chen Chu, a math teacher at ETU.
This innovative school also integrates the STEAM concept—science, technology, engineering, arts and math—in their project-based learning by requiring teachers across all subjects to design and deliver lessons that incorporate a mixture of such content.
Li Yinuo wants to do more. Backstage, she has an in-house, 40-people information technology team, according to a report in China Daily, tasked with empowering ETU's teaching through technology. The team has developed an IT platform and an app that allow teachers to record events in the classroom, communicate with parents and build an audio-visual library of scenarios to help train other teachers and aid their professional development.
Empower more
Following innovative programs implemented in public and private schools in big cities like Beijing and Shanghai, China's Ministry of Education published on December 11 a set of management standards for all schools delivering compulsory education in order to promote teaching methods found to be successful during a three-year experiment conducted since 2014 in eight pilot regions including Beijing.
In line with what most educators advocate, the standards emphasize equal opportunities for all students and their comprehensive progress, which includes their moral standards and abilities to learn and take care of themselves."
"The future world is beyond our imagination today. Therefore, helping students form the ability to learn is what schools should think about," Li Jing said.
"It's only a beginning for us, as we make school management regulated, technology-based and standardized. However, it also places new demands on local education departments and schools, who are encouraged to implement the standards," said Wang Ming, a researcher with the Education Development Research Center, a national think tank.
Copyedited by Chris Surtees
Comments to ffli@bjreview.com