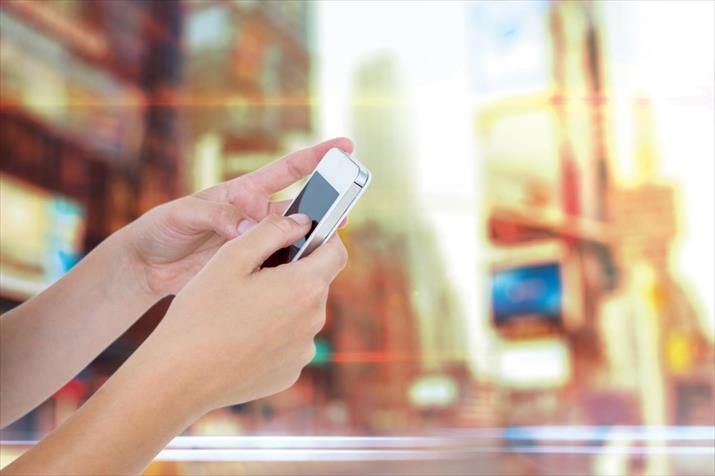 (Freepik.com)
Francisco Little enjoys a stable lifestyle in Beijing. Every workday, he rides a bicycle provided by Mobike, one of the shared bike brands, from his apartment to the subway station and takes the subway to his place of work. At noon, he orders lunch in the office or goes to a nearby Starbucks for coffee. After work, he buys fresh vegetables at a local market before heading home. On weekends, he either travels to other cities or meets up with friends to try out new restaurants. All of these activities are done without needing any cash, just via a few touches on his cellphone.
"Even in the restaurants, you now do not need a physical menu. You have the convenience of simply scanning a QR code on the corner of your table to order food and pay bills with your cellphone," he said.
Little, a South African who has been working in China for more than a decade, said he has personally experienced the fast Internet development in the country during this time, especially in the area of mobile technology.
"The rapid change in lifestyles I have seen brought about by the Internet has been astonishing. Carrying cash has become almost archaic, and your phone is now the key to unlocking almost any situation," he said.
Giant leap
Actually, these technological advancements took place within 30 years. On September 20, 1987, when most Chinese people were still writing letters to communicate, a group of Chinese scientists were looking for faster and better ways of communication. When Li Chengjiong, then Director of the Institute for Computer Application, and Werner Zorn, known as the "father of the German Internet," collaborated to send China's first e-mail, reading, "Across the Great Wall, we can reach every corner of the world," to Germany, they did not foresee that this act would bring such profound change to all aspects of Chinese life in the coming years. This move also indicated the birth of the Internet in China.
After China opened its dedicated line to the Internet in 1994, the number of Internet users grew rapidly. According to the 40th Statistical Report on Internet Development in China issued by China Internet Network Information Center (CNNIC) in August, China had 751 million Internet users by June 2017, accounting for one fifth of the world's total. In other words, 54.3 percent of China's population are using the Internet. Of these, 724 million people use the Internet with their mobile devices.
Within 30 years, China has gone from a follower to a leader in Internet development, according to Mary Meeker, American investor and analyst known as the "Queen of the Net," in her report last year. Chinese Internet users and Chinese Internet companies such as Baidu, Alibaba and Tencent are changing the layout of the Internet globally. In return, the rapid development of the Internet has changed people's lives in all aspects.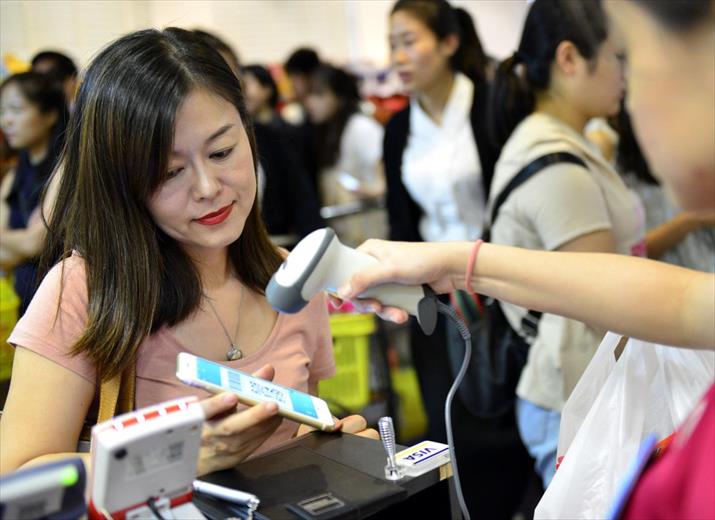 More and more customers use mobile pay service in supermarkets in China (XINHUA)
Online shopping
"The fast development of the Internet in China has provided a good environment for e-commerce development," said Li Yongjian, a researcher with the National Academy of Economic Strategy under the Chinese Academy of Social Sciences.
"I seldom go to physical stores now and I can buy nearly everything on various e-commerce platforms with my cellphone apps," said Beijing resident Wang Hongyi. "Besides lower prices, it is really convenient."
Working in a private company in Beijing, Wang usually orders vegetables, fruits and other daily necessities with her cellphone on her way back home from office. When she gets home, she will find the goods she ordered in a box in front of her apartment. "It really saves me a lot of time," she said.
Wang is one of the many Internet users who has been benefiting from the Internet-based apps. According to CNNIC's report, by June 2017, China's online shopping app users reached 514.43 million, 480.42 million of whom used the apps with their mobile devices. While these apps make people's lives more convenient, the large number of online shoppers has also, in return, greatly boosted the development of e-commerce.
When Jack Ma established his e-commerce platform Alibaba in Hangzhou, east China's Zhejiang Province, in 1999, no one expected he would succeed as China's brick-and-mortar retailing industry was booming at the time. The world famous retailing giants—Carrefour and Walmart—established their first supermarkets in China in 1995 and 1996 respectively. But today, Alibaba has become one of the biggest e-commerce platforms worldwide, with the transaction value reaching 3.7 trillion yuan ($566 billion) in 2016. On November 11, 2016, known as the Double 11 shopping carnival in China, the transaction value on Tmall, a part of Alibaba, reached 120.7 billion yuan ($18.5 billion).
"E-commerce has greatly changed people's way of life and they can buy things without even leaving home," said Ma, who calls his business model the "new retailing industry."
Shared economy
Based on the Internet, China's shared economy has also made great strides in recent years. Besides shared bikes and shared cars, where the vehicles on the road are provided by companies, individuals can also share their redundant resources online for profit.
Xiao Ma (not his real name) works in a state-owned enterprise in Beijing. As his company is more than 25 km from his home, he drives to work every workday. Early this year, he registered his car on the Didi Shunfengche app to provide carpooling service. Now, when he goes to work in the morning and goes back home after work in the afternoon, he opens the app and can find riding orders.
"I just drive along my ordinary route every day, and pick up my passengers on the way. I do not need to take a detour," said Xiao.
The app can analyze orders and send them to different drivers according to their preset routes. While taking Shunfengche vehicles, passengers pay only about half of the normal taxi fare for the same distance.
"My car has four vacant seats. So if I ride it just by myself, it's a waste of resources," said Xiao. "Why not share these seats with other people? At least I can get back my fuel expenditure."
According to CNNIC, China's shared economy is in a rapid expansion period, with 639 million car-hailing service app users (including users of taxi-hailing apps, express car-hailing apps and luxury car-hailing apps), and 106 million shared bike app users.
Other apps such as Guazi, where users can sell their used cars, and Zhuanzhuan, where people can sell their used cellphones, are also being widely used.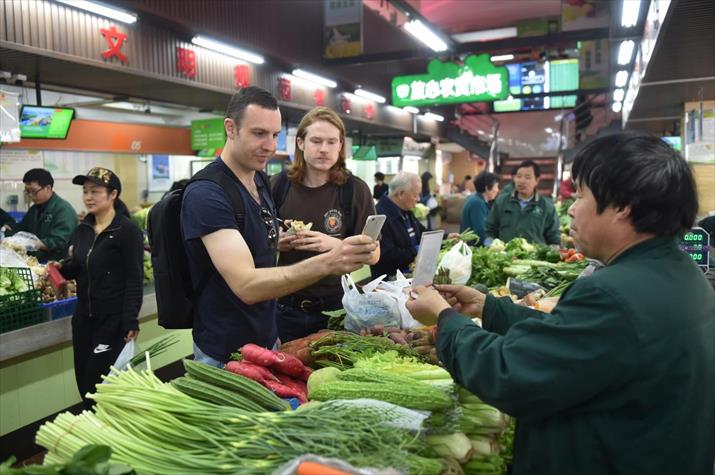 Foreigners use mobile pay to buy vegetables (XINHUA)
Future development
Besides the Internet giants, the government also plays an important role in promoting the rapid development of the Internet. China started its National Information Infrastructure project in the late 1990s, aimed at enabling all regions, including the villages in remote mountainous areas, to get access to the Internet by constructing necessary infrastructure.
Yongxin in northwest China's Ningxia Hui Autonomous Region is one of the villages that has benefited from the project. After it was connected to the Internet in 2016, villagers can now sell their products online, greatly increasing their income.
"Before we could access the Internet, we could not make a profit from the apples and apricots we grew as we did not have channels to sell them," said village head Li Wenbin. "Thanks to the Internet, our villagers have a new way of earning money." Li earned more than 4,000 yuan ($613) by selling his apples last year. He is now considering using the Internet to attract more tourists to his village.
In March 2015, Chinese Premier Li Keqiang put forward the concept of Internet Plus for the first time in his Report on the Work of the Government, designed to further promote Internet development by connecting it with various industries. Following this, China issued a series of policies and guidelines to promote the development of Internet Plus, including Made in China 2025 and the Mid- and Long-Term Plan for Logistics Development (2014-20).
"On the one hand, China's economic development has provided valuable development opportunities for the Internet; on the other hand, the deep integration of business with the Internet is injecting dynamic vitality and fostering new impetus for China's economic development," said researcher Li Yongjian.
He estimated that in 2020, the added value created by Internet Plus will exceed 5 trillion yuan ($767 billion). "The economic dividend generated by Internet Plus will push China's economic development to a new level," he added.
Key Sectors for Made in China 2025
New information technology
Energy-saving and new-energy vehicles
Aerospace and aeronautical equipment
Ocean engineering equipment and hi-tech ships
Modern railway equipment
Numerical control machine tools and robotics
Power equipment
New materials
Biological medicine and medical devices
Agricultural machinery
Copyedited by Francisco Little
Comments to zanjifang@bjreview.com