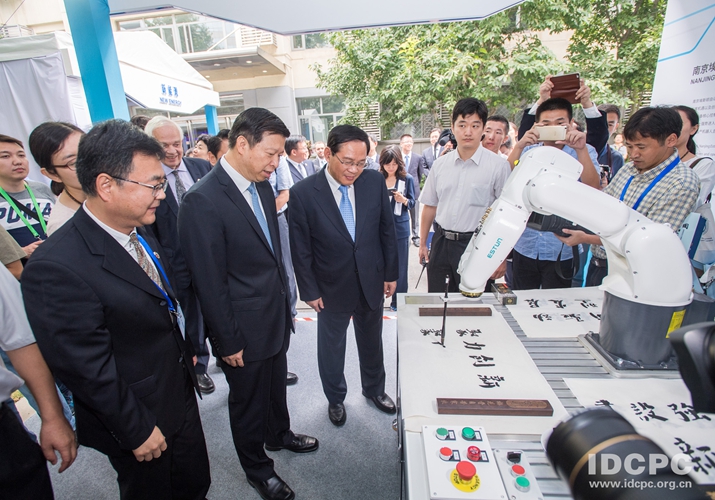 Song Tao(second left),Minister of the IDCPC, and Li Qiang(third left), Secretary of CPC Jiangsu Provincial Committee, watch a Chinese calligraphy show by a robot designed and assembled in Jiangsu on August 31(COURTESY PHOTO)
The sound of Suzhou Pingtan, an art form which combines story-telling and ballad singing in the Suzhou dialect, swirled around a hall of the International Department of the Communist Party of China's Central Committee (IDCPC) in Beijing on August 31. The singing enchanted the audience, including 400 visiting political party leaders and ambassadors of other countries.
The scene was part of the thematic briefing for an event titled Practice of the CPC Jiangsu Provincial Committee—Innovation-Driven Transformation and Development hosted by the IDCPC.
The event, the fourth part of the Stories of the CPC series launched by the IDCPC, aimed to introduce China's efforts to become a country of innovation through dedication to education, talent development, technological breakthroughs and structural reforms with the example of Jiangsu Province.
Song Tao, Minister of the IDCPC, and Li Qiang, Secretary of the CPC Jiangsu Provincial Committee, attended the briefing, which was presided over by Guo Yezhou, Vice Minister of the IDCPC.
Leading role
Innovation, as the engine of economic growth and the progress of human civilization, is also the very core of and major target in the strategic development plans of scores of governments. China is no exception. President Xi Jinping has stressed the importance of innovation on many occasions. The CPC Central Committee, with Xi as its core, has prioritized innovation for China's development since the 18th CPC National Congress in 2012. Many political party leaders in the world agree with the CPC on the insistence on the path of innovation.
Song said in his keynote speech at the briefing that the CPC upholds the concept that all political parties should keep pace with the times and actively lead in reform and innovation, and there is no universal path. Political parties should use their own advantages, such as their systems, institutions and capability in organizing people, to explore their own path conforming to their national conditions.
"The CPC started with setting up mechanisms and institutions to ensure the development of innovative industries," Song said. "The emphasis on training talent and embracing a pilot innovative practice is part of the CPC's successful experiences."
The visiting guests agreed that the CPC has set a good example for political parties worldwide through China's successful development. China, with innovation as a guiding principle, has ensured a favorable institutional environment and cultivated a social trend that encourages innovation.
Gardener of innovation
Jiangsu Province, a frontrunner in innovation-driven economic transformation and development, provides an example of how the Party promotes innovation. Located on China's prosperous east coast, Jiangsu is one of the provinces that lead the way in innovation and transformation.
Song said the CPC Jiangsu Provincial Committee had accumulated experience in pushing forward innovation and transforming its economy.
The GDP of Jiangsu in 2016 was 7.6 trillion yuan ($1.1 trillion), ranking second among China's 34 provincial regions. The province's per-capita GDP was $14,000, ranking first in China. Jiangsu has over 13,000 hi-tech companies. In 2016, the hi-tech industry's output value accounted for 40 percent of Jiangsu's total GDP and advancement of science and technology contributed over 60 percent.
"Jiangsu, with 1.1 percent of China's land, is able to support 5.8 percent of China's population and contribute 10.2 percent of the GDP," said Li. "It is innovation that enabled Jiangsu to reach such an achievement."
Li shared the reasons behind the achievement. He said that Jiangsu regards talented people as its fundamental resource and tries its best to cultivate them. "We have built up industries and ratcheted up services in order to provide the conditions needed for innovation."
He added that Jiangsu was working with governments, companies and talented people worldwide to blend into world value chains. "The CPC's role in this process is like a gardener," Li said.
Jiangsu is now pushing ahead institutional, cultural and managerial innovation, with science and technology as the spearhead, to promote new technologies, industries and models.
In Li's words, innovation has become a value orientation and part of the cultural atmosphere in Jiangsu, transforming the province.
Pooling talented people
Jiangsu is also home to 167 universities, over 1.9 million college students, 757 independent research institutes and 760,000 research and development (R&D) personnel. According to a local policy, world-class talent teams can apply for up to 100 million yuan ($15.39 million) in financial support.
Therefore, more talented people are willing to stay in Jiangsu. The number of overseas top talents under the Thousand Talents Plan in the province accounts for 11.5 percent of the country's total, and its number of scholars under the Changjiang Scholars Program, the highest academic fellowship for an individual in the higher education field by the Ministry of Education, tops China's provincial-level regions.
Professor Jan-Christer Janson, an academician of the Swedish Royal Society of Science in Uppsala, Sweden, is a witness of Jiangsu's openness to the world and the effort of the CPC Jiangsu Provincial Committee to attract high-level talents from around the world.
Janson started his cooperation with China in the 1980s. The relationship has lasted 37 years. His research specializes in protein separation. Now, four protein medicines are being put into use in China, including two that are effective against cancer. He has won two Chinese state-level awards for his contributions.
"I am proud of my cooperation with Jiangsu. I am very pleased that I could work with Professor Gu Ming, my Chinese partner, to start a biopharmaceutical company in Jiangyin, a city of Jiangsu," he said.
He added that without support from the municipal governments of Jiangyin and Wuxi, as well as the Jiangsu Provincial Government, it would not have been possible for him to start a business in Jiangsu, let alone succeed in doing so.
Janson also helped to bring on board Swedish Nobel prize winner Bengt Samuelsson, who decided to use his experience and links all over the world to help establish a biotech company in Jiangsu.
"This is an excellent example of how scientific ideas born in Sweden grow in Jiangsu by trans-regional research and innovation, which contributes to industrial production in Jiangsu, a place where favorable circumstances are at hand."
Aflatuni feels the same as Janson. He initially accepted a two-year posting to Suzhou as vice president of Nokia's Suzhou subsidiary, ended up staying in the city for 19 years. He is now a guest professor at Suzhou University, a drummer and a singer of Suzhou Pingtan.
Asked why he liked living in Jiangsu, he said he found life extremely fabulous in the province, with its long history, harmonious society, and fast-developing economy. "I like new things. I like change. In Finland, things barely changed in the last 50 years. But here in Jiangsu, everything is prosperous," he said.
According to Li, Jiangsu benefits from close cooperation with top universities like MIT, UC Berkeley and Cambridge in technological research and applications. Jiangsu also encourages young people to study abroad and international students to study in the province.
Hun Many, a member of the Central Committee of the Cambodian People's Party and President of the Union of Youth Federations of Cambodia, was invited to speak at the briefing after a field trip to Jiangsu.
He said R&D in technological innovation would help a nation to have an edge in the increasingly fierce market competition. "It would contribute to the betterment of people's livelihoods and help answer the challenges of population growth, scarcity of national resources and climate change," he added.
Over 380 Fortune 500 companies have invested in Jiangsu, and many manufacturing companies have set up R&D centers in the region.
The CPC Jiangsu Provincial Committee set up exhibition booths for robots, smart retail, deep-sea exploration, embroidery and Suzhou Pingtan. Two sub-seminars were held to share stories of innovation and transformation in Jiangsu with guests.
"This event gave me a great impression. More and more innovations from China, like mobile payments, are spreading to the world. Innovation has become a new name card for China," Leela Mani Paudyal, Nepali Ambassador to China, told Beijing Review.
Copyedited by Chris Surtees
Comments to maxiaowen@bjreview.com