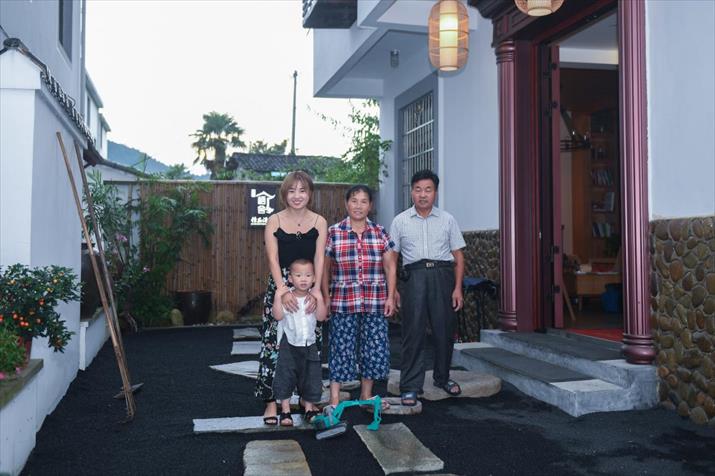 Jiang Lijuan (left) with her parents and son at her homestay house in Xiajiang Village, east China's Zhejiang Province, on August 9 (XINHUA)
Among the traditional houses with their black roof tiles and white walls in Xiajiang, a village in Zhejiang Province in east China, there is a refurbished house that stands out with its cobbled yard and wooded grounds. The interior is Nordic in style, with a fireplace.
This is a homestay house belonging to Jiang Lijuan, her husband Chu Chengfei, and her sister Jiang Lihong. Jiang Lijuan quit her stable job as an interior designer in Hangzhou, capital city of Zhejiang, to try a different life.
"I decided to give up life in a big city and manage a bed and breakfast because of my mother," she said.
Last year, the village authorities began encouraging the residents to develop the local tourism industry by starting homestays. It set Wang Yangqiu, Jiang's mother, thinking. Wang called her daughters to discuss launching such a venture and they decided to take the plunge.
More people in the village followed suit and today, there are almost two dozen homestay houses which can take in almost 400 guests. In the first seven months of this year, Xiajiang received more than 60,000 visits.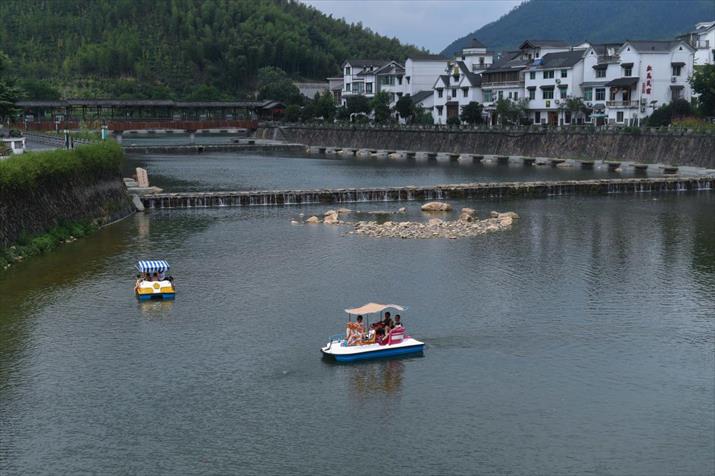 Sightseers explore Xiajiang Village by boat on August 9 (XINHUA)
A calculated risk
Jiang's business acumen impressed the entire village. She hired a local renovation team and turned the old dilapidated house into an elegant and modern hotel unlike any other in the village. For this, she spent nearly 1.5 million yuan ($225,000), which was a huge investment for most of her fellow villagers.
Besides bold decoration, Jiang has also adopted new marketing methods, using online platforms and social media apps to advertise her homestay. She makes customized itineraries for her guests to ensure that they have a hassle-free and enjoyable stay in the village. As a result, she has been receiving a stable flow of tourists since the homestay was started last November.
The new business has also changed Jiang's parents. "Now, if my mother sees attractive flowers and plants, she buys them for our place as she has grown more interested in home decoration and improvement," Jiang said. "It's a huge difference from the days when she used to be sunk in household chores."
It's a busy time for Jiang not only because of the business but also because she has become the entire village's trainer, especially for older people who lack knowledge of how to run online promotions, an area in which she has a lot of experience.
She says she is very satisfied with her current life, being an entrepreneur in her hometown and able to enjoy her parents' company. She's planning to put her child in school in Chun'an, the county under which her village falls.
Others too are chipping in to help the villagers hone their skills and cash in on tourism. Jiang Surong, deputy head of the village, used to be a chef. He gives cooking lessons every month, especially before major festivals and when large tourist groups arrive. "I plan a good menu first and then demonstrate how to make the dishes," Jiang Surong said. "I can vouchsafe that every homestay here provides delicious food."
Training in other professional services, such as making beds and receiving guests, has also been organized, covering more than half of the 226 village households.
Visitors arrive in Xiajiang Village on August 9 (XINHUA)
Working as one man
As the homestay industry in Xiajiang booms, there are other propositions to consider. How to ensure a similar number of tourists both during the busy season and the slack one? How to make them stay longer? How to improve services and build the village's own brand?
To address these issues, Jiang Yinxiang, the former village Party secretary, teamed up with his successor, 45-year-old Jiang Haoqiang, who has fresh ideas about how to develop the tourism industry, and a committee was formed to make optimal use of village resources.
Subsequently, a management company was established last year to link homestay providers and travel agencies and to manage homestay vacancies. In the first half of 2017, the company handled 6,290 beds--70 percent of the total tourist number.
To encourage villagers to come up with new touristy activities, the 66-year-old Jiang Yinxiang has placed a grindstone in front of his house, where visitors can grind fresh soybean and drink soy milk made by their own hands. It provides a farm work experience that is both entertaining and characteristic of the village.
The local Communist Party of China (CPC) members are also contributing to the initiative. Some of them are helping farmers sell local agricultural specialties to homestay owners, some are teaching villagers garbage classification and disposal to keep the streets and yards clean, while others have set up service teams and are repairing home appliances for free.
Jiang Yinxiang is deeply moved by the joint effort of the village. "Green hills and clear water are our village's advantages but there's plenty of room for us to develop ecological products," he said. "How to maximize our ecological advantages? By joining hands, not going it alone."
The village's labor is paying off. The tourism boom has brought it an income of over 51 million yuan ($7.64 million) by the end of 2016, 16 times that of 2001. The per-capita disposable income of its residents has gone up to 21,902 yuan ($3,288), 11 times that of 2001.
Now Xiajiang's goal is to transform itself into a leisure and recreation center, integrating catering, accommodation, sightseeing and shopping. Music bars, cafes and recreational vehicle camping bases are being planned to meet tourists' diversified needs.
Sending down roots
Shao Juan is not a Xiajiang local. The first non-native homestay owner here, she comes from Qiandaohu, a town in the same county. Shao worked in Beijing as an editor and had an e-commerce business. Her two brothers are a sailor and a dentist in Beijing.
"We struggled in a foreign city for a long time," she said. "My elder wanted to settle down in Xiajiang the first time he saw the place, and asked me to stay too." At first Shao was not sure. However, after meeting the hospitable local people, she felt at home. When they were building their homestay house, they would run short of things and the neighbors would always help them out with warm smiles.
"Compared with big cities, life here is more human," she said. "I can enjoy a cozy life here, while making the same amount of money or even more." A cooking enthusiast, she has learned newer skills from local chefs like Jiang Surong. In return, she wants to share her experience in e-commerce with the villagers.
"Why do people flock to cities?" Shao wondered "You can build an ideal life in a rural area too."
This is an edited version of the article which originally appeared on China.zjol.com.cn on August 4
Copyedited by Sudeshna Sarkar
Comments to luyan@bjreview.com