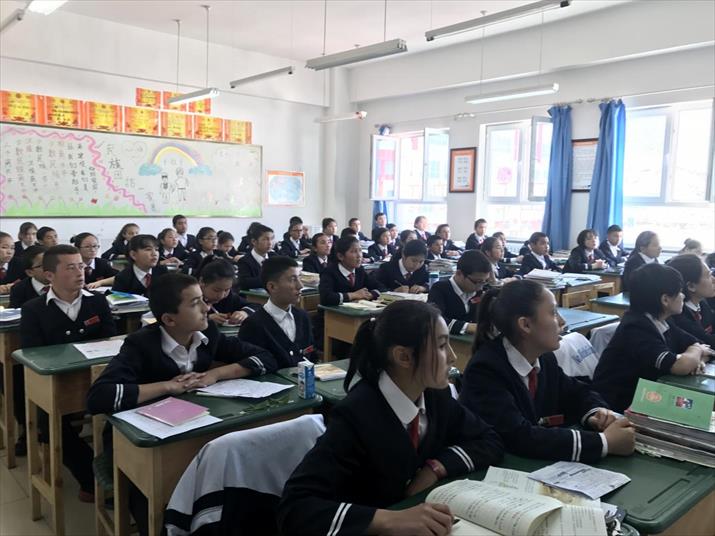 Students in Urumqi No.66 Middle School having a class (SHAO MENGZHOU)
For most children in China, transitioning to middle school is a simple matter of walking a few extra blocks at most. But for 14-year-old Tajinsa Abuduany, an eighth-grader in Urumqi, switching schools meant moving 1,500 km away from her home.
The young girl left her village near Kashgar, in northwest China's Xinjiang Uygur Autonomous Region, to attend school in the regional capital. Except for a few weeks in summer, she spends the rest of the year living and studying with her peers in her new home: No.66 Middle School.
Although leaving her village was a tough choice for Abuduany, she is determined to go the distance, as she knows that education is the key that can open the door to opportunities for her and her family.
Quality education
Abuduany is one of the participants in a unique educational program launched in September 2004 by the local government. The program enables children from the most remote and poorest areas of Xinjiang to enter some of the best middle schools in the region, empowering them to pursue their education in better-developed parts of China.
Urumqi's No.66 Middle School has been designated as one of the pilot schools of the program. It has two campuses with 61 classrooms, hosting 3,400 students from 13 ethnic groups.
Together with her classmates, Abuduany wishes to pursue her education in one of China's major cities such as Beijing, Shanghai or Shenzhen after graduation from the middle school. "No.66 Middle School is one of the best schools in Urumqi. Studying here will make it easier for me to enter the best universities in China and get more professional opportunities," she told Beijing Review.
Far from her family, Abuduany has developed close ties with her teachers, some of whom also live in the school. Moreover, she has access to clubs of all kinds, from chess and dance to music and sport. And despite the top-notch quality of these facilities, the young girl and her family don't have to pay a cent in tuition fees.
"The government funds the entire program, including tuition, housing, meals and stationery, providing about 8,000 yuan ($1,178) per student per year," Qu Mingcai, Principal of No. 66 Middle School, told Beijing Review.
Today, the program covers about 30 schools in 13 cities in Xinjiang, with 10,600 enrolled students in 2016. According to Qu, almost 90 percent of the students in his school come from cities with ethnic minorities in south and east Xinjiang, such as Kashgar and Turpan. Less than 10 percent are Han people.
According to figures published by the Education Department of Xinjiang, nearly 43,000 students have graduated from this program as of July 2016.
"About 98 percent of our graduates go on to senior high schools and prestigious universities in major cities such as Beijing and Shanghai, where they benefit from better education," Qu said. After graduating from universities, many of the graduates come back to their home region as engineers, doctors, teachers or civil servants, he added.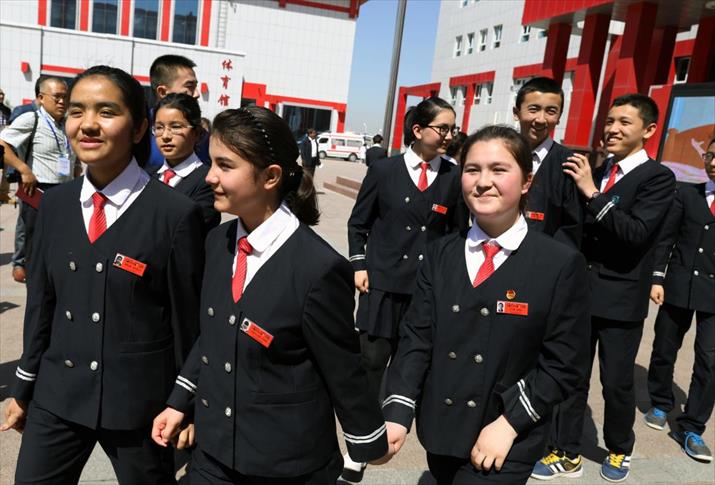 Students in Urumqi No.66 Middle School (CHINA DAILY)
Wider vision
The junior middle school has taken on the task of overcoming ethnic and linguistic differences. Many of the Uygur and Kazak students have little knowledge of Mandarin at the beginning. Courses in local primary schools are usually given in local languages, due to a shortage of teachers proficient in Mandarin. This influences their studies when they leave their hometown.
"No.66 Middle School offers Mandarin classes for freshmen. Other subjects, such as mathematics and science, are also taught in Mandarin to better prepare students for their future studies," said the principal.
Abuduany did not speak a word of Mandarin before stepping into the school. After one year in Urumqi, the Uygur teen woman has mastered the language. She has come a long way since her arrival, when she felt too shy to speak Mandarin.
"I wanted to speak in Mandarin, but I was afraid of not being able to do it correctly. But my teacher has always been very patient with me and never gave up on me," she said.
After months of training, she won first prize in a Mandarin contest at the end of her first semester. For her, language represents a bridge connecting her with the rest of the world. "Mandarin language can help me better integrate into society and is beneficial to my future studies," she said.
The school also provides classes on local languages and ethnic cultures. "Children live, eat and play together. We believe this is a good way to promote harmony and solidarity among ethnic groups," said Qu.
Xiong Yue, an eighth-grader from Kashgar, agrees. He is one of the few Han students at the school. "I speak a little Uygur, and I like to learn about the culture of my classmates. It's easy to get started, as we're always hanging out together," he said.
"The aim of our program is not only to help rural students get out of poverty through education, but also to offer them a way to integrate into society," explained Qu. In this spirit, the school also pays special attention to English teaching, organizes school outings and invites foreign experts to give lectures.
"In this way, we hope our students will be exposed to diverse cultural influences to learn more and can be better integrated into society when they grow up," he added.
After graduating, Abuduany wants to become a doctor. "I would like to explore the different regions of China and then go abroad to learn foreign medical techniques. For this, I will need to be able to communicate in several languages," she said.
This program is only one of the measures implemented by the local government in support of education for students in impoverished regions. Schooling is free and compulsory for nine years in most parts of China. According to the education department of the autonomous region, starting this September, Xinjiang will be one of the few regions where students enjoy 15 years of free education, from preschool all the way to senior high school.
Compared with the coastal part of China, Xinjiang still lags behind in education. "The 15-year free and compulsory education will definitely promote education development in the future," said Qu.
Comments to zanjifang@bjreview.com