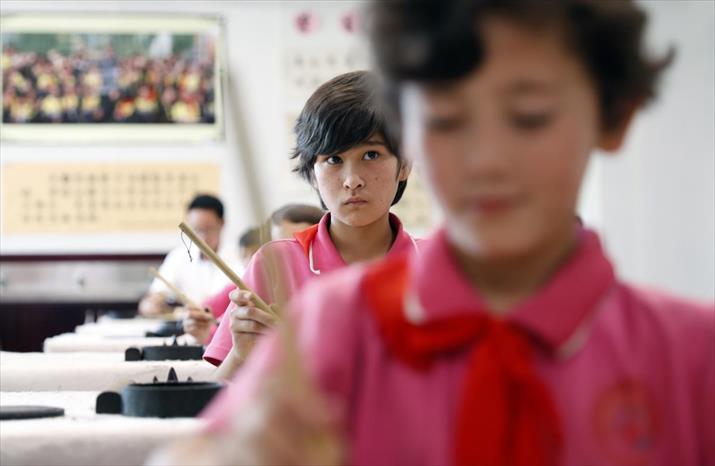 Students learn brush writing in a primary school in Shufu County on June 28 (XINHUA)
Groups of school teenagers smiling radiantly under the yellow sandy sky—this is the impression of Xinjiang Uygur Autonomous Region that Xue Xianjun, a middle school teacher from Beijing, will always remember.
Sand storms that hit Beijing every spring were the only extreme weather phenomenon Xue had experienced before going to Hotan, a prefecture in Xinjiang bordering the Taklimakan Desert. But in Hotan, it is just a regular occurrence—such storms batter the locality for at least 280 days a year.
And if not for a pairing assistance program between Beijing and Hotan, Xue might have never had a lasting connection with Xinjiang. The vast region that covers one sixth of China's total area was just a remote, mysterious world for her.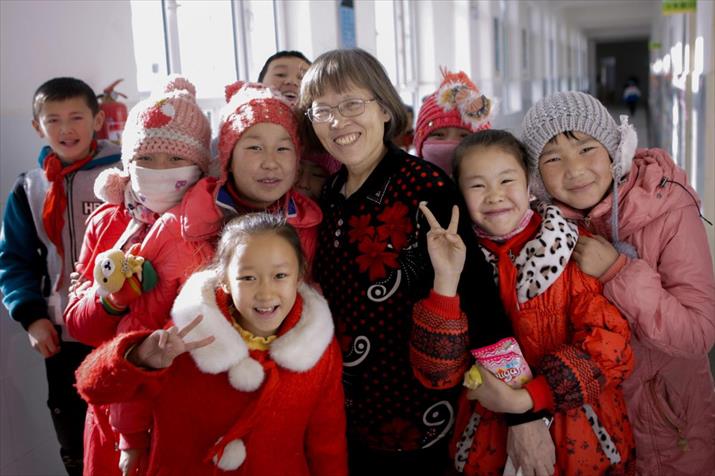 Xie Wanping and her students in Akqi County. Xie, a retired teacher in Wuxi, Jiangsu Province, volunteered to teach in Akqi in 2014 (XINHUA)
Hello Hotan
As China's westernmost region, where more than half the residents are Muslim, Xinjiang's image is a combination of marvelous sceneries, camel caravans, sweet and juicy fruits and barbecues redolent with cumin.
But Hotan was a stark contrast when Xue came here to teach English. Donkeys, not camels, ran down muddy narrow streets teeming with pedestrian traffic, and the school she taught at, the No.2 Middle School in Moyu County, was small and shabby. Some students there could not even speak standard Mandarin Chinese, let alone English.
"It was astonishing to see the students study there under such conditions," Xue said. "Beijing had already held the Olympic Games when I went there in 2008, and Hotan was still one of the least developed places in China. I felt I was obliged to help."
To pique the students' interest in learning English, Xue held various activities and used mini-replicas of the Bird's Nest and the Water Cube, the two major venues for the 2008 Beijing Olympic Games, which she brought as prizes for English competitions.
Xue returned to Beijing in 2009, but applied to go to Hotan again in 2013. "Compared to those in Beijing, students in Hotan needed me more," Xue said. This time, she taught at the Hotan No.5 Middle School for three years.
"I was pleased to see that conditions were much better," Xue said. "The school was newly built and equipped with a heating system for the winter."
But poverty was still a major problem that hindered some students. Xue, dubbed "Beijing Mom" by her pupils, sponsored eight students from poor families to complete their education through high school, and some of them even enrolled in college.
"Without her, I might have quit school and worked on a farm or even gotten married early," said a Uygur student, Rizwangul, who was sponsored by Xue and enrolled in the University of Kashgar. "She changed my life."
Xue is not alone in the school. As an assistance partner, Beijing has sent more than 40 teachers to Hotan every year since 2011.
Wang Hongzhong, who has been working in the Hotan No.5 Middle School for 16 years, first came here in 1999, stayed for 13 years and returned in 2015.
"Walking in Hotan, I always came across students I used to teach. It feels wonderful to see students fulfill their dreams here," Wang said.
Some of Wang's students have enrolled in universities in the United States, and some also became teachers at the Hotan school.
"I never regret working in Hotan," Wang said. "My family in Beijing deserves an apology though. I missed many important moments of theirs in the past years but I think it was worthwhile."
People going to Xinjiang as part of this assistance program are from various fields.
Wang Jie, an expert in DNA testing from Beijing, went to Hotan in 2014 and stayed for two years.
"I would hear news about terrorism almost every day in Hotan," Wang said. During her stay there, she dealt with more than 1,200 cases and helped set up a DNA database of more than 450,000 samples, which greatly helped tracking of criminals.
"I realized with this experience how hard police officers in Xinjiang work to safeguard the security of our country," Wang said.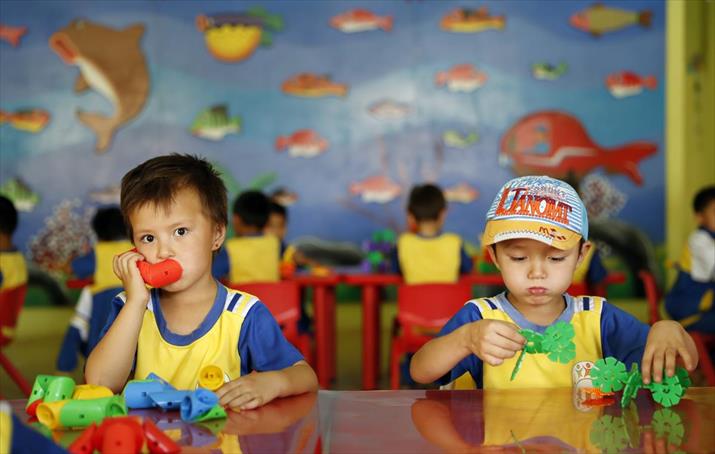 Kids of people working in the Guangzhou New City, an assistance project funded by Guangdong Province in Shufu County, enjoy the class in a kindergarten on June 28 (XINHUA)
All-round assistance
The Beijing-Hotan partnership is part of a national pairing assistance program for Xinjiang. It was initiated in 1997 with central ministries and economically developed provinces and municipalities supporting Xinjiang in building new infrastructure and boosting local development.
In early years of the program, only government officials were sent to Xinjiang. In 2010, the central authorities decided to expand the assistance to more sectors including education, healthcare and culture. A renewed pairing assistance program involving 19 provinces and municipalities was launched in the year, focusing on poverty alleviation and job creation.
In the past 20 years, more than 19,000 officials from outside Xinjiang have worked in the region. The program is the largest of its kind in the country's history in terms of geographical area, the population involved as well as the investment, and has brought substantial changes for people in Xinjiang.
Between 2011 and 2015, 5,161 assistance projects were launched in Xinjiang with a combined investment of over 58 billion yuan ($8.63 billion), according to official statistics. Most of the money, 74 percent, went to livelihood improvement programs. In the same period, 5 million people saw their housing conditions improve, and more than 200,000 workers secured stable jobs. In addition, Xinjiang built 222 new schools and a large number of public service facilities.
In 2014, a national conference on Xinjiang's development focused more on soft power assistance.
"The conference brought up clearer and more detailed goals," said Li Guoqiang, a researcher at the Chinese Academy of Social Sciences. "It is important to cultivate professionals in the fields of management and science and train entrepreneurs locally."
After the conference, the 19 provinces and municipalities intensified their assistance in creating more jobs and bringing in more opportunities for Xinjiang.
Zhou Aiwu, an official from Hengshui City in north China's Hebei Province, joined the assistance program in Yuli County, Bayingolin Mongolian Autonomous Prefecture, in September 2013. Soon after assuming office in the local government, he found language was a major barrier to his involvement in the local community.
"I felt quite like an outsider at the beginning as I couldn't speak the Uygur language," Zhou told Xinjiang Daily. "It was a big problem to work with locals without knowing their language."
At a meeting with local residents and officials, Zhou felt awkward that he couldn't understand a word of their conversation and decided to learn the Uygur language with the help of a retired teacher.
Learning a new language from scratch was no easy task for this 44-year-old.
Zhou spent four hours on this every day. Six months later he could carry basic conversations and a year later, he could speak and write the language.
"As an official, it is important to learn the local language to understand the local culture better and uplift working ability," Zhou said. "I made many more local friends and learned information that couldn't be obtained by just relying on interpreters."
Soon, other officials involved in the assistance program followed suit and learned the Uygur language and Zhou was invited to share his learning skills. Twenty-three officials from Hengshui paired with local business people and officials to share information and stay updated.
"The work has become smoother since language is no longer a barrier," Zhou said. In 2015, Zhou set up a class, teaching Uygur kids Mandarin Chinese in spare time. Forty-six students joined in.
New businesses
Officials from Lishui City, east China's Zhejiang Province, chose to spread their mushroom cultivation skills in the paired Aksu Prefecture.
"It was very difficult for the locals to accept it at the beginning," said Cheng Changbiao, an agronomist from Xinhe County in Aksu, in an interview with state broadcaster CCTV in 2012. "They held training classes and promoted the idea step by step."
Zhou Qingwei, a local farmer, was among the first batch to try this. Zhou started mushroom cultivation in 2010. "At first, I had no idea how to do this, it was the officials from Lishui who taught me step by step."
In 2012, Zhou established a mushroom-growing cooperative with 77 households from his village and has since developed markets in Aksu, the regional capital of Urumqi and three other places in Xinjiang. Now, Zhou makes about 40,000 yuan ($5,940) from the mushroom business every year.
Apart from introducing new projects to Xinjiang, local resources have also been used better.
As the gateway to Central and West Asia, Xinjiang had no strong industries to support development in the past. This has hindered it from playing a leading role in the Silk Road Economic Belt, a China-proposed initiative to boost cooperation with Central, South and West Asian countries.
About 60 percent of China's raw cotton is produced in Xinjiang but most textile companies are in the eastern coastal areas.
With the pairing assistance program, central and regional governments are working together to make this cotton-rich region an advanced textile and clothing manufacturing base.
According to a set of guidelines issued in 2015 by the State Council, China's cabinet, Xinjiang will be developed into a major textile base by 2020 to facilitate exports to neighboring markets including Kazakhstan and Kyrgyzstan.
Xinye Textile Co. Ltd., a major textile enterprise in central China's Henan Province, has established three plants in Hutubi County employing 3,000 people.
"Now, we have a 550,000-spindle production capacity and an output value of 2 billion yuan ($297 million) in the county," said Luo Rongqing, Deputy General Manager of Xinjiang Yuhua Textile Technology Co. Ltd., the local joint venture with Xinye Textile Co. Ltd.
Luo said that a ton of yarn costs less than 3,000 yuan ($446) in Xinjiang. Together with tax breaks and electricity subsidies, they can make 4,000 yuan ($594) in profit on a ton of yarn.
Huocheng County in Ili Kazakh Autonomous Prefecture is located at the same latitude as the world famous lavender base Provence and has ideal climate conditions to plant the crop on an industrial scale.
Officials from the paired province of Jiangsu in east China have helped to develop the lavender industry and related tourist programs based on this. Since 2010, a lavender festival has been held every June, attracting large number of tourists from China and abroad. Now Huocheng has taken up 98 percent of China's lavender fields.
In 2016, more than 4 billion yuan ($594 million) was invested in over 200 projects in Ili to upgrade infrastructure and improve the livelihood in the prefecture.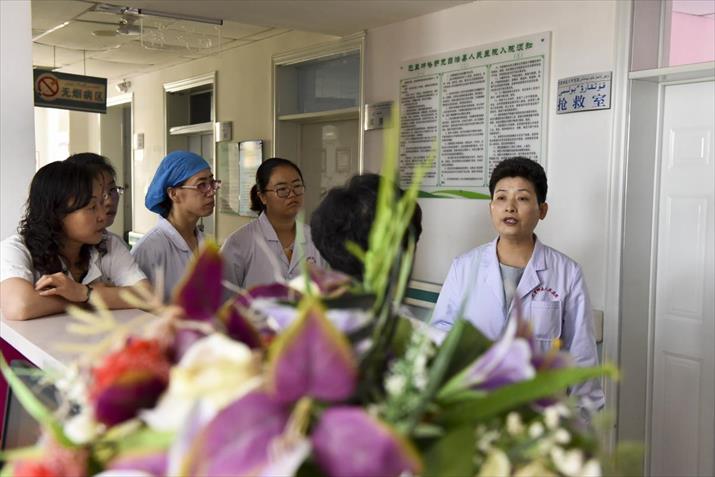 Ma Qimin (right), a gynecologist from central China's Henan Province, interacts with her colleagues in a hospital in Barkol County on July 7 (XINHUA)
New blood
Kashgar, geographically one of the westernmost cities of China, is located near the border with countries including Kyrgyzstan, Tajikistan, Afghanistan and Pakistan. With a history of more than 2,000 years, it used to be a trading hub on the ancient Silk Road between China, the Middle East and Europe.
Guangdong Province, paired with Kashgar Prefecture, is one of the most advanced provinces in China.
The Guangzhou New City, a major project assisting Kashgar Prefecture since 2010, is a large complex of commodities and logistics infrastructure in Shufu County. More than 300 college graduates have started their own business in the e-commerce center after its inception.
"We have many good products in Xinjiang and we just need to promote it more," said Memet Muhtar, a graduate from Xinjiang University who has a company in the Guangzhou New City. "Xinjiang is still a remote place for many inland people but with the launch of the express rail service between Urumqi and Beijing, transportation will be more convenient."
Apart from external investment and assistance, locals too, are encouraged to work out of Xinjiang. Weli Amet, 26, was part of a labor relocation program initiated by the governments of Xinjiang and Guangdong in 2014. He couldn't speak Mandarin Chinese and did not even get past high school, so he chose to work at a shoe factory in Dongguan.
Now, Weli Amet and his wife earn a combined monthly income of over 7,000 yuan ($1,041), which allows the couple lead a comfortable life in Dongguan and support their families back home.
On July 15-18, a national conference on pairing assistance for Xinjiang was held in Kashgar. It required paired regions to increase support to Xinjiang's employment-based poverty reduction projects.
A white paper issued by the State Council Information Office in June shows that at the end of 2016, less than 10 percent of Xinjiang's population lived in poverty.
"Poverty often creates room for overseas separatist forces to penetrate," said Yang Fuqiang, an assistant researcher with the Xinjiang Academy of Social Sciences, to Xinhua News Agency. "Addressing employment of Xinjiang's surplus labor is the key to its social stability and economic development."
Copyedited by V. Apruva
Comments to yuanyuan@bjreview.com