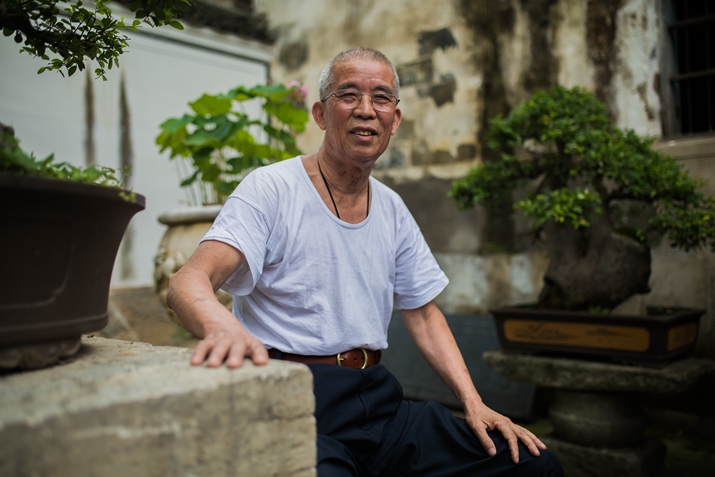 Wang Zhaolan, Chairman of cultural relic preservation society of Zhaji Village (ZHENG LIANG)
If you are looking for an idyllic sanctuary to escape from the hustle and bustle of daily life, Zhaji Village in Jingxian County in Anhui Province is the right place. Tucked away in gently-rolling hills, Zhaji is built along three streams gurgling through it. Strolling along river banks lined with whitewashed homes with black-tile roofs iconic to the area, one cannot help being infatuated with its simple and natural beauty.
A dream land
"Zhaji is a waterfront town distinct from other typical ones in southern China. It is a water town amongst the hills, and a hilly town by the water," Zha Congjian, an official with Jingxian County's Culture and Tourism Committee told Beijing Review. In his eyes, Jingxian has exactly the right blend of water and mountain.
Zha Congjian grew up in the village, where most of the residents bear this surname. Talking about his hometown, he is ebullient, revealing his affection for the place.
At the entrance of this picturesque village, two gigantic trees stand proudly, one a 200-plus-year-old laurel tree, and the other a chestnut tree believed to be more than 500 years old. Some villagers chat idly on benches beneath tree canopies.
Pristine bucolic scenes are drawing photographs. A buffalo, accompanied by a cattle egret, crouches in a nearby field. Nonchalant cats and dogs follow visitors wandering in narrow lanes. Ducks are grooming themselves on a patch of sandy shoal at the bottom of a stream while chickens are picking grains on the banks. Downstream, a woman is doing laundry in the river, while a man is rinsing bowls and plates further upstream.
The village's streams are lucid and winding. Zha Congjian said the curvature of the rivers yields great aesthetic appeal so that the view unfolds slowly before the eye. At the same time, mountain torrents are tamed and slowed down as they enter the village. In addition, these curves have increased the total length of the rivers crisscrossing the village, so that more households can have close access to water.
The village also impresses visitors with its historical architecture. It is said that it had 108 temples, 108 ancestral shrines and 108 bridges at its historical prime. Local culture was once under strong Buddhist influence. Now, the village still has many houses built during the Yuan (1271-1368), the Ming (1268-1644) and the Qing (1644-1911) dynasties.
The style of Zhaji's ancient buildings differ from those in Beijing in that they are not as floridly painted and they use less carvings. "Only parts of the windows and pillars are carved," Zha Congjian said, "it is like a painter who leaves some blanks rather than filling up the entire canvass up."
Some visitors are so enchanted by the village that they settle down there, including Chinese painters as well as foreigners, Zha Congjian said.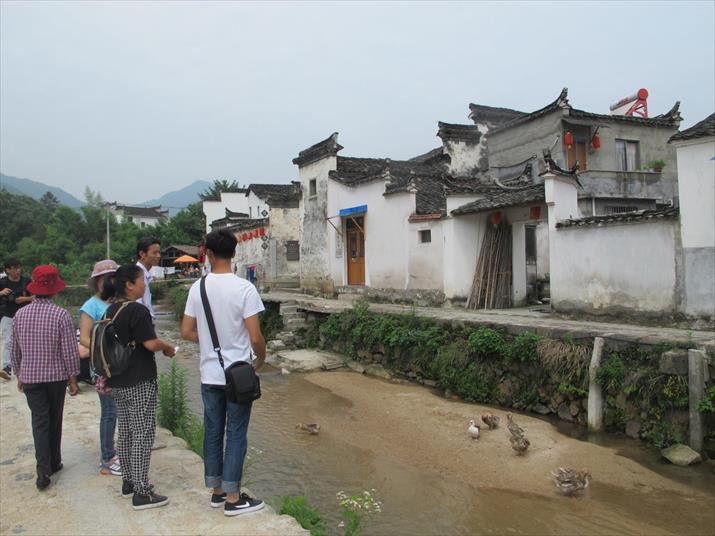 Tourists enjoy the idyllic environment in Zhaji Village, Jingxian County, on June 15 (WANG HAIRONG)
Protection amid development
Although mountains embracing the village have sheltered it from social upheavals in ancient times, many historical buildings there barely survived the "cultural revolution" (1966-76), a period that many historical buildings were dismantled.
After the "cultural revolution," historical buildings were still under threat of being torn down and stolen. When a ramshackle ancestral shrine was toppled and the remains sold, Wang Zhaolan, the then village head, keenly realized that they must do something to protect ancient buildings.
In the 1990s, a voluntary cultural relic preservation society was set up in the village. Wang recalled that 27 persons, including retired village cadres, attended its inaugural meeting, at which he was elected as its chairman. The members chipped in money for relic protection, and they reported relic theft to police so that some stolen items were retrieved, Wang said.
Historical buildings in the village were then put under the protection of the county and provincial governments, and in 2001, some were put under national protection, Zha Congjian said. The government began to repair and restore historical buildings.
In 2005, Jingxian county government set up an office to protect and develop ancient residential buildings in Zhaji, which was later known as Zhaji Scenic Spot Management Committee, according to Zha Congjian.
The county government decided to develop tourism in Zhaji, printing and selling tickets to visitors. Currently, the tourist bureau is jointly run by the county government and a travel company.
In recent years, tourism has become a backbone of the village economy. According to Zha Congjian, every year tourists paid 400,000 visits to the village, generating a total income of 5 million yuan ($7.32million). Currently, a visitor is charged 80 yuan ($11.7) for a ticket to visit the village.
The village has about 3,000 residents, and approximately one third of them work in the tourism industry, Zha Congjian said. They operate rural guesthouses, inns and shops and provide other travel services. There are more than 100 shops and guesthouses in the village, with a total of over 2,000 beds, Zha Congjian said.
Zha Hongwei, a man in his late 40s, operate the Xiangpu Inn. A native of the village, he first farmed land for a living, and then left his hometown to work in the more economically developed Jiangsu Province. He returned to the village in 2009 and opened the inn in 2012.
"As tourism developed in Zhaji, I saw business opportunities back in my hometown, so I returned home. Besides, I wanted to reunite with my family," he told Beijing Review. He renovated his own house with his savings and money borrowed from relatives and opened the inn with a dozen rooms. "Now, the inn fetches in an annual income of approximately 200,000 yuan ($29,263), which is much better than income from the fields," he said. He expects more guests in the future as Jingxian's county seat is now accessible by a highway that runs from Beijing to the Huangshan Mountain, a famous tourist destination not far from Zhaji.
Other residents have also benefited from tourism development. Zha Congjian said that ticket revenues pay for the villagers' health insurance and contribute to infrastructure improvement in the village, such as road maintenance and garbage collection.
"In the past, villagers had a low income whereas now, they are admired by people in nearby villages (for being richer)," Zha Congjian said.
While residents get richer, they want better living conditions. Problems then ensue. Some villagers have built unauthorized structures that are not compatible with the style of the ancient village, said Zha Congjian.
To reconcile the villagers' need for modern amenities with relic protection, he suggested that a new area should be set aside outside the ancient village, where new houses compatible with the style of old village can be built; for those residents still living in the old houses, they can have the houses' interior redesigned without altering the exterior.
Protecting environment
Tourism has increased the overall income, but without proper management, environment can be damaged. In Zhaji, this is not the case. The water is clear, streets are clean and trees are abundant.
The village's relic protection society has mobilized villagers to clean up and dredge rivers, and won their support. A lady in her 80s could not contribute any physical labor, so she sold chicken eggs and donated her earnings, Wang said.
Wang recalled that several years ago, torrential rain flooded the village, leaving bridges damaged and rivers clogged with silt. Villagers were mobilized to clean up and repair bridges.
Garbage bins are seen on the streets here and there. Wang said solid waste are collected and shipped to the county seat for disposal, waste water from guesthouses and restaurants are treated, and facilities have been installed in rivers to filter out heavy metals. The village also forbids residents to chop down trees without permission.
"Now Zhaji has a profusion of vegetation, and trees are not chopped down illegally while no rare trees have been stolen in recent years," Zha Congjian confirmed.
"Tourism development can also promote the protection of natural and cultural environment," he said, "when residents realize that natural and cultural environment can be translated into economic value through tourism, they are keen on protecting the environment."
Copyedited by Jacques Fourrier
Comments to wanghairong@bjreview.com