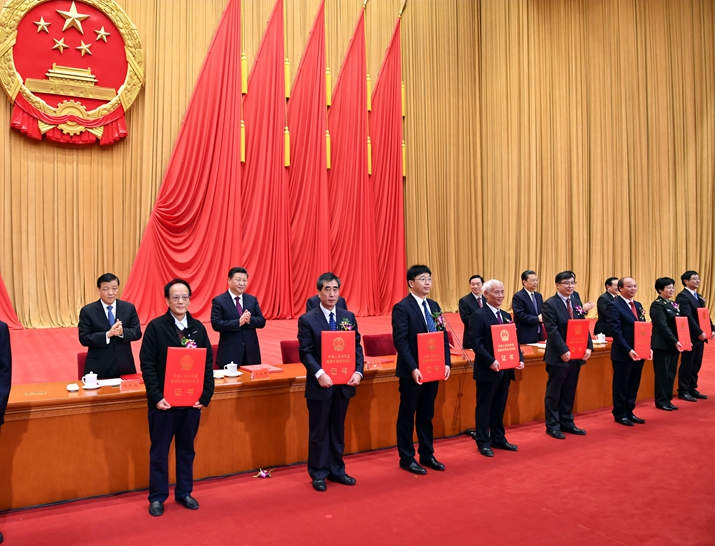 Professor Yang Zhixing (right) poses with his colleague Pan Changyong upon receiving the first prize of the National Science and Technology Progress Award in Beijing on January 9 (COURTESY OF TSINGHUA UNIVERSITY)
When the news came that he had received the first prize in the National Science and Technology Progress Award category in January, Yang Zhixing, a professor at Tsinghua University's Department of Electrical Engineering, had just wrapped up a visit to Nepal, Cambodia and Laos. Since the past decade, the 71-year-old has been traveling to many diverse countries to promote a Chinese digital TV standard.
Digital Terrestrial Multimedia Broadcasting (DTMB), China's mandatory TV standard for mobile and fixed terminals, was drafted by Yang with other scientists, and a team in Tsinghua's Research Center of Digital Television Techniques is implementing the prize-winning project under his leadership.
Chinese standard
For a long time, China has been the largest TV manufacturer in the world. Yet before the era of digital TV, China followed European standards for black-and-white and colored TV sets. Without proprietary core technology, China's domestic TV industry had to pay huge royalties to foreign patent holders.
In 1996, the United States and Europe established the first two sets of international digital TV standards. In 1999, China began to develop its own standard. Researchers in Tsinghua took part in the effort.
At the start, they faced many difficulties. Pan Changyong, a member of the research team, said he used to work on satellite remote sensing earlier. Things were fine there and research funding was stable. But when he started to work on the new digital TV standard, there was little funding. In addition, he needed to make frequent business trips.
Things did not improve significantly until 2003, when Tsinghua's Research Center of Digital Television Techniques was set up and staffed with faculty members from the Department of Electrical Engineering. Other talented people were recruited from home and abroad and with funding from the government, the center embarked on its research journey.
At that time, the United States was processing signals by mapping their amplitude with time while Europe used frequency instead of time. Both had their advantages and disadvantages. "We identified the strengths and drawbacks of these two sets of standards and combined their strengths while avoiding their defects," Yang said.
The method Yang's team adopted greatly increased efficiency and accuracy. The team was granted several patents for basic inventions by the State Intellectual Property Office.
In 2006, their standard was approved and promulgated by the State Council, China's cabinet. DTMB, which uses the latest core technology, is significantly superior to other standards in terms of spectrum efficiency, receiving sensitivity and mobile signal reception.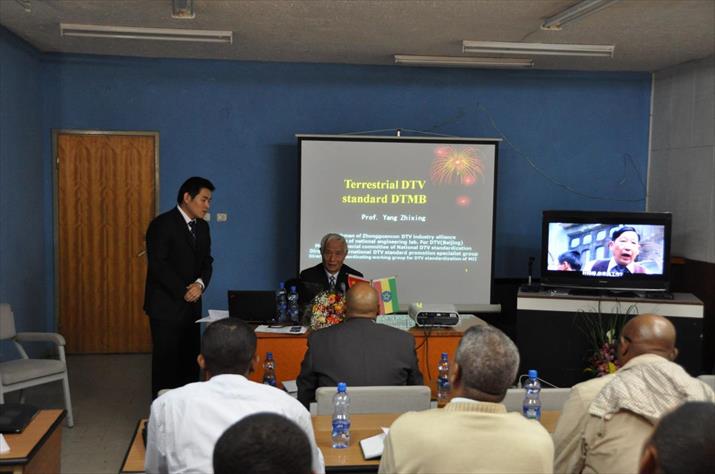 Professor Yang Zhixing gives a presentation on the DTMB standard in Addis Ababa, Ethiopia, in August 2011 (COURTESY OF TSINGHUA UNIVERSITY)
Promoting application
Standards are meaningful only after they are applied. For Yang and his team, developing DTMB was only the first step in their long journey. Promoting its widespread application was a more meaningful task.
DTMB was introduced in Hong Kong, and was found to have technical advantages over the European standard, which the region was originally planning to use. In 2007, Hong Kong announced the European standard would be replaced with DTMB.
This success gave Yang and his team more confidence about the international market. From 2007 to 2009, more than 100 universities and enterprises including Tsinghua formed the Zhongguancun Digital TV Industry Alliance. One of its missions is to promote the application of DTMB overseas and offer technical support and training for countries and regions adopting the standard.
DTMB was introduced in Cuba. As Cuba uses a different bandwidth, Yang's team had to upgrade DTMB to accommodate more bandwidth. The team developed a more advanced standard, which was eventually accepted by Cuba in 2010.
But not all overseas promotional efforts have been successful. Yang and his team took the advanced standard to Venezuela, Peru and other South American countries. During a two-year period, Pan traveled to South America every two to three months to test the standard. Yang, in his 60s then, also made the 30-plus-hour journey to South America frequently.
Although several South American countries acknowledged the technical advantages of DTMB, they still would not accept it due to some non-technical concerns. Despite the setback, Yang and his team did not give up their efforts to promote the standard internationally.
They also sought the recognition of DTMB by the International Telecommunication Union (ITU), the UN specialized agency for information and communication technologies. At that time, only the digital TV standards of the United States, Europe and Japan were recognized by the ITU.
Since 2004, Pan and Song Jian, another Tsinghua University professor, attended several ITU meetings to present DTMB. A national digital TV standard laboratory was established in China in 2010 and DTMB further improved. In 2011, the standard was eventually recognized by the ITU as an international standard. The ITU hailed the event as a milestone in the 40 years of the development of digital TV technology.
"For applied science, a standard is a cutting-edge technology. The competition related to this kind of technology is not about publishing more academic papers, but about capturing a larger share of the market," Yang said. With this belief, Yang would like DTMB to be adopted far and wide.
Currently, DTMB has been accepted by 14 countries and regions in Asia, Africa and Latin America, serving nearly 2 billion people.
Commercial use
Yang and his team have not only been promoting DTMB but also fostering an industrial chain to come up with actual products.
"No matter how good a technical standard is, to go international it needs to be competitive," Yang said. Developing compatible products is technically challenging and requires large investments. "No enterprise wanted to undertake the work," he added.
Under such circumstances, Tsinghua encouraged and supported Yang's team to develop the products on their own. The team subsequently developed a series of products including an integrated digital TV, set top boxes, chips and transmitters.
Now DTMB's algorithms and relevant technology have been transferred to nearly 20 Chinese and foreign companies making compatible products. In the last three years, the sales revenue of such products reached 67.4 billion yuan ($9.78 billion), Yang said. In China, DTMB has been implemented compulsorily, covering more than half of the population.
In recent years, as Europe produced its second-generation digital TV standard, Yang and his team upgraded DTMB. "We will continue to work hard to keep our leading position in digital TV standards globally," Yang said.
Yang credits the success of his team to strong conviction and team spirit. "We all have strong faith [in DTMB]," he said. "Team members are closely bound together by this conviction and continue to grow in the process."
The author is a staff member with Tsinghua University
Copyedited by Sudeshna Sarkar
Comments to zanjifang@bjreview.com