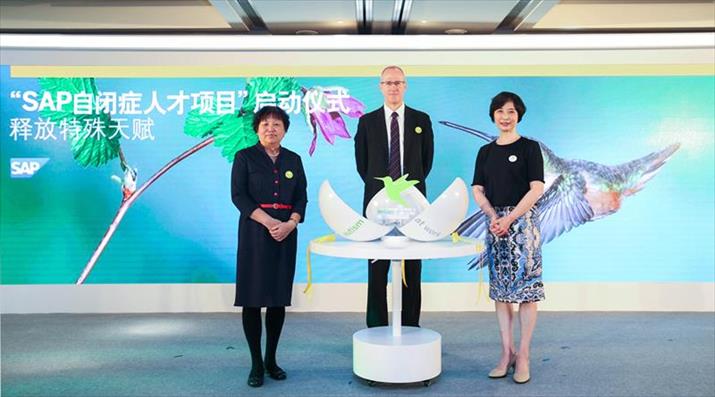 President of SAP Greater China Mark Gibbs (middle); Wen Hong (left), president of China Association of Persons with Psychiatric Disability and their Relatives; and Tian Huiping, founder of Beijing Stars and Rain, together launch SAP's "Autism at Work" project in Beijing on April 27 (COURTESY OF SAP)
The SAP's "Autism at Work" program was launched in Beijing on April 27. Experts in autism and representatives from nongovernmental organizations attended the launch ceremony and discussed employment issues related to autistic people.
Autism is a neurodevelopmental disorder characterized by impaired social interaction and communication (both verbal and non-verbal) as well as restricted and repetitive behavior. "It's a spectrum disorder," said Hu Xiaoyi, associate professor with the Special Education Department of Beijing Normal University. "The syndrome varies greatly between individuals based on the two main features."
International software manufacturer SAP initiated the project globally in 2013, and so far, the company has hired 116 autistic employees from nine countries for a variety of positions in areas including research, IT and human resources. The retention rate is 93 percent.
In China, the project aims to create more opportunities to nurture the talents of local autistic people. Supporting the initiative are two local organizations – China Association of Persons with Psychiatric Disability and their Relatives (CAPPDR) and Beijing Stars and Rain, a non-governmental educational organization dedicated to helping children with autism.
"Not long ago, one of SAP's autistic employees, Troy Lee, came to China and shared with us his experience of working at SAP. [His words] just resonated with the parents immediately," said CAPPDR president Wen Hong. "We were deeply inspired to bring this project to China. Our goal is to build an environment that is more tolerant of people with autism, so they can live an independent life with respect. Cooperating with SAP is a big step toward achieving our ultimate goal."
While how many autistic people live in China has yet to be officially calculated, the number is huge according to Wen. And, medical experts estimate that there have been no fewer than two million autistics among the nation's children and teenagers aged under 14 and some three million adults with autism since the first case in China was identified in 1982.
"Some autistics tend to focus on details and seek perfection, which can be transformed into social value. This project makes this possible," said Tian Huiping, a mother of an autistic and the founder of Beijing Stars and Rain. "I hope this cooperation can create equal working opportunities for Chinese autistics after a series of training [courses]."
Within SAP, an HR management system will be established, specially for autistic people in China, which will cover recruiting, hiring, training and retention. It will also help the new recruits gain core positions in the company and develop long-term careers. Two to five Chinese people with autism will be employed through the project in 2017. They will join SAP's Beijing office around October this year.
As to whether such initiatives can be implemented by more enterprises, the president of SAP Greater China, Mark Gibbs, is very upbeat. "All companies will move to a more diverse and inclusive workforce because it makes sense and drives better results. I'm extremely positive and proud to be a part of this movement to raise awareness of diversity and inclusion," Gibbs told Beijing Review.