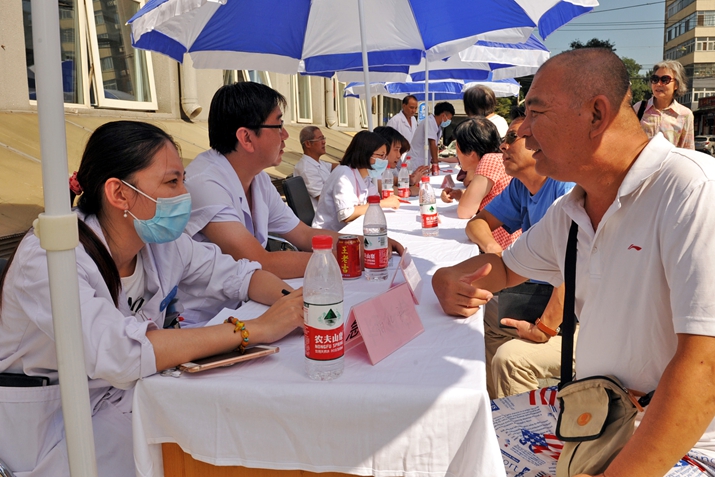 Doctors from Xuanwu TCM Hospital Beijing offer free medical consultation in Xicheng District of Beijing on September 3(XINHUA)
In a garden at the foot of the Luofu Mountain in south China's Guangdong Province, sweet wormwood dips and sways in the gentle wind. The plant, found across China, has saved the lives of millions of people worldwide.
Wormwood is a herb also known as Artemisia annua or qinghao in Mandarin, and it has brought fame to the 2015 Nobel medical laureate Tu Youyou, who extracted artemisinin from the plant to treat malaria.
Tu drew inspiration from a classic medical book titled The Handbook of Prescriptions for Emergency Treatments, written by ancient pharmacist and alchemist Ge Hong. Ge lived in seclusion on Luofu Mountain between the 3rd and 4th century.
Because of Ge's contribution to the development of Traditional Chinese Medicine (TCM), the herb-rich Luofu Mountain, located in the city of Huizhou in Guangdong Province, was chosen as the site of the Third Conference on TCM Science, which convened on September 4-6.
The conference, a top level TCM academic meeting, gathered more than 800 participants, including four Nobel laureates from overseas, 10 Chinese academicians and other renowned TCM experts. It was hosted by the State Administration of Traditional Chinese Medicine, together with local government and other relevant organizations.
Chinese and foreign medical experts shared their experience in developing medicine to promote the integrated development of traditional and modern medicines.
Tu's winning of the Nobel Prize has inspired people to rediscover the value of TCM, said Zhang Boli, President of the China Academy of Chinese Medical Sciences, at the conference.
The government has attached much importance to the development of TCM. At a national meeting on health held on August 19-20, President Xi Jinping stressed the need to promote the coordinated development of traditional and Western medicine through innovation.
"We should make efforts to carry on,develop and make good use of TCM, which is a treasure bequeathed by our ancestors," said Zhang.
In February, the State Council released a guideline for developing TCM, which spelled out targets for improving TCM-based healthcare services.
By 2020, the total output value of the TCM industry will account for more than 30 percent of the total of the pharmaceutical industry, the document states. By that time, there will be five beds in public TCM-based hospitals per 10,000 people, and four certified practicing (assistant) doctors per 10,000 people. Relevant laws, standards, policies and supervision systems will also be established.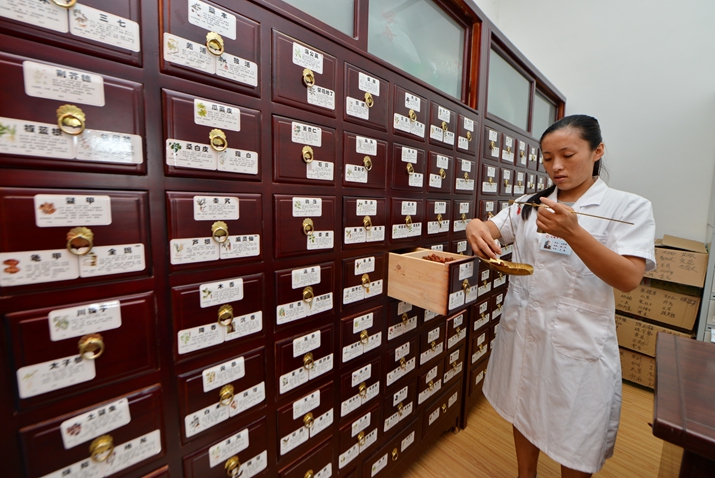 A pharmacist in a Town of Julu County, Hebei Province, dispenses traditional Chinese medicine on August 9(XINHUA)
Current trends
Data released by the Ministry of Industry and Information Technology on August 26 show that in the first half of 2016, revenues from the TCM industry made up 22.4 percent of the total pharmaceutical industry.
At the TCM conference, a robot modeled after Ge debuted in the museum, opened on September 4 to commemorate the pharmacist. The robot, wearing a beard and dressed in ancient attire, felt the pulse of visitors and offered advice. Visitors were both amazed and amused.
The robot speaks of the TCM industry's desire to rejuvenate itself with modern technology. In the past two decades, a batch of high-level TCM research platforms has been built and breakthroughs made in key technologies, Zhang said at the conference.
He said that during the 20-year period, the number of TCM-related papers published by Chinese scholars in journals covered by the Science Citation Index (SCI) increased by 30-fold, reaching 3,000 per year.
These research results shed light on what substances yield therapeutic effects and how they produce the effect, and as a result, drugs produced in different batches become more consistent in quality, and drug quality has improved, said Zhang.
He explained that by using modern technology, a series of new TCM drugs have been developed, and some traditional drugs have been reinvented.
At the conference, Chen Zhu, a hematologist and former minister of health, shared his experience in combining arsenic trioxide with Western drugs to treat acute promyelocytic leukemia. Now, 90 percent of patients with this most dangerous form of leukemia can be cured with this synergistic target cancer therapy, said Chen.
TCM has many unique therapies. For instance, anesthetic can be risky for patients who need an operation but have heart problems, in which case, acupuncture anesthesia can be administered in combination with a little anesthetic to reduce organ damage, said Chen Kaixian, Vice President of Chinese Pharmaceutical Association.
However, Chen said that TCM is based on experience rather than objective, specific and quantitative standards. In the future, TCM should be developed to be more precise, he said.
Chen said that in recent years, researchers at the Shanghai University of Traditional Medicine and other organizations have made encouraging progress in studying the molecular markers of chronic diseases such as metabolic diseases, chronic heart failure, knee osteoarthritis and hepatitis B. This will push forward the development of precise TCM, he said.
In many cases, the combination of TCM and Western medicine can yield better results than the use of a single method, Chen said. For instance, some doctors use TCM to treat patients before and after they undergo operations, which has produced good results, Chen said.
International application
TCM is not only practiced in China, but also in many countries around the world. It has been introduced to 183 countries and regions, and China has signed 86 agreements on TCM with foreign governments and international organizations, said Wang.
"TCM is gradually entering Western society, and its influence is increasing," Chen Mingming, former ambassador to Sweden and New Zealand told the Beijing-based China News of Traditional Chinese Medicine.
He said that now a Chinese clinic is operating in a remote Swedish town where there were only Chinese restaurants before, and that Swedish people chose to see doctors in the clinic at their own expense.
Gan Peishang, the head of the TCM administration of Gansu Province, recently told the press that the province has set up eight TCM colleges and five TCM centers abroad, and in recent years, the province has sent more than 40 TCM experts abroad to give lectures and offer free medical consultation.
The TCM administration of Guangdong Province has established stable cooperative relations with their counterparts in more than 30 countries and regions, said Xu Qingfeng, head of the Guangdong provincial TCM administration. The Artequick products made in Guangdong have been sold to African and Southeast Asian countries.
On June 27, Zhejiang Chinese Medical University announced that Kanglaite injection, developed by a team led by the university's professor Li Dapeng, entered the phase III clinical test upon approval by the USFDA.
The research team has extracted an active anti-cancer substance from coix seeds, which has been commonly used in TCM and produced a Kanglaite injection for arterial and venous infusion. The drug is said to be able to inhibit cancer cells and improve the immunity of normal cells.
Yu Wenming, deputy head of the State Administration of Traditional Chinese Medicine, said that is a new milestone in spreading TCM internationally.
TCM materials and Chinese patent medicines have been exported to many countries in the world. China Customs statistics show that in the first eight months of this year, China exported 97,822 tons of such products, with a total value of $809.3 million. The total export value, however, fell 5.8 percent from the same period of the previous year.
Industrial analysts believe that a major barrier for exporting Chinese patent drugs is that such drugs are usually required to be registered in the country in which they are to be sold.
Shi Wankui, a partner of Hejun Consulting, a business consulting company headquartered in Beijing, said that to increase the international competitiveness of Chinese patent drugs, the drugs should be produced following international standards and the Chinese TCM industry should participate in making such standards.
He said that currently, producers in China's TCM industry have significantly upgraded production equipment and management standards, yet they still need to improve marketing ability.
Copyedited by Francisco Little
Comments to wanghairong@bjreview.com