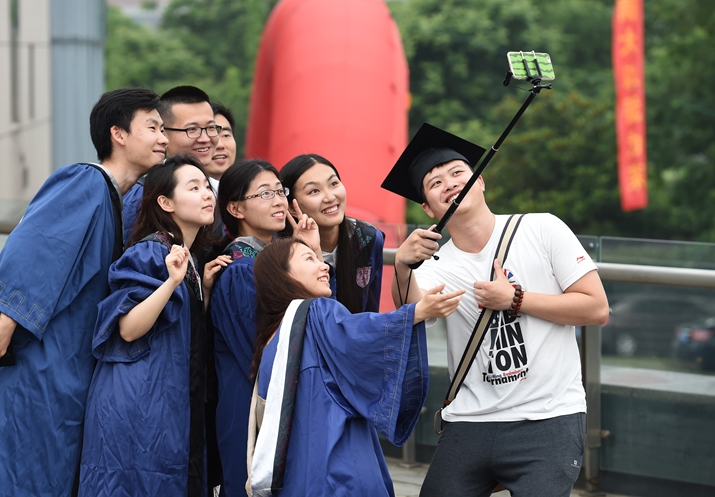 Graduates of Nanjing University, a university included in Project 211 in Jiangsu Province, pose for a photo on June 21 (XINHUA)
On June 23, the Ministry of Education announced the expiry of a batch of regulatory documents, including Project 211 and Project 985, two major programs over the past two decades to develop universities in China.
In November 2015, the State Council, China's cabinet, announced the country will build a number of world-class universities and first-class disciplines, with the long-term goal of establishing top-class universities as global front-runners by 2050.
According to experts, the new policy is expected to tackle problems such as redundant construction and a lack of competition that were brought about by the 211 and 985 projects.
Though having played an active role in promoting the development of China's universities, the 211 and 985 projects engendered controversy for their side effects, including inequality and stagnancy, during their implementation.
"It's time to terminate the two programs," Xiong Bingqi, Vice President of the 21st Century Education Research Institute, told The Time Weekly, a Guangzhou-based weekly newspaper. "They have become liabilities to China's education."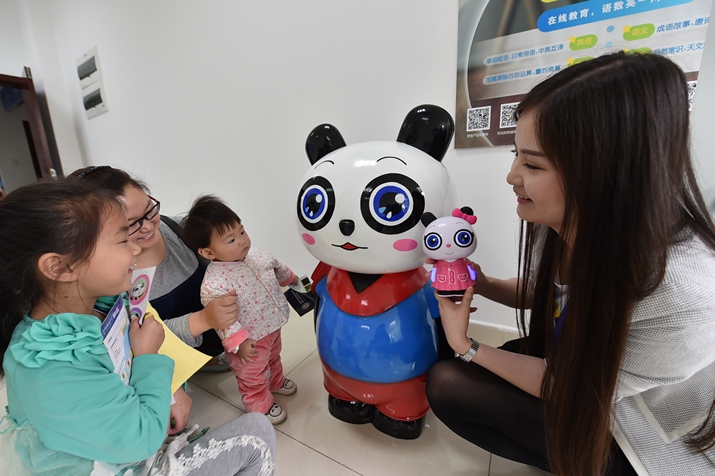 Visitors communicate with intelligent robots at a lab of the University of Science and Technology of China in Anhui Province on May 14 (XINHUA)
End of the line
Project 211 was launched in 1995 with the objective to build about 100 key Chinese universities in the 21st century, while Project 985 was introduced by former Chinese President Jiang Zemin during a speech at the 100th anniversary of Peking University in May 1998.
Universities had to meet certain academic and management standards to be granted 211-Project status. Being accepted into the project was an honor for a university, which could enhance its attractiveness to applicants.
"The two projects were initiated against the backdrop of Chinese universities and colleges facing budget shortages. The Central Government hoped to attract more local investment in higher education through the two projects to build a group of excellent universities and colleges in China," Chu Chaohui, a researcher with the National Institute of Education Sciences of China, told Guangzhou-based Southern Weekend.
Chu credited the projects with laying an important foundation for Chinese higher education to further improve. However, he added, "They also left some difficult problems such as entrenching the status of elite universities and a lack of competition and uniqueness."
By 2011, Project 985 has stopped admitting new universities, and Project 211 had half-closed its doors.
The upshot is that educational resources, including funding and high-quality faculty and students, have become more concentrated in the hands of a few higher education institutions.
Universities not included in either project are hardly able to obtain such resources, thus falling further behind the country's higher education leaders in teaching and research.
For example, Hunan Normal University and Xiangtan University (also in Hunan Province) were once at a very similar level. However, in 1996, Hunan Normal University was admitted to Project 211, and has since become a top-level university in China, where as Xiangtan is regarded as second rate.
A solution?
A key factor in the discrepancy is the distribution of educational funds. According to data from the Ministry of Education, by July 2014, universities and colleges enrolled in the 985 and 211 projects had received more than 70 percent of the research funds invested by the government.
"The large disparity has seriously damaged the enthusiasm and the competitive capacity of those universities and colleges excluded from the two projects," Xiong noted.
The Ministry of Education said on June 28 that it is implementing measures to establish first-class universities and disciplines. Wang Feng, an official with the Education Development Research Center under the Ministry of Education, said that to counter the stagnancy in the system, the latest reform plan is to establish a mechanism that encourages competition among universities and colleges.
Chu believes that a top-class university or college must be supported by top-class disciplines. "By contrast, it will be easier to assess a discipline than a whole university," Chu said.
In his eyes, only disciplines ranked in the top 5 percent should be classified as top-class. "If a university wants to achieve this status, it must also gain recognition from international ranking institutions like U.S. News and World Report and British QS world university rankings."
In fact, according to international assessment systems, many universities and colleges in China have the potential to build top-class disciplines. For example, Hefei-based University of Science and Technology of China, in east China's Anhui Province, is advanced in its research field of quantum communication, and the Chinese Academy of Sciences leads the world in gravitational wave research.
"Under the new system, universities and colleges outside the 211 and 985 projects can rise to the top list with one or two advanced disciplines, and those in Project 985 will be left out if they lack advanced disciplines."
"An optimal situation is to have not only world-class research-oriented universities and top-class undergraduate colleges, but also first-class professional universities and colleges concentrating on cultivating skill-oriented personnel," said Li Shuohao, Dean of the School of Education at Lanzhou University in northwest China's Gansu Province.
Copyedited by Dominic James Madar
Comments to yinpumin@bjreview.com