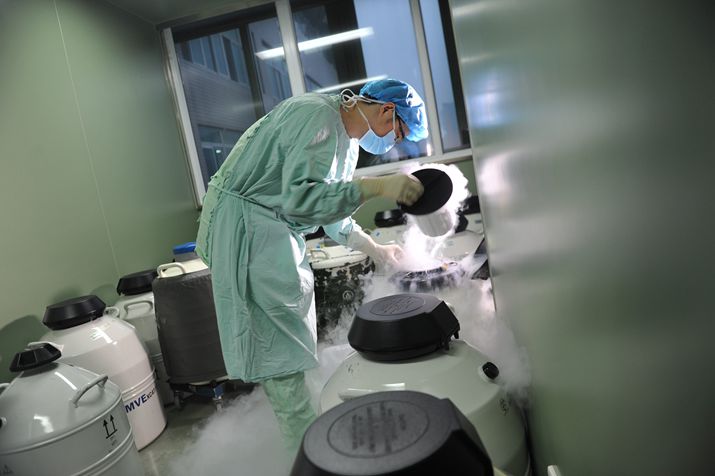 A doctor at West China Second University Hospital in Chengdu, Sichuan Province, checks the frozen embryos kept in the hospital on June 14 (CFP)
An embryo frozen 18 years ago and implanted last November into a 45-year-old woman known by the pseudonym Huang Yue, from east China's Jiangsu Province, resulted in the birth of a child on June 29. It smashed the country's previous record of 12 years for the longest frozen embryo to result in a live birth, which was set in February.
The healthy baby girl, born in the Obstetrics and Gynecology Hospital of Fudan University in Shanghai, grew from an embryo that the hospital had stored in liquid nitrogen since 1998. At that time, after failing to get pregnant due to blocked Fallopian tubes, Huang decided to freeze some of her embryos, wait for a while and try again later.
The "while" turned out to be almost 18 years. In 2015, after a friend treated at the Shanghai hospital successfully gave birth to twins, Huang decided, albeit without high hopes, to seek further treatment.
Although doctors at the hospital found Huang still had the same physiological issue as before, they were able to perform surgery to prepare her for embryo implantation.
About 10 months following the surgery, an unfrozen embryo was placed into Huang's womb in November 2015, and it finally grew into a baby weighing 3.3 kg at birth.
"It's a miracle and a big surprise," Huang said. "I almost gave up [hope of] being a mother in this life."
Late arrivals
Four months prior to Huang's delivery, another test-tube baby was born on February 24 in Tangdu Hospital in Xi'an, capital of northwest China's Shaanxi Province, from an embryo frozen for 12 years.
The 3.4-kg child's mother, surnamed Li, also has blocked Fallopian tubes as well as polycystic ovary syndrome, a problem that can affect a woman's fertility. In 2003, Li and her husband decided to try in vitro fertilization (IVF), so the hospital created 12 embryos with eggs and sperms produced by Li and her husband, implanted two of the embryos into Li's womb, and froze the seven others that were considered viable.
"The success rate of implanted thawed embryos is more than 40 percent in our hospital. So, doctors usually place more than one embryo at a time [into the womb]," said Wang Xiaohong, Director of Reproductive Medicine at Tangdu Hospital.
The implantation led to the birth of the couple's first child, a healthy boy, in 2004, after which they decided to continue keeping their frozen embryos in the hospital. The storage cost is 3 yuan ($0.44) per day.
"The purpose of freezing the embryos was to have a second child someday," said Li. "Luckily, we made it."
In October 2015, China decided to modify its family planning policy to allow all couples to have two children. Li didn't hesitate in going to the hospital to check for the possibility of having a second child with the frozen embryos.
Among the couple's seven frozen embryos, three survived thawing. The two in better condition were implanted in Li's womb, and one survived and was finally born in February.
"This embryo is actually of the same age as the elder brother. It was just born 12 years later," Li said.
Assisted reproduction
Tangdu Hospital, which began freezing embryos for infertile couples in 2003, has to date frozen around 100,000 embryos, thawed over 27,000, and facilitated the births of 4,293 healthy test-tube babies.
The frozen embryos are stored in liquid nitrogen at minus 196 degrees Celsius. "Normally, the recommended maximum storage length is up to 10 years to ensure the quality of the embryos. Twelve years or even 18 are really magic," Wang said.
Statistics from the China Population Association show that currently, more than 40 million people, around 12.5 percent of China's total population of child-bearing age, have fertility problems. This translates into one in every eight couples experiencing fertility issues.
"IVF is one of the most effective assisted-reproduction techniques for treating infertility," Wang said.
The process involves employing medical techniques to stimulate a woman's egg production. Fertilized embryos are then created in a laboratory and implanted into the womb. If the woman becomes pregnant, the couple can choose whether or not to continue to store their surplus embryos.
Since the world's first test-tube baby was born in 1978, IVF treatment has facilitated the births of about 5 million children worldwide. In 1988, the first test-tube baby on the Chinese mainland was born. Now, over 100,000 children are born in China annually through this technique.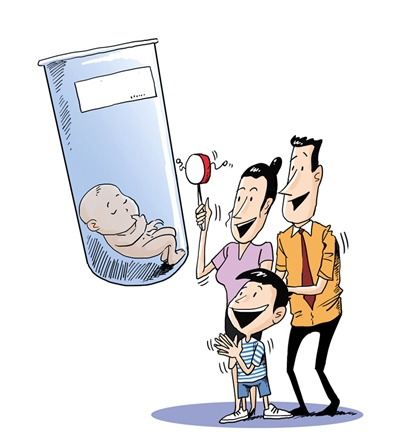 Test-Tube Baby (CFP)
Leeping angels
"We have stored embryos of over 3,000 couples, and since the previous family policy was modified, we have couples coming here daily to ask about the possibility of having a second child. These couples are mostly over 40 years old," said Zhou Liming, a doctor at Ningbo Women's and Children's Hospital in east China's Zhejiang Province.
But, not all couples make such enquiries of their own accord, according to Zhou. "There are also quite a few couples who don't want to risk getting pregnant above 40, but face tremendous pressure from elder generations," Zhou said. "This caused arguments."
However, it is just one of the scenarios brought about by the so-called sleeping angels.
In China's first inheritance case concerning frozen embryos, the Wuxi Intermediate People's Court in Jiangsu gave its final ruling in September 2014.
Before a car accident took the lives of a husband and wife in the province's Yixing City in March 2013, the couple had arranged to create four inseminated embryos at Nanjing Drum Tower Hospital and to have them preserved for one year, after which they would be abandoned. Following the couple's demise, their parents and the hospital couldn't agree on who should dispose of the embryos.
The couple's parents applied to a local court for the right to inherit the frozen embryos, but the case was rejected. So they appealed to the court in Wuxi, which ruled that the four parents would jointly share custody of and disposal rights for the embryos.
Although embryos cannot be defined as life or property under current Chinese laws, the court adjudged them to be more than simple property and, out of respect for life, took steps to provide the families with relief, according to Liu Ye, an experienced medical lawyer.
"The landmark case will set a precedent for similar cases in the future," Liu said.
Out of hibernation
More than 40 containers, each over 50 cm high, are housed in a laboratory at the test-tube baby center of Tianjin Armed Police Hospital. Used for storing frozen embryos, the containers are marked with the details of the embryos they hold.
"Some of the embryos have been stored here for more than 10 years," said Li Hongyi, Director of the center. "Until parents inform us that they wish to relinquish their stored embryos, they can still find them here and can do the implantation, provided they pay the storage fee."
The thawing process is swift. Within a few seconds, the embryos can be brought from minus 196 degrees Celsius to normal body temperature (37 degrees Celsius) in a special liquid. Then, after about 20 minutes, the embryos will "wake up" from the frozen condition and can be checked to determine whether or not they are usable, said Lu Guangxiu, President of the Citic-Xiangya Reproductive and Genetic Hospital in Changsha, capital city of central China's Hunan Province.
"Even though we have had many happy stories telling the miracle of babies newly born from frozen embryos, there are still a large number of embryos that we cannot contact the parents of and cannot do anything but keep on storing," Lu said. "I think more specific regulations on storage should be made soon."
Copyedited by Chris Surtees
Comments to yuanyuan@bjreview.com